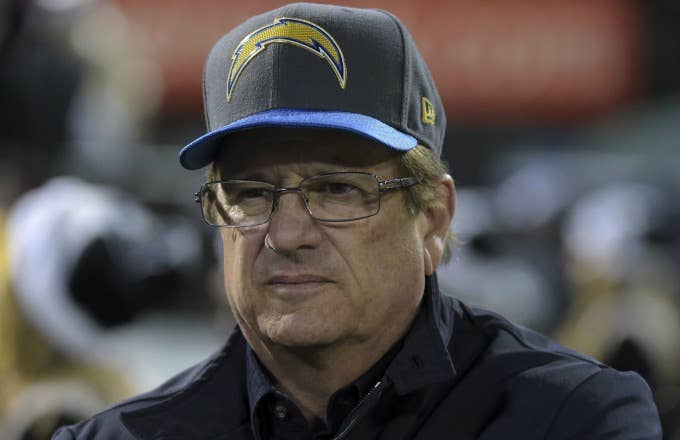 Does Chargers owner Dean Spanos own a home in the San Diego area? We're guessing he does, and we're also guessing that he miiiiiight want to consider putting that home on the market. Like, ASAP.
On Thursday morning, Spanos confirmed reports and announced that he will be moving his team from San Diego to Los Angeles, effective immediately. The move comes after the Chargers and the city of San Diego failed to come to an agreement on a new stadium. And while the relocation shouldn't come as a complete surprise to those who have been following the drama surrounding the team in recent seasons, many Chargers fan were upset to find out about it courtesy of a short letter from Spanos posted on social media:
They were equally as surprised to see that the team changed their Twitter name to reflect the move…
…and that they unveiled a new logo for the team now that it's going to be based in L.A.:
That logo isn't getting a lot of love:
And the fact that a new logo even exists makes it painfully obvious that Spanos didn't just wake up this morning and decide that it was time to make the move.
All of this information has been too much to take for the Chargers faithful. So they have responded by doing what most fans would do upon hearing that their hometown team is moving—using a lot of profanity and ripping Spanos on social media. The reactions to the relocation news have been plentiful, and though many of them are NSFW, we rounded up a bunch of them to show just how much this news is impacting those who have supported the Chargers, a team that has been playing in San Diego since 1961.
This is what it feels like to be a Chargers fan right now:
And these words from NFL Commissioner Roger Goodell are unlikely to help things:
In case you're keeping track at home, L.A. now has two teams that have fled other cities and left scorned fan bases behind. Is the NFL trying to turn millions of fans against its product or…? Whatever the case, our hearts go out to those people mourning the loss of their team—and cursing the name of its owner—right now.