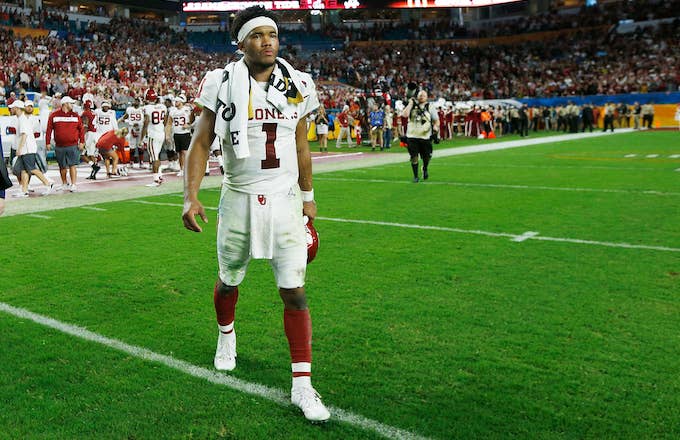 Within days, NFL Draft talk has swung from "Does Trevor Lawrence really have to play college football for two more years?" to Kyler Murray. The Oakland Athletics' expect their No. 9 draft pick and Oklahoma quarterback to declare for this year's draft on Sunday, according to San Francisco Chronicle.
The news doesn't mean Murray will turn down Oakland's $4.66 million deal, but he probably wouldn't declare if he wasn't seriously considering picking football over baseball. Still, Murray has some serious scheduling conflicts on his hands next month: The Athletics' training camp starts on Feb. 15 and they have a game against the Angels on Feb. 26, the day the NFL scouting combine begins. 
Murray's agent Scott Boras said in December that he wouldn't play pro football and called his path toward the MLB "a done deal." But Murray has won a Heisman between Boras' comments and now, so the game plan might change.
"When you win the Heisman Trophy, you're going to have a lot of information come to you to be looked at," Boras said, according to San Francisco Chronicle. "All I know is Kyler has a tremendous opportunity to be a great baseball player and he knows that.… He has every intention to be in spring training and advance that interest."
Murray led the Sooners to a College Football Playoff berth, where they lost to Alabama, who in turn suffered their worst defeat in over a decade by the hands of the Clemson Tigers.