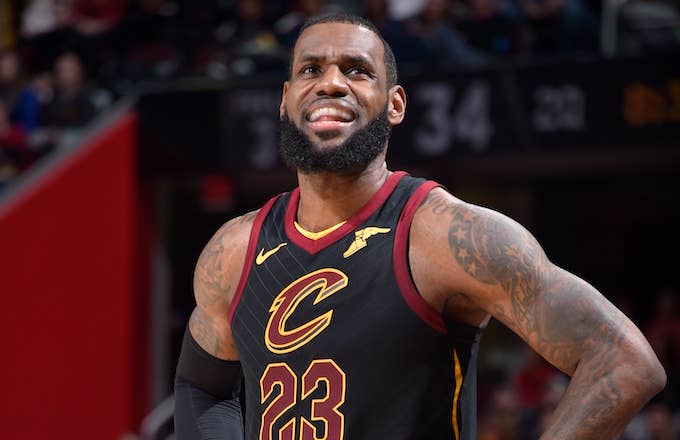 After getting smoked by the Thunder last Saturday, LeBron James could at least look forward to finally breaking into the 30,000-point club during Tuesday's game against the Spurs. The King has scored at least 10 points in 836 consecutive games and needed just seven more to break the mark, so accomplishing the milestone in San Antonio was a near-certainty. And it actually happened: James became the seventh player in NBA history to score 30,000 points with this mid-range jumper over Danny Green in the first quarter's waning seconds. 
The other members of this prestigious club include the still-active Dirk Nowitzki, Wilt Chamberlain (31,419), Michael Jordan (32,292), Kobe Bryant (33,643), Karl Malone (36,928) and all-time leader Kareem Abdul-Jabbar (38,387). James also has the distinction of being the youngest to break the 30,000-point mark at 33; Bryant, the previous record holder, was 34 years, 104 days old​.
The question remains: just how high James is going to venture on the all-time scoring list. He could surpass Chamberlain and Jordan next year, but James is going to have to push it a little to beat Abdul-Jabbar. The great likely needs five more years to do so if he keeps up at his current pace of about 1,900 points per season. 
Of course, congratulations are in order for this historic moment, but LeBron already has that taken care of. This afternoon, he prematurely congratulated his high school self on the achievement in an Instagram post. "Wanna be one of the first to Congratulate you on this accomplishment/achievement tonight that you'll reach," the caption said. "Only a handful has reach/seen it too and while I know it's never been a goal of yours from the beginning try (please try) to take a moment for yourself on how you've done it!" Fortunately, he actually did pass the mark to save himself from embarrassment.