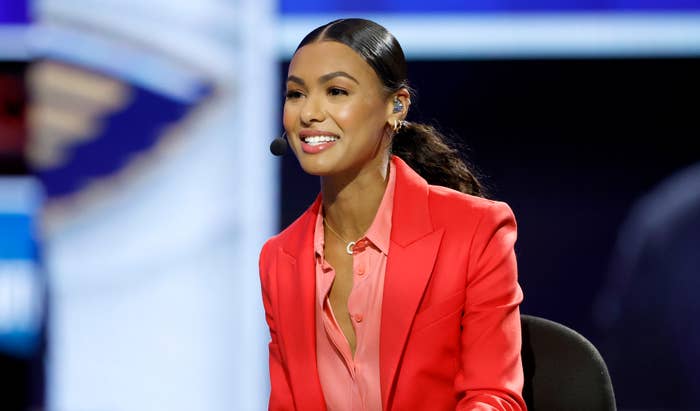 Malika Andrews has been granted a restraining order against a man who allegedly has been threatening th ESPN talent.
TMZ reports Andrews, the host of ESPN's NBA Countdown and NBA Today, claims Ahmed Abubakar, a 41-year-old resident of New Jersey, has sent her threatening messages on social media. According to documents obtained by the outlet, Abubakar also sent threats to Andrews' ESPN colleagues Stephen A. Smith and Molly Qerim.
Abubakar began messaging Andrews in Sept. 2022, before he got ahold of her unlisted phone number and began calling her over the summer. The man was subsequently arrested last month after showing up to Qerim's Connecticut home unannounced. Abubakar also showed up at ESPN's Los Angeles campus in an attempt to make contact with Andrews, Smith, and Qerim.
In a series of messages published by TMZ, one finds Abubakar accusing Andrews of getting him arrested. "You lied to police you bitch saying you never met me," the message read. Abubakar then threatened to sue Andrews and hoped that she got endometriosis to "destroy" her genital organs.
Per the temporary restraining order, Abubakar is ordered to stay at least 100 yards away from Andrews and other ESPN talent. A court hearing is scheduled for later this month.
Back in August, Andrews was announced as the new host of ESPN's NBA Finals pre-game coverage, replacing Mike Greenberg, who held the position for the past two seasons.