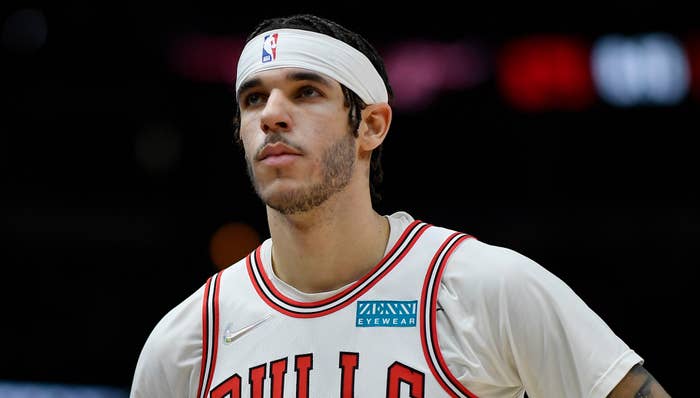 UPDATE 08/24 11:30 a.m. ET: Stephen A. Smith has hit back at Lonzo Ball after he took issue with the EPSN host's comments regarding his meniscus injury last year.
"You really going to sit poolside on the bench and think because you getting up and sitting down... that makes you healthy? Does that have anything to do with running up and down a damn court for 30, 35 minutes a night?" Smith said during a recent appearance on First Take. "Come on, bro. ... Then you got these idiotic trolls all over social media, and of course, these websites... 'He really tore into Stephen A.!' Don't you have the stats?! Don't you know how many games he's missed?!"
Stephen A. went on to tell his critics and Ball to "stop the nonsense," and stressed that Ball "ain't healthy" despite his claims to the contrary. "You've missed about 48 percent of your games, and you're only four years into your career," he continued. "Sit your ass down, until another time. And I'm wishing you luck! 'Cause I like Lonzo, and I like the Ball family. ... Lonzo's good people. But just stop it. Stop it."
See original post below.
Lonzo Ball is calling out Stephen A. Smith after the ESPN host raised concerns about the Chicago Bulls guard's struggle to return to the court following multiple knee surgeries.
Earlier this week, Ball, who hasn't played in an NBA game since suffering a meniscus injury in January 2022, revealed on Trae Young's podcast that he may miss the entire 2023-24 season.
On Tuesday's episode of First Take, Smith referenced "sources" who've shed light on Lonzo's health, which Stephen A. believes will prevent Ball from ever reaching his pre-injury potential.
"Something went wrong in terms of these procedures that he has had," Smith claimed. "I don't think he'll ever be the same, based off of what we're seeing and hearing and reading about. I've heard that it's even hard for him to get up from the sitting position."
Smith added that he's "really sad," for Ball, before expressing his hope that Lonzo "ultimately is blessed enough to get his health back."
After catching wind of Stephen A.'s remarks, Lonzo hopped on social media to post a video in which he questioned Smith's sources, while also refuting the First Take host's reports that Ball struggles to get up after he's sat down.
"Stephen A., who are your sources, bro?" Ball enthusiastically asked in the clip. "Please tell me who your sources are. Come on, man. Come on, man, you gotta stop yapping. And I actually like you, man! I don't even know you like that, but I like you! I'm coming back, man. Come on!"
Stephen A. hopped on Twitter to respond to Lonzo's video, writing, "Happy to do so, Lonzo. Nice to know you'd finally like me to reach out. Not a problem. You know how to reach me, too. I'm here."