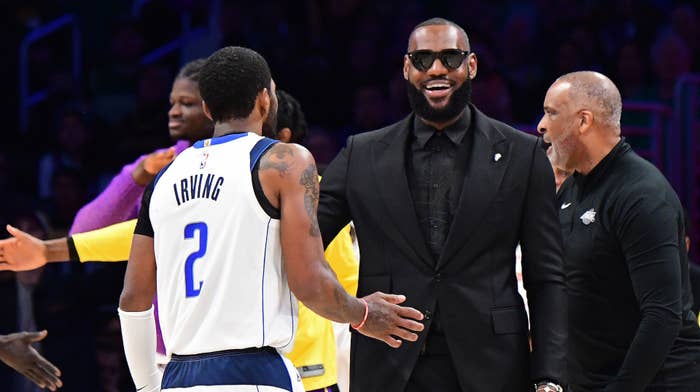 Kyrie Irving is looking to reunite with LeBron James in Dallas, NBA insider Shams Charania reports.
"Kyrie Irving has reached out to Lakers star LeBron James in attempts to see if James would come to Dallas," Charania wrote on Twitter on Monday.
Meanwhile, sources close to the team told Chris Haynes that Irving has asked the Mavs to "explore trading" for LeBron this offseason.
LeBron and Kyrie played three seasons together in Cleveland (2015-17), making three straight trips to the NBA Finals, which was capped off by their 2016 win over the Golden State Warriors. Following the conclusion of the 2016-17 NBA season, Irving requested a trade from the Cavs. Kyrie ended up in Boston, where he'd play two seasons before signing with the Brooklyn Nets in 2019.
During an interview on the I Am Athlete podcast in May 2022, Kyrie explained why he requested a trade in 2017, maintaining that the move had nothing to do with his relationship with LeBron.
"We got to be cool as brothers whether we're playing together or whether we're not playing together," Kyrie said. "We have to protect one another because it will seep into family life where people will really think that we don't like each other based on us not being able to play together anymore, you know what I mean? 'So you asked for a trade so you must hate that dude.' That's not true! So I had to defend myself, he had to defend himself, and it's like, I'm trying to put that to bed so I can continue to build my own legacy."
Kyrie continued by pointing out that he wasn't able to speak with LeBron before news leaked regarding his trade request, which prompted the media to speculate about an alleged beef between the two.
"Didn't get a chance to talk to 'Bron before the media ended up coming out and saying I asked for a trade," he shared. "So I go over to China and I'm on my Nike tour, somehow the news gets leaked while I'm in China. I'm not even on American soil right now, so I can't even get on to defend myself. … I had the conversation that needed to be had with the organization, and then I was going to have it 'Bron. But as soon as I got over to China… Boom! … Me and him never had beef like that!"