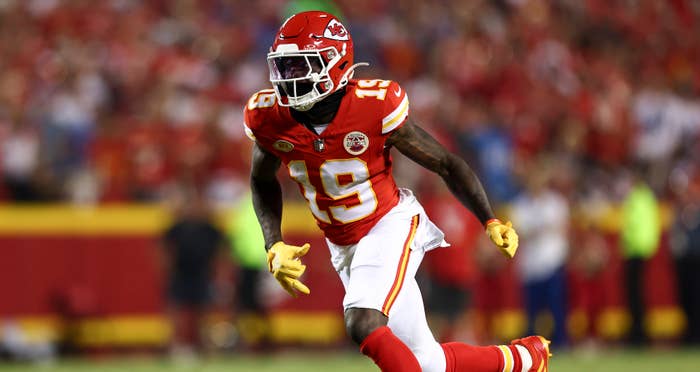 Kansas City Chiefs wideout Kadarius Toney is roasting the New York Giants fanbase after his former team suffered an embarrassing 40-0 loss to the Dallas Cowboys on Sunday Night Football.
On Sunday night, Toney, who on Friday deleted his Twitter following a miserable performance in the Chiefs' opening night loss to the Detroit Lions, hopped on Instagram to troll the Giants.
"Na Don't get quiet now," Toney wrote on his Instagram Stories alongside a screenshot of the Cowobys-Giants score, which at the time was 26-0.
Toney was drafted by the Giants with the 20th overall pick in the 2021 NFL Draft. After a sub-par rookie season in which he finished with 420 yards receiving and zero touchdowns, Toney was traded to the Chiefs last October.
Kadarius finished his first season in Kansas City with a solid performance in the Chiefs' win over the Eagles in Super Bowl LVII, where Toney caught one touchdown in addition to a record 65-yard punt return in the fourth quarter.
Last Friday, NFL fans noticed Toney's X account had been deactivated, which came hours after he was roasted across social media following the reigning Super Bowl champions' season-opening 21-20 loss to the underdog Lions.
Toney finished with one catch and one rushing attempt, each for minus-1 yard in Kansas City's loss. Even more, Kadarius dropped four passes, one of which bounced off his hands and resulted in a pick-six that tied the score 14-14 early in the third quarter. Late in the fourth, Toney dropped another pass that could've won the game for Kansas City.