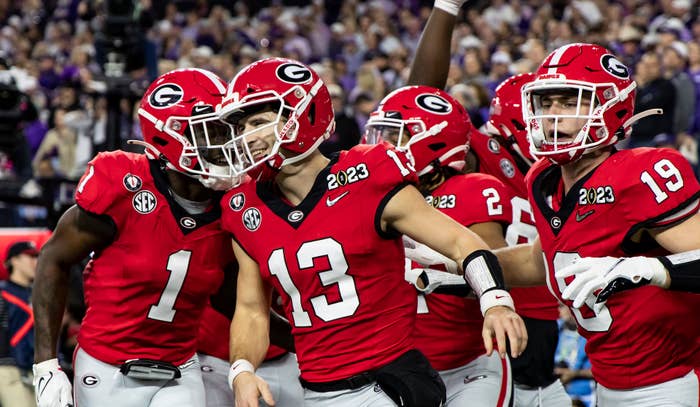 The Georgia Bulldogs have declined an invitation to visit President Joe Biden at the White House to celebrate the team's second consecutive national championship.
UGA's athletics department announced the change of plans in a statement to the Athens Banner-Herald.
"The University of Georgia first received on May 3 an invitation for the Bulldog football team to visit the White House on June 12," it reads. "Unfortunately, the date suggested is not feasible given the student-athlete calendar and time of year. However, we are appreciative of the invitation and look forward to other opportunities for Georgia teams moving forward."
The news arrives several months after a bipartisan group of congressional officials requested that the UGA football team visit the White House sooner. The Georgia Bulldogs won their second straight national championship in January after defeating the TCU Horned Frogs.
"It is our hope that this repeat championship team can join the many teams prior that have been honored by the President," the group stated in January. 
Meanwhile, back in April, First Lady Jill Biden announced an unusual request, revealing that she wanted to welcome not just the NCAA women's national champions the LSU Tigers to the White House, but also the Iowa women's basketball team, which was defeated by the former in the national championship game. 
"I know we'll have the champions come to the White House, we always do. So, we hope LSU will come," Jill Biden said at the time, according to ESPN. "But, you know, I'm going to tell Joe I think Iowa should come, too, because they played such a good game."
President Biden has not commented on the Georgia Bulldogs declining his invitation.