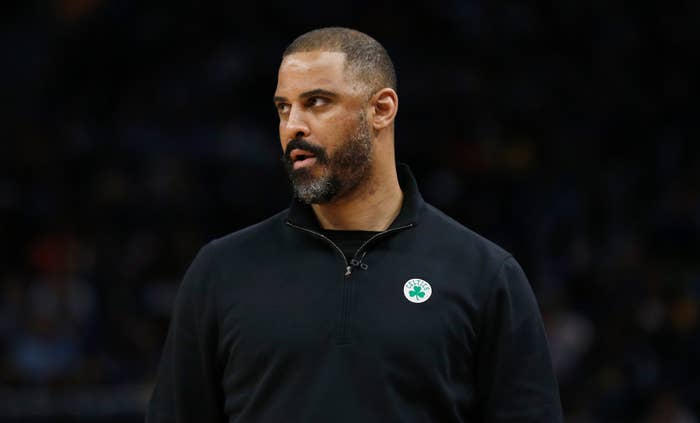 UPDATED 4/26 4:00 p.m. ET: Upon introducing Ime Udoka as the new coach of the Houston Rockets on Wednesday, the team's owner Tilman Fertitta criticized those who didn't want to see him get a second chance.
When asked about those who didn't want Udoka coaching another team, Fertitta suggested any such critic is "not a good, Christian person."
Udoka was let go from the Boston Celtics after reports of an improper intimate relationship with a staff member of the organization. An investigation originally found the relationship to be consensual, although she later said Udoka made unwanted sexual comments toward her. He later issued an apology and split from his longtime girlfriend Nia Long.
"It's important for me to feel good when I have questions and I get honest answers," Fertitta said, per USA Today. "The NBA told me they feel comfortable with Ime becoming coach of the Houston Rockets. ... We're a forgiving world, and anybody that isn't forgiving then shame on them. ... What we like about him is his ability to coach a basketball team, and that he's going to hold these guys to toughness, respectability, accountability, and, and it's everything how I like run a business." 
Udoka also spoke on Wednesday, and said that he remains remorseful for his behavior. "I spent this last offseason working on myself in a lot of different, different ways, improving in areas. (It was a) chance to sit back, reflect, and grow. And I think that'll make me a better coach and overall a better leader," he said. "That's where you start–with the ownership and accountability. I preach that to the players and so I have to take responsibility for my part in it."
See original story below.
The Houston Rockets are set to hire ex-Boston Celtics coach Ime Udoka.
ESPN's NBA insider Adrian Wojnarowski broke the news on Monday.
Back in September, Udoka, who led Boston to the 2022 NBA Finals in his first and only season as head coach, was suspended by the Celtics for the entire 2022-23 NBA season after it was discovered that he had a consensual, improper relationship with a team staffer.
Earlier this month, the Rockets fired head coach Stephen Silas after three years in Houston, where he led to the team to a 58-177 record.
Prior to leading Boston to a 51-31 record and a trip to last year's Finals, Udoka was an assistant with the Brooklyn Nets, Philadelphia 76ers, and San Antonio Spurs following a career in the NBA that spanned over a decade.
Udoka was suspended in September after the Celtics found that he'd had a consensual relationship with a female in the organization. The unidentified woman subsequently alleged that Udoka made "unwanted comments" toward her. Those comments resulted in the Celtics initiating an investigation that led to Ime's season-long suspension.
"I want to apologize to our players, fans, the entire Celtics organization, and my family for letting them down," Ime said at the time. "I am sorry for putting the team in this difficult situation and I accept the team's decision. Out of respect for everyone involved, I will have no further comment."