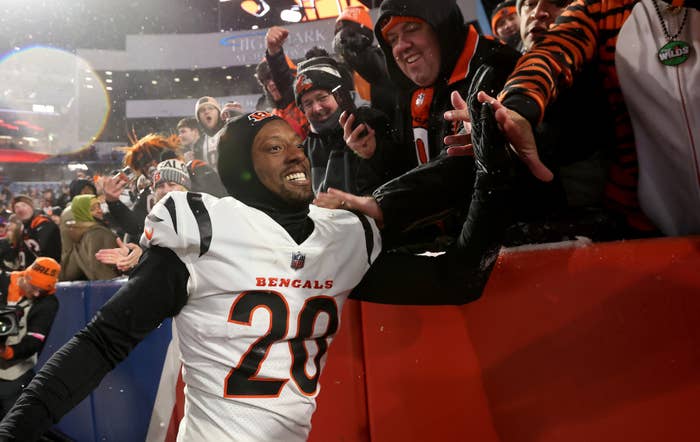 Bengals cornerback Eli Apple, who has nevershied away from trash talk, made sure to troll the Bills after Cincinnati's win on Sunday.
On Monday, Apple hopped on Twitter and roasted Bills wide receiver Stefon Diggs, who during Buffalo's loss was seen having an outburst on the sideline. Following the game, Diggs addressed his behavior, writing, "It's easy to criticize my reaction more than the result."
That's all it took for Apple to insert himself into the conversation, as he reminded Diggs that the Bills will spend next weekend in Cancun while Eli's Bengals head to Kansas City for the AFC Championship Game. Apple capped off his tweet by using the same heart-shaped hands emoji that Bills safety Damar Hamlin, who suffered cardiac arrest on the field during the Bills' Week 17 game against the Bengals, has been using during his recovery. 
Though that was all Bills players and fans needed to see to feel disrespected, Apple continued his troll job by quote-tweeting a video of Diggs' sideline outburst with Bills quarterback Josh Allen. 
"Someone get them in couples therapy @JoshAllenQB and @stefondiggs I'll pay on God," Eli wrote. 
It didn't take long until Bills defensive end Shaq Lawson came to Hamlin's defense, as he took to Twitter Monday morning to issue a warning to Apple.
"You played a good game @EliApple but disrespect my boy @HamlinIsland situation that shit get you beat up frfr. Keep it on the field," Lawson wrote. 
An hour later, Apple responded with an apology of sorts, maintaining that he never meant any disrespect to Hamlin.
"All love thoughts prayers and concerns to @HamlinIsland as he continues to recover from that tragic incident," Apple tweeted. "Never would I make light of that scary unfortunate scene. This game is truly a dangerous risk to our bodies mind and spirit. Nothing but love to all my football brothers."
It only took a few hours for Apple to trade tweets with Diggs ("safe travels to Cabo fam") and Lawson. He responded to the latter's aforementioned tweet with, "A shame you couldn't keep that same energy on the field maybe the outcome would've been different 🤷🏿‍♂️ enjoy Mexico wit the homies."