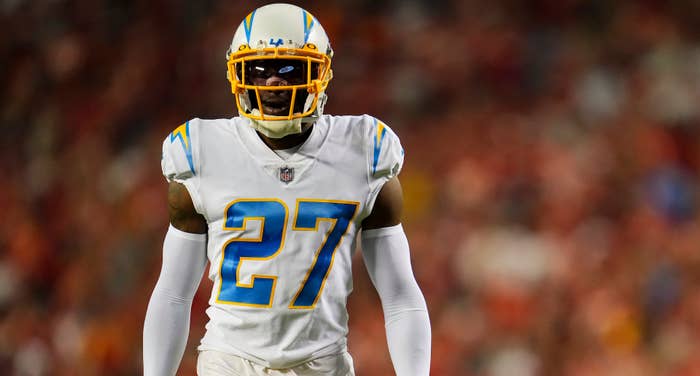 Los Angeles Chargers cornerback J.C. Jackson is facing legal issues in Massachusetts, where he spent the first four seasons of his career (2018 to 2021) playing for the New England Patriots.
As reported by MassLive, the former Pats defensive back was charged with criminal speeding in 2021. Jackson's warrant was issued after he failed to appear for a probation violation hearing in Attleboro District Court on Friday. In addition, he has yet to complete a class for reckless drivers, which he was ordered to do in 2021, or pay a $300 fine.
The news arrives after Jackson was listed as a healthy scratch for the Chargers' Week 3 game against the Minnesota Vikings.
At the time, Chargers head coach Brandon Staley told reporters it was "just a coach's decision."
"We felt this was the right group for this game, and really nothing more than that," Staley said. "It's to be determined," he added when asked about Jackson playing in Week 4.
In March 2022, Jackson signed a five-year, $82.5 million contract with the Chargers after four seasons with the Patriots. The 27-year-old cornerback won a Super Bowl with New England in 2018, before he broke out in 2021 and was selected to the Pro Bowl as well as the NFL's All-Pro second team.