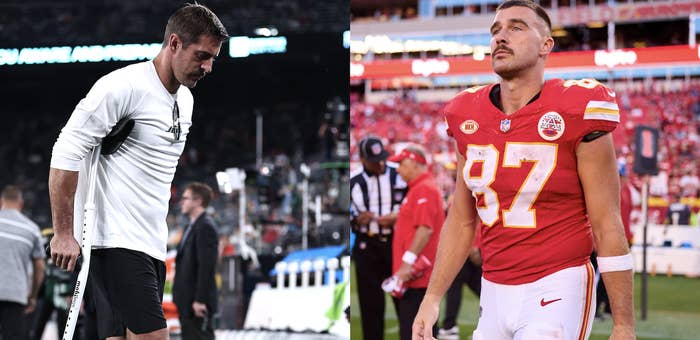 Aaron Rodgers isn't shying away from poking fun at Travis Kelce for partnering with Pfizer to promote its COVID-19 and flu vaccines in commercials.
During his weekly appearance on the Pat McAfee Show, the injured New York Jets quarterback referred to Kelce as "Mr. Pfizer" while discussing his team's loss to the Kansas City Chiefs on Sunday Night Football.
"There's some sentiment that there's some sort of moral victory out there, that we hung with the champs," Rodgers said. "Our defense played well and Pat didn't have a crazy game, and Mr. Pfizer, we kind of shut him down a little bit. He didn't have his crazy impact game."
Rodgers has long been critical of the COVID-19 vaccine and the NFL's policy on it. Back in November 2021, the then-Green Bay Packers quarterback tested positive for COVID months after claiming he was "immunized" against the virus after a reporter inquired about his vaccination status.
Nearly a year later, in August 2022, Rodgers admitted he misled the public with his immunization comments during an interview on Joe Rogan's podcast.
"I'd been ready the entire time for this question and had thought about how I wanted to answer it," Rodgers said. "And I had come to the conclusion I'm gonna say, 'I've been immunized.' And if there's a follow-up, then talk about my process. But, [I] thought there's a possibility that I say 'I'm immunized,' maybe they understand what that means, maybe they don't. Maybe they follow up. They didn't follow up. So then I go the season [with] them thinking, some of them, that I was vaccinated."
Rodgers is expected to miss the rest of the 2023 NFL season after he suffered an Achilles tendon tear on the fourth snap of the Jets' Week 1 win against the Buffalo Bills.