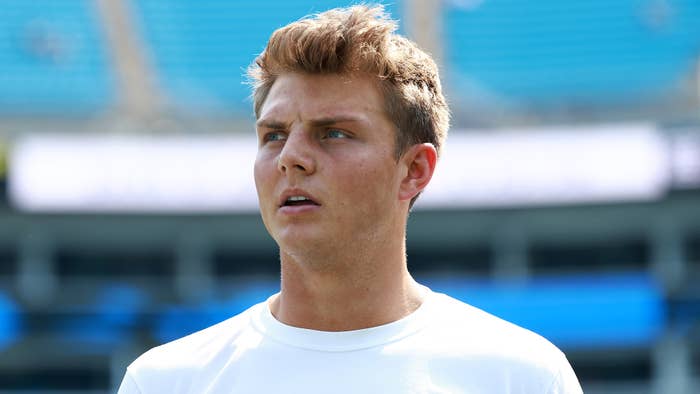 New York Jets quarterback Zach Wilson appears to have responded to an accusation from his ex-girlfriend that he slept with his mother's best friend.
Wilson's ex, Abbey Gile, made the accusation after she was seemingly spotted in a photo alongside his once best friend, Washington Commanders wide receiver Dax Milne. In a video that has since been deleted, she confirmed the relationship. And in another comment, per the New York Post, she alleged that Wilson cheated on her with an older woman.
She wrote that Wilson "was sleeping with his mom's best friend … that's the real homie hopper," replying to comments that labeled her a "homie hopper" for dating her ex's friend. 
In a post shared on Instagram on Wednesday, Wilson appeared to playfully reference the rumor. "Took the boys to @gozzerranchclub in Idaho before camp!" he wrote. "Poor cell service… What I miss?"
It appears that Wilson is enjoying the attention, after the initial accusation has somehow backfired. Most reactions have seen people find humor in the situation, or expressing outright praise him for his alleged actions.
The same day that Gile made the accusation, Wilson's mother Lisa shared a lengthy post on Instagram in which she cautioned about the dangers of social media.
"I thought I had done all the things to teach her to recognize danger. I thought I had blocked her from outside influences and I mean she was my kid, so even if someone got in, she knew what to do," she said in the video, appearing to reference one of Zach's siblings. "I was wrong. I completely underestimated the degree of evil that was possible, in a little electronic device, I personally placed in my baby girls hand."
Wilson's mother also received a DM from someone who criticized her and her family as Wilson's relationship drama continued to unfold. She shared a screenshot of the DM, which read, "Who are you giving parenting advice to? You know you can just parent your kids without telling the world about it. Look at your fucked up family."
"Ok sometimes we need a sacrificial lamb. Don't be a dick," she wrote alongside the screenshot. "I'm not in the mood. Yes I often post dick comments. I don't believe in cyber bullying." 
Check out reactions to the situation below.