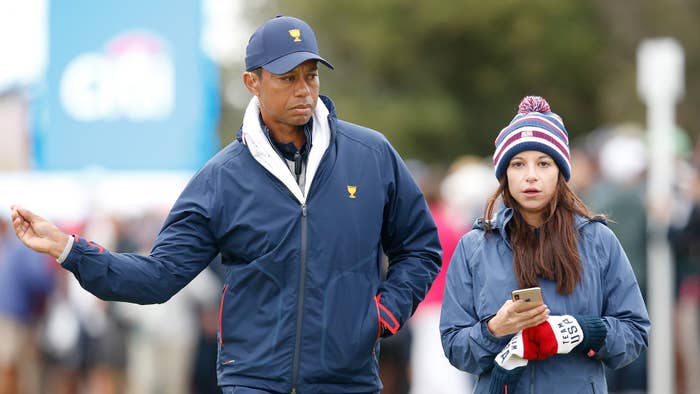 According to documents filed last week, Tiger Woods' ex-girlfriend Erica Herman has accused the professional golfer of sexual harassment, CNN reports.
Woods has been accused of pursuing a romantic relationship with Herman while she was still an employee at his Florida restaurant, The Woods Jupiter. Per the court filing submitted by Herman's attorney on Friday, the golfer allegedly forced her to sign an NDA (a non-disclosure agreement) or face unemployment. The two dated from 2017 to late 2022. Herman filed a lawsuit against Woods earlier this year following the end of their relationship.
"Tiger Woods, the internationally renowned athlete and one of the most powerful figures in global sports, decided to pursue a sexual relationship with his employee, then—according to him—forced her to sign an NDA about it or else be fired from her job," the documents read. "And, when he became disgruntled with their sexual relationship, he tricked her into leaving her home, locked her out, took her cash, pets, and personal possessions, and tried to strong-arm her into signing a different NDA. ... A boss imposing different work conditions on his employee because of their sexual relationship is sexual harassment." 
Herman's attorney Benjamin Hobas alleged that Woods concocted a "scheme" to get her out of his Florida property last year. She was reportedly driven to the airport under the belief she was to take a weekend trip to the Bahamas, but then she was informed by Woods' lawyer that she would never see him again. She was kicked out of the house and was unable to return. "She would not even be able to see the children or her pets again," the documents read. She was asked to sign another NDA but refused.
In March, Herman filed a $30 million lawsuit against Woods over an alleged oral agreement under which she would remain at his Florida home for five years after the end of their relationship. Woods' legal team has denied such an agreement existed.
Before filing the suit, she attempted to get a judge to nullify an NDA she signed in 2017. She cited the Speak Out Act, which prevents the use of NDAs when agreed to before disputes focused on allegations of "sexual assault or sexual harassment in violation of federal, tribal, or state law." Woods responded by saying she doesn't have the right to invoke the act because he didn't commit sexual assault or harassment. In the lawsuit, she ticked "no" when asked "Does this case involve allegations of sexual abuse."