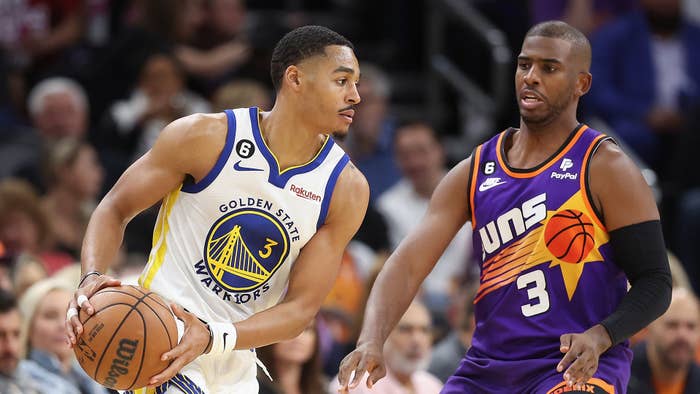 Less than a week after the Washington Wizards agreed to send Bradley Beal to the Phoenix Suns in a deal that included Chris Paul, the point guard is now reportedly heading to the Golden State Warriors for Jordan Poole.
Per ESPN, sources told Adrian Wojnarowski that the Wizards have agreed to a deal that would see Paul at the Warriors and Poole in Washington. As part of the agreement, the Wizards are also receiving a protected 2030 first-round pick and a 2027 second-round pick. The move has not been officially announced and the teams are expected to officiate the trade once the Beal deal has been completed.
Poole signed a four-year, $140 million extension with the Washington Warriors before last season, which ultimately proved to be a rocky one for him. Not only did he get punched at practice by teammate Draymond Green, but he also underperformed during the season. When he moves to the Wizards, Poole will take the shooting guard position left open following the Beal trade.
Paul, meanwhile, has a $30 million expiring contract. The future Hall of Famer is expected to be placed in a reserve role in the next NBA season. The move means his coach will now be Steve Kerr, with whom he has a contentious history.
In 2018, Paul appeared to fake a laugh at something Kerr said to him from the opposing bench during a Warriors and Rockets game. In 2020, he explained the interaction. "Why did I fake laugh at Steve Kerr? 'Cause shit wasn't funny," he told fans on Instagram Live.
See how the NBA world is reacting to the news below.