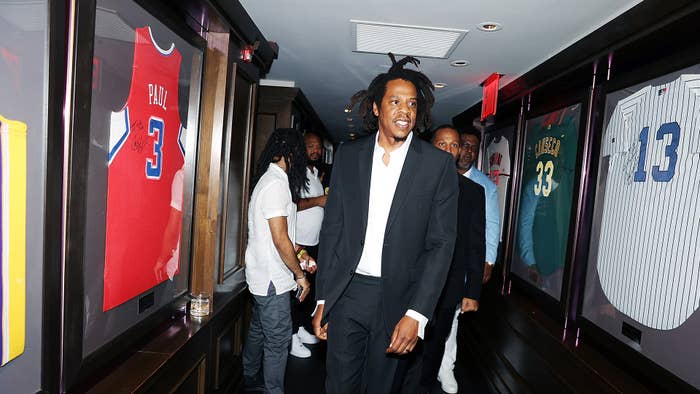 The Denver Broncos could be up for sale in 2022, but Jay-Z is evidently not expected to be among the list of potential buyers.
Despite reports stating otherwise, Jay-Z isn't looking to purchase the team if the opportunity arises next year, a source close to the situation tells Complex. 
Front Office Sports reported that both Jay-Z and Jeff Bezos are among the potential buyers of the team, whose current ownership could be looking to sell after the death of former owner Pat Bowlen in June 2019 and the aftermath. Bowlen purchased the team for $78 million in 1984, and his seven daughters have had issues over ownership since his death. The team isn't for sale right now, but that could change by 2022.
Per the FOS report, insiders claimed Hov is one of the frequently mentioned names when it comes to a potential sale, which could go as high as $4 billion. If that figure is accurate, that means Jay-Z would have likely needed to get some partners for the purchase. Per Forbes earlier this year, Jay was most recently estimated to have a net worth of $1.4 billion.
As for Bezos, the Amazon founder was reportedly in talks for a 40 percent stake in the Washington Football Team, although nothing came of those conversations. He's supposedly still interested in owning an NFL franchise, and with him being worth over $200 billion he's certainly in the position to pick one up.
Late Broncos owner Pat Bowlen's two oldest daughters filed a lawsuit against their father's appointed trustees in September 2019, although the suit was dismissed last month, per the Denver Post. Initially, the suit claimed Bowlen did not have the capacity to sign March 2009 estate plans because he had Alzheimer's, but the dismissal document states both parties have agreed these documents are valid.
This isn't the first time there has been conflicting reports regarding Jay and the NFL. When he and Roc Nation announced a partnership with the league in 2019, rumors circulated at the time he was looking to become a part-owner of a franchise. However, just days later it was confirmed that Hov wasn't buying any teams anytime soon.
Jay-Z and Roc Nation's partnership with the NFL was met with a wave of criticism, especially in regards to Colin Kaepernick's lack of involvement in the deal, which Hov later addressed on Jay Electronica's "Flux Capacitor."