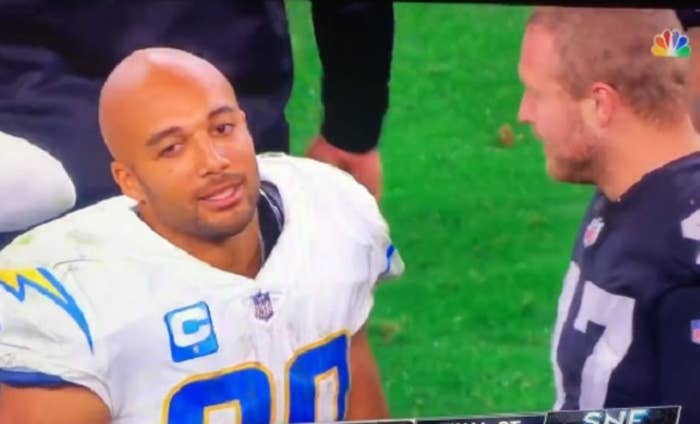 The Las Vegas Raiders and Los Angeles Chargers played one of the more memorable regular season NFL games Sunday. A tie would have advanced both teams to the playoffs, and eliminated the Pittsburgh Steelers.
That unlikely scenario almost played out, until what many believe was a costly timeout in overtime called by Chargers head coach Brandon Staley. The Raiders eventually kicked a game-winning field goal, eliminating the Chargers. 
After the game, an exchange between Raiders long-snapper Trent Sieg and Chargers running back Austin Ekeler circulated on social media, in which Sieg appears to tell Ekeler something that provoked a pretty strong reaction from the star back. 
Some have suggested that Sieg told him that they were willing to play out the clock, ensuring that both teams made the playoffs.
To make matters worse, Raiders quarterback Derek Carr said in a postgame interview that the last-minute timeout changed his team's strategy, but he denied that they were playing for a tie. "It definitely did, obviously, but we knew no matter what we didn't want a tie," Carr said about the timeout. "We wanted to win the football game." 
The Raiders will now face the Cincinnati Bengals on Saturday, after an incredibly tumultuous season. Win or lose next week, they provided fans with one of the more incredible and incredulous regular season games in recent memory.
Check out more notable reactions below.