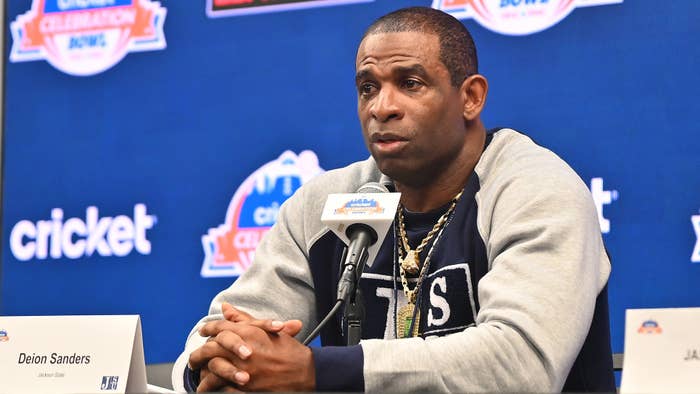 Former NFL Hall of Famer and current University of Colorado Boulder football coach Deion Sanders is set to undergo emergency surgery on Friday after a blood clot was found in his groin.
The news was announced by Colorado football head coach Adam "Pacman" Jones during a recent installment of The Pat McAfee Show. "I had a chance to talk to him this morning," Jones said. "But he's up… I said, 'Man, I hope they don't have to cut off your dick.' That's what I told him. I said, 'Bro it'll be bad if they have to cut off your dick, bro. Just cut the leg off.'"
Last week, per KDVR, it was reported that Sanders is facing the possibility his foot might have to be amputated. He previously suffered issues with his left foot after he sustained complications from foot surgery during his time coaching at Jackson State University.
"He's been dealing with this since Jackson State. He had a blood clot in his leg—same thing with the foot. He was thinking about cutting the foot off and he didn't," Jones continued. "He went through a hell of an operation. I was there… to see him go through that and get back to where he's at. I just want him to get healthy."
Last week, Sanders shared a video showing one of his meetings with doctors regarding the state of his left foot, which has been suffering from blood flow problems. "As you know I've faced some medical challenges with my foot but I've never said 'WHY ME,'" he wrote alongside the video. "I keep moving forward, progressing . . . See you never know what a person may be going through while I sit in your seat of judgement but you can trust and believe that we are all going through something - just keep the faith and know that if He brought you to it, He will bring you through it . . I'm CoachPrime and I'm built for this."
Sanders was named the head coach of the Colorado Buffaloes in December last year. "There were a number of highly qualified and impressive candidates interested in becoming the next head football coach at Colorado, but none of them had the pedigree, the knowledge and the ability to connect with student-athletes like Deion Sanders," said Colorado athletic director Rick George. "Not only will Coach Prime energize our fanbase, I'm confident that he will lead our program back to national prominence while leading a team of high quality and high character."
Prior to his time as a coach, Sanders played 14 seasons in the NFL and nine season in the MLB.