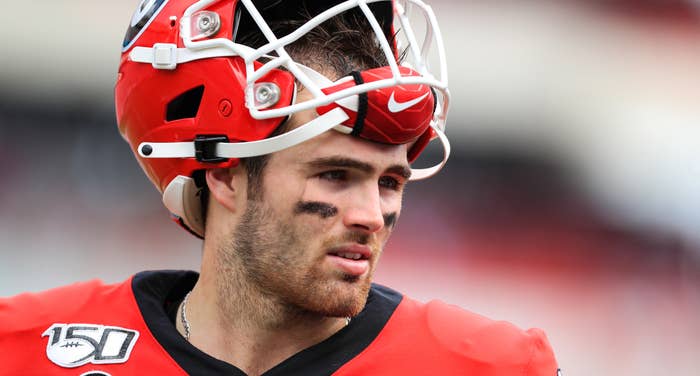 Buffalo Bills quarterback Jake Fromm is facing backlash before he's even played a NFL game. In a series of texts that were leaked by someone on Twitter, Fromm wrote about gun control and said that suppressors should be "expensive so only elite white people can get them." In a statement he shared on his social media, Fromm apologized for his racially insensitive comments.
"I am extremely sorry that I chose to use the words 'elite white people' in a text message conversation," he wrote in his apology. "Although I never meant to imply that I am an 'elite white person,' as stated later in the conversation, there's no excuse for that word choice and sentiment. While it was poor, my heart is not. Now, more than ever, is the time for support and togetherness and I stand against racism 100%."
Fromm goes on to insist that he will do better in the future. "I promise to commit myself to being a part of the solution in this country," he continued. "I addressed my teammates and coaches in a team meeting today and i hope they see this incident is not representative of the person I am. Again, I'm truly sorry for my words and actions and humbly ask for forgiveness." 
The Buffalo Bills also addressed the situation in a statement. "Earlier today, we became aware of comments made in a text message conversation involving Jake Fromm in 2019," the statement reads. "He was wrong and he admitted it to us. We don't condone what he said. Jake was honest and forthcoming to us about the text exchange. He asked for an opportunity to address and apologize to his teammates and coaches today in a team meeting, which he did. We will continue to work with Jake on the responsibilities of being a Buffalo Bill on and off the field."
New York Jets safety Jamal Adams isn't too impressed by the apology, criticizing Fromm and Drew Brees' recent apologies. "You and Drew aren't really sorry," wrote Adams on Twitter. "Save the bullshit ass apologies. The truth just came out, and you two aren't the only ones!"
Brees was criticized after he said he  would not support NFL players kneeling in protest of police brutality during the National Anthem. "I will never agree with anybody disrespecting the flag of the United State of America or our country, he said. Like Fromm, he has since apologised less than 24 hours later. 
In the texts that were originally shared online, Fromm wrote, "But no guns are good. They need to let me get suppressors. Just make them very expensive so only elite white people can get them haha." Fromm joined the Buffalo Bills earlier this year after he was drafted in the 5th round. Prior to 2020, he played for the Georgia Bulldogs.