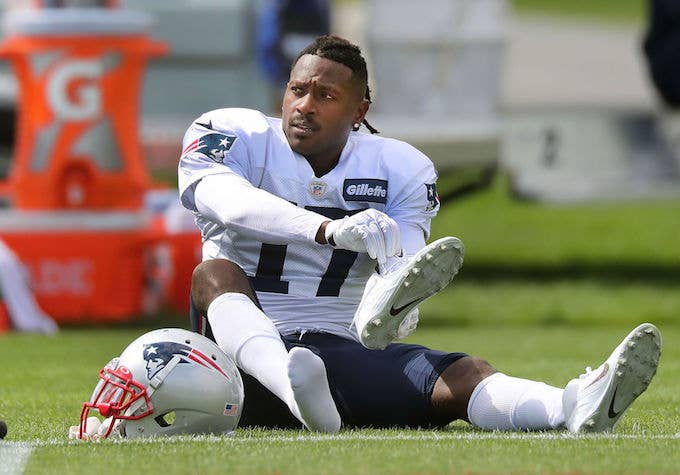 Earlier this month, NFL wide receiver Antonio Brown was accused of rape by his former trainer. A second woman later accused him of making an unwanted sexual advance toward her in 2017 after the first story was made public, and now she has claimed he sent her "intimidating" text messages.
As Sports Illustrated writes, the woman in question was hired by Brown to create a mural of him in his home. He reportedly proceeded to approach her holding only a small tower over his genitals as she worked on the mural, an advance she quickly shot down. After the interaction, he stopped communicating with her. In a text chain to which Brown added a number of unnamed individuals, Brown has allegedly attempted to intimidate the woman with a series of threatening messages.
The texts supposedly included photos of her children, with Brown calling her "sad" for telling her "bull shit story to the world." Another party in the series of messages called her "super broke," while Brown told someone else in the messages to "look up her background history," to which they responded, "Yes sir we will do that." The number that was associated with Brown in the message thread is reportedly the same number the woman used to communicate with him in 2017, which is when she first interacted with him.
Brown's lawyer Darren Heitner was also included in the thread, but he specifically advised the New England Patriots not to talk to his accusers. The artist and her lawyer, Lisa J. Banks, have sent a letter to the NFL in hopes of the league intervening. "Our client ... is understandably frightened by these text messages, which are clearly intended to threaten and intimidate her," Banks wrote. "While she certainly qualifies as a 'starving artist,' she has never approached Mr. Brown, nor will she, about seeking money to compensate her for his sexual misconduct, contrary to his allegations in the text messages."
As revealed in the original report of her allegations against Brown, she explained that she did not plan to press charges or seek compensation for him, contrary to his messages in the thread. "This sort of intimidation and harassment is the reason victims are often so reluctant to step forward in these cases," her lawyer said. "We have confidence the NFL and the Patriots will step in and end this behavior."
During a meeting with the press this week, Brown dodged all questions regarding the allegations leveled against him. As TMZ reports, Brown responded to a question about the impending NFL investigation against him. "I'm super grateful to be here, to play for Bill Belichick and Tom Brady," he said. "I've got a lot of the offense to learn and catch up. But, I'm excited and grateful to be here and be a part of these guys." 
This week saw Nike drop Brown, although specifics are unavailable.