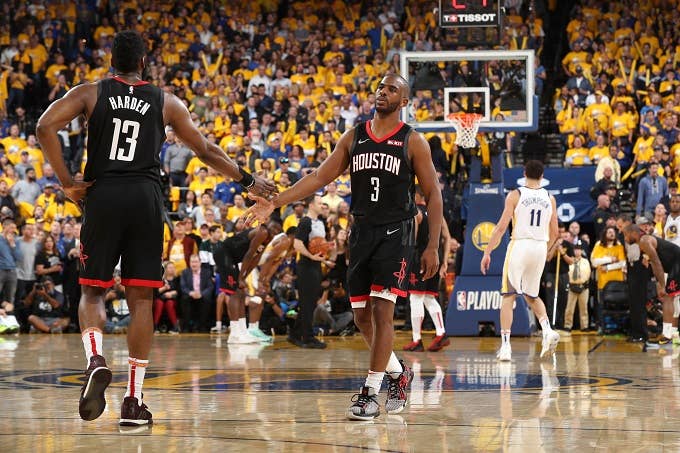 A new profile from ESPN points toward trouble at all levels of the Houston Rockets organization. In spite of their recent playoff run and the presence of two superstars, the picture painted by the story is one of dysfunction from the front office downwards
"There's too much damn turmoil," an unnamed Rockets source told ESPN. "There's some hard feelings right now everywhere."
The Rockets ownership have been in a very public fight over how much they are willing to pay for their coach Mike D'Antoni. In spite of his success with the team, the contract offered to him was short on guarantees and well-below the base salary expected for a coach of his stature. 
D'Antoni revealed that he hopes to coach "at a high level for at least another three years" after the bickering over his contract became public. Team officials reportedly traveled to D'Antoni's home in West Virginia to hammer out the beginnings of a new deal, with owner Tilman Fertitta saying that he left the talks feeling like they were on the right track. 
"I feel very good about it, and I've always felt good," Fertitta said. "I'm disappointed that it got talked about in the press, and I'm disappointed I responded in the press."
On the court, there's tension between Chris Paul and James Harden. General Manager Daryl Morey said that he thinks the animosity between the two players comes when two top-flight athletes have to deal with losing.
"What you have are two highly competitive guys who were very disappointed that we didn't beat Golden State," Morey said. "You've got two high-level competitors who want to figure out how to win at a higher level, as well. Naturally, people who want that so bad, something that's so tough, it's going to create sometimes things that need to be discussed. But it's all, to me, in bounds of any superstars."
Another anonymous source said that the older Paul is attempting to run the floor when they are playing together and that this rubs Harden the wrong way.
"Chris wants to coach James," the source said. "James looks at him like, 'You can't even beat your man. Just shut up and watch me.'"
In spite of all this (and the many rumors to the contrary), the team is contending that Paul wants to stay with the Rockets for another season. 
"Chris Paul does not want to be traded," Morey said flatly on a Houston sports radio show on June 17. Morey's optimistic view continued when he addressed the rumors of tension between the two stars. During an interview with ESPN Radio's Golic & Wingo, Morey doubled down on his claims that these spats are due to the players' competitive spirit while also insisting they are still the favorite to win the Western Conference next year despite the Lakers' new acquisition.
"We feel like we should be the favorite in the West, and we're going to do moves to show people that we should be the favorite in the West," Morey said. "That's going to create a little tension when we do that. But at the end of the day, we're going to have at least our starting five back, which again most teams are scrambling to keep it together and we're going to spend midlevel, we're going to spend into the tax. We're going to be one of the most expensive rosters like we were last year and this year and we're going to be right there." He also went on to praise owner Tilman Fertitta for allowing him to aggressively conduct business. 
"Tilman wants to win. He's spending whatever it takes. He's authorized me to go into the tax for multiple years going forward," he explained. "We're going to spend whatever it takes to win... We are either going to add a third star or a top midlevel player to our core and be better next year. For me, this story is how wide-open the West is and how we are right there in the mix, and probably the favorite going into next year."