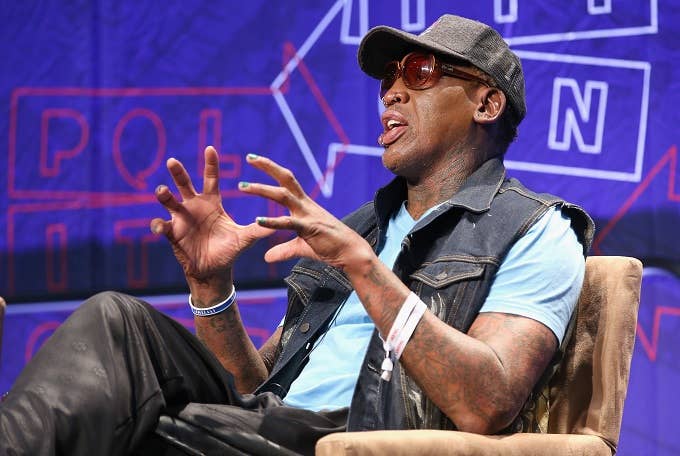 One of Dennis Rodman's main job as an enforcer on the Chicago Bulls was not letting anyone get to Michael Jordan and those are the sort of habits that die hard. After Joel Embiid claimed that MJ wasn't the greatest to ever play the game, Rodman's old instincts kicked in and he let Embiid know that he could have all the smoke. 

"Joel Embiid, you doing a great job for your little island or country where you from, man," he told a TMZ videographer recently. "Shut the fuck up, go do your goddamn job and do Philly proud. That's the one thing they need is a championship."
Pressed by the paparazzo to state whether or not he thought Embiid was wrong, Rodman put it in even clearer terms. 
"You're goddamn right he's wrong," he said. 
Embiid's comments came from an interview on The Ringer's NBA Desktop podcast. While the GOAT debate has been pretty well narrowed down to Jordan vs. LeBron James, Embiid wanted to add a wrinkle to the ever-raging NBA battle. The Philly big man beleives the real GOAT is Wilt Chamberlain.
"[He] is not the GOAT," Embiid said. "To me, you got Wilt Chamberlain. He's got all the records, and no one is ever gonna beat them. I don't see anyone ever getting 100 points in a game. That's it, he's the GOAT." 
ESPN's Stephen A. Smith also disagreed with Embiid's statement, but he appreciated that Embiid wanted to open the debate up to include the game's big men.