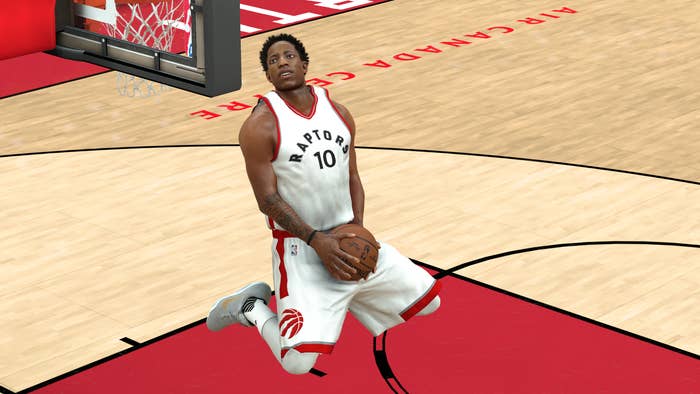 Think you've got game? If you answered yes to this question, you could very well be playing in the NBA this season... well, sort of. The Toronto Raptors are entering an elite eSports League, and the Canadian team is looking for new recruits. According to a developers at Take-Two and 2K Sports, the championship will model the NBA, utilize the recently released NBA 2K18, and will have players representing their favourite teams from around the league.
Earlier this May, NBA 2K Managing Director, Brendan Donohue, stated that his company is invested in the growth and development of this gaming world. "This is the first step in what promises to be an extraordinary league, bringing together the world's best gamers and showcasing elite competition on an international stage," Donohue began. "Our teams have expressed tremendous enthusiasm for eSports, and we are looking forward to forming something truly unique for basketball and gaming fans around the globe."
The games begin next year, but eSports officials are already hard at work finding some of the world's best joystick talent. North of the border, Raptors parent company, MLSE, said that the initiative is an absolute no-brainer for everyone involved. "When the NBA came and said 'Look, we're going to start an esports league up. It will be backed by the NBA, backed by the publisher of the world's most successful NBA console game' … For us that makes an awful lot of sense," said chief commercial officer, David Hopkinson.
MLSE brass are also letting would-be players know about the many incentives to being an official Raptors gamer. Not only will players be paid, but so too will they be groomed and marketed into stars. "Our job will be to take whoever's playing on our eSports team and help them become bigger and bigger celebrities and stars just like we would DeMar DeRozan or a Kyle Lowry," said Hopkinson.
Submissions for the league are still not open, but be on the lookout for more news in the next few weeks. 2K has even teased the possibility of a draft and subsequent player combine to decide worthy participants.