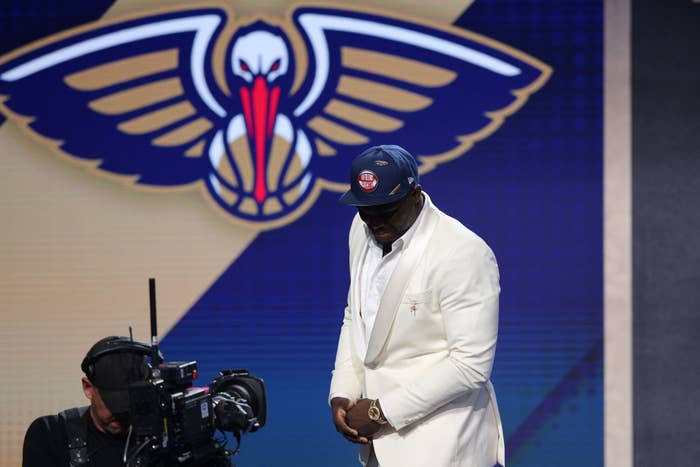 You get what David Griffin was doing Thursday night. Or at least trying to do. But his attempts to protect Zion Williamson and deflect just a sliver of the pressure the No. 1 pick is going to feel was nothing short of laughable.
The executive vice president of basketball operations for the Pelicans was addressing the local New Orleans media after a pretty successful draft. Williamson wasn't the Pelicans only prize Thursday thanks to the savvy trade made with the Lakers last week, and further wheeling and dealing with the Hawks. But let's be real here and state it would've been practically impossible for Griffin to fuck things up after he was gifted the No. 1 pick in the 2019 NBA Draft. And it just so happened to be the year the most heralded and hyped prospect since LeBron James was available.
So there was Griffin, the highly respected executive tasked with remaking the Pelicans in the wake of the Anthony Davis trade, plopped in front of local reporters, taking his victory lap—as he should. He was putting one of the most momentous nights in the organization's history into perspective less than seven days removed from getting rid of the franchise's best player ever. Then he comically implored the basketball world to chill with its expectations of Williamson.
"This is not somebody who is supposed to be the savior of this franchise," Griffin said. "That's not what this is."
Come. On. Pal.
We've got a lot of respect for Griffin here—for the record. As evidenced by his stint in Cleveland, where he helped the Cavs win a title in 2017, and the ransom he got for AD from the Lakers, Griffin absolutely knows what he's doing. But trying to change the narrative around Williamson's arrival in the Big Easy that he isn't expected to elevate the Pelicans to new heights thanks to his freakish athleticism and charming personality, is playing the whole world for dumb.    
"This is Jrue Holiday's team," Griffin said. "Zion is going to be part of learning how to win at a really high level."
Nice try, Griff. Holiday is a respected vet and has been a borderline All-Star for the Pelicans the last few season. He's probably one of the most underrated guards in the game. But the second Williamson put on a Pelicans hat last night in Brooklyn and shook commissioner Adam Silver's hand the Pelicans became his team and New Orleans became his city. Everybody knows it. Griffin just doesn't want to say it to protect the player.
If Zion Williamson isn't the savior of the Pelicans why take him No. 1?  
And you get why he's doing that since it's a 19-year-old kid he's talking about that must carry the massive weight of crazy comparisons and sky high expectations—for instance, oddsmakers already have him pegged as the overwhelming favorite to win Rookie of the Year. That's a lot for a grown man to carry. It's usually too much for a teenager. But you can't sugarcoat what Zion's arrival means to New Orleans. He gives them life. He gives them hope. He gives them something to feel good about after a miserable, controversial season. He gives them an anchor to build around and attract other top talent for years to come.
Sustained success on the basketball court has rarely existed in New Orleans. Never has the franchise reached the Western Conference Finals in their existence. The Pelicans never keep their stars like Davis and Chris Paul. The reasons for that are numerous. The franchise used to be a complete mess internally, but Griffin's already changing the culture and addressed important issues like the medical staff (which, egregiously, used to be shared with the NFL's Saints). And of course New Orleans is a unique city—the smallest market in the NBA—and that presents specific challenges that the team has to overcome. I mean, while New Orleans is nice to visit the majority of NBA players don't want to live or play there.
But when you're the No. 1 pick in the draft and are basically committed to a franchise for a least four seasons, do crazy things on the basketball court that someone your body type shouldn't be able to do, played for the most respected coach in college basketball who praised you like we've ever heard him before, and were the Naismith College Player of the Year as a freshman—I could go on and on with more accolades—I'm sorry, but you are the savior of the sorry franchise that drafts you.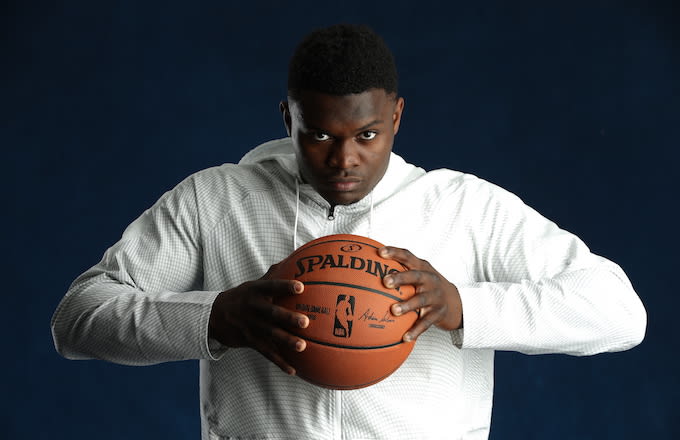 "People use a lot of big names, a lot of Hall of Fame names, but nobody has ever had his exact combination of size, explosiveness, lateral quickness, ability to defend multiple positions, and willingness to do what it takes to win," Griffin said.
When he puts it that way, we all know that Griffin knows Zion can't miss. And therefore that makes him a savior. You can't say it's not fair to put the pressure on him then big up him. True, New Orleans did not became a title contender overnight from drafting Williamson—at the least, they'll be everyone's favorite League Pass team this upcoming season—but it means over the next few years the Pelicans should ascend from lottery team to perennial playoff squad if his talents turn out to be as fantastic as projected. That just comes with the territory of being the ultra-hyped top pick.
There's going to be an adjustment period for sure next season, so we should all keep things in perspective. But numerous NBA observers and talent evaluators think he has All-Star written all over—some even as soon as this upcoming season, though that's probably ambitious. And he's probably going to be a Pelican a hell of a lot longer than Holiday, Lonzo Ball, Brandon Ingram, Josh Hart, the Pelicans other first round pick last night, the No. 8 selection Jaxson Hayes, and whatever additions Griffin makes this summer.

"And, at some point, if there's a time when the baton gets passed in terms of who is expected to carry us to win games, it will," Griffin said. "That's not now."
Only a nutjob would disagree that Williamson isn't ready to carry an NBA team by himself, but the baton will be—needs to be—passed sooner rather than later. Because if Zion Williamson isn't the savior of the Pelicans why take him No. 1?