Michael Jordan was easily the most popular basketball personality of the 1990s. But riding the G.O.A.T.'s coattails just might be a plastic puppet standing less than two feet tall and wearing fire kicks.
Debuting in 1995, Lil Penny—the Chris Rock-voiced puppet alter ego of superstar Anfernee "Penny" Hardaway—took the NBA and pop culture by storm. The Nike commercials starring Penny and his miniature sidekick were huge hits and helped push sneakers, of course, but also a book and other merchandise, appearances on Oprah, and nearly a movie. The ad campaign, which lasted two years, became one of Nike's most successful and undoubtedly amongst its most memorable.
But Lil Penny—the beloved trash-talking player who threw the best parties, hung hard with the NBA's top talent, and could never stop sweating Tyra Banks—was almost left on the cutting-room floor.
It all started in 1994, when Jordan was still months away from making his triumphant (and first) return to the NBA and Nike was looking to create new buzz around Hardaway, the third pick in the 1993 draft, who was starting to establish himself as one of the game's rising stars. Stacy Wall, then creative director for renowned advertising agency Wieden+Kennedy, was tasked with the job, and he drew inspiration from a failed commercial concept featuring Hardaway and Jordan playing one-on-one as puppets for his new pitch.               
"I thought the commercial was interesting, but Nike thought it was creepy," recalls Wall, currently partner and director of Imperial Woodpecker, a commercial production company. "But the Penny puppet in particular had this sort of magic to it. I was frustrated as a creative that that campaign was not going to happen and that the puppet itself had ended up on the shelf at Nike."
It didn't stay there for long. Wall refined the idea and, looking to the tag-team dynamic of the Spike Lee-Jordan commercials of the late '80s, pitched Nike a different idea: the modest and reserved Hardaway would have a trash-talking sidekick puppet. Nike loved it and gave Wall the green light.
Many years and many commercials later (it's been nearly two decades since the last ad aired), Lil Penny still cracks up people who grew up in the '90s watching the spots on TV; even those who never saw Hardaway play have discovered him and his sidekick on YouTube. So how did it all come together? Why was it so successful? And how would the campaign have been different if Nike landed its first choice for the voice of Lil Penny? Drawing from exclusive interviews from Wall, Charles Barkley, Kenny Smith, Tyra Banks, Penny Hardaway himself, and others, we present the oral history of Lil Penny.
The Beginning
At the pitch meeting with Nike, Wall had the Lil Penny puppet hidden at his feet, waiting to break out his "secret weapon." When the time was right, Wall debuted Lil Penny and mimicked how the alter ego's voice would sound. "I sort of started doing what the voice in my head would sound like without trying to be too offensive about it," says Wall. Nike's decision makers were cracking up—they loved it. The campaign was approved. It was time to start making commercials.
Penny Hardaway, Orlando Magic guard, 1993–1999: I was starting to come into my own in the NBA, and Nike started throwing things at me sneaker-wise and things of that nature. They said, "Since you're so quiet and reserved and laid-back, wouldn't it be great to give you an alter ego?" We called the alter ego Lil Penny and I loved it right away, because somebody would be talking trash for me. I thought that was pretty cool.
Stacy Wall, former creative director, Wieden+Kennedy: It struck me that the puppet could become his alter ego, but I didn't want it to suffer the creep factor, so I made sure it was very comedic. He'll be everything Penny is not in terms of his personality: he'll be full of ego, he'll be brash, he'll be funny, he'll be unafraid to say Penny is the best.
Hardaway: Stacy really didn't go into detail except to say, "Hey, man, we think this will be pretty hilarious." I said, "Yeah, I agree."
Wall: The voice in my head was sort of somewhere between Eddie Murphy's voice in Coming to America and any athlete that had that ability to be prideful, yet it wasn't offensive.
Chris Rock, comedian/voice of Lil Penny (from The Bottom Line Sports Show): They showed me the doll, they told me the situation, and we just had fun with it. And people loved it. My God, people really, really [loved it]. Penny was so quiet and cool, so it was a perfect alter ego.
But Rock wasn't the first choice for the voice of Lil Penny. Wall believes Nike approached Murphy first, but the legendary comedian declined. Damon Wayans and Martin Lawrence were also candidates. Eventually, Wall turned his attention to Rock.
Hardaway: They never told me until after it was done. After Chris Rock was already signed they gave me the names of the people who turned it down. So I never thought anything else about it. If they would have given me an opportunity to choose, I definitely would have tried to get Martin.
Jaleel White, actor and Hardaway friend: Chris's voice was just poised to pop. Martin probably could have done it some justice. Damon I wouldn't think so as much. I know Penny's favorite show was Martin. If Penny Hardaway could have gotten anyone, Martin Lawrence would have played Lil Penny.
Wall: I was a big fan of what Chris Rock had been doing on Comedy Central, a lot of political reporting and some standup. I met him in Orlando for the first recording session and it just clicked. He injected so much of his own ideas into it that it really became a collaborative thing.
Hardaway: [Rock] was willing to do whatever it took. Martin might not have been willing to do whatever it took. He knew this was an opportunity to do something big. He didn't know it was going to be this big. His voice and style all mixed in with what Stacy wanted out of Lil Penny.
Rock (from the B.S. Report): So me and Stacy are young guys, coming up, and you know...basically it was kind of "Do whatever you want to do." … They would just record me and get a lot of wild lines and I would watch the commercials not [knowing] what I was going to say, to tell you the truth.
Hardaway: It would have been different if Martin would have done it. Because Chris Rock's voice, and that attitude and how hyper he was, really made it work.
Wall: We got [Rock] right at the right time.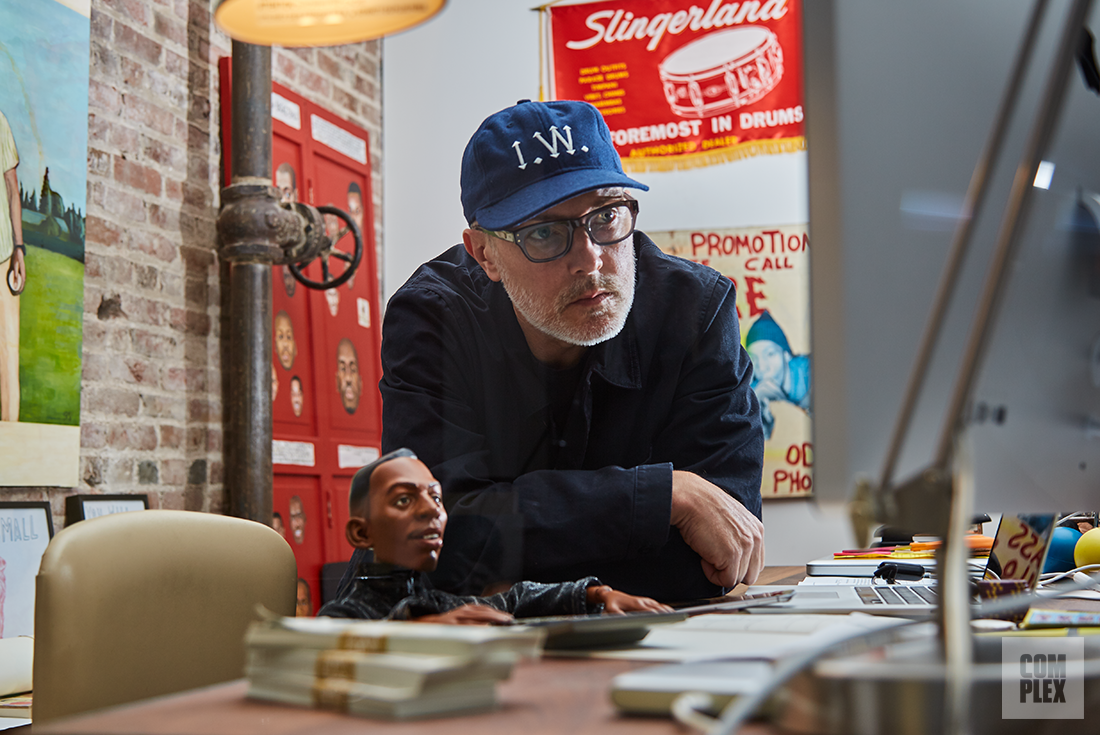 Hardaway had appeared in the 1994 movie Blue Chips before the first Lil Penny spot dropped, but there was still some uncertainty around how the burgeoning superstar would play off a lifeless puppet. Hardaway had no formal acting training, but still felt confident he could pull off anything that was asked of him in front of the camera. On set, Wall would kneel behind a couch or be off to the side and recite Lil Penny's lines to Hardaway. In post-production, Rock would voice his lines, occasionally adlibbing based on how the scene unfolded.  
Hardaway: The funny side of it is if you grow up in a pretty modest neighborhood—we'll say modest to poor—you have to learn how to act. But honestly, it was something that I always loved. I've always been intrigued by TV. I'm a TV person, so I watch and learn and I always wanted to be an actor. Then I had the opportunity to do the Nike commercials, and it came easy because I already did Blue Chips.
Phil Morrison, director of first three Lil Penny commercials: Because we shot big Penny first, what Chris ended up doing was fit into the rhythm of big Penny, who was the non-actor. By having the non-actor go first, it allows it to have this sense of rapport even though we were recording Chris in the studio.
White: Lil Penny doesn't really come alive until post-production. Otherwise he's just a configured doll sitting off to the side.
Wall: The way we would shoot those things is I would sort of hide behind the couch and the puppeteers would be there. We'd try to keep it spontaneous and live for [Hardaway]. He just had this really natural way of being frustrated with Lil Penny.
Rock (from The Bottom Line Sports Show): I mean, they brought most of the idea to me—most of it. I would just add a little flavor to it. Like, "Can you do that for a brother?" I did one thing, "I'm going through a tunnel, I can't hear you!" First time that joke was done was in a Lil Penny commercial. So they let me adlib and they let me, like, feel it. It was perfect.
Morrison: Stacy did the voice in a slightly more clipped and higher pitched way. Stacy wasn't doing Chris Rock when Stacy did the voice. He did his own version of Lil Penny. There was something Southern about Stacy's Lil Penny.
The first commercial featuring Lil Penny, "Locker Room," hit the airwaves in November of 1995. In it, Hardaway is lacing up his first signature sneaker, the Air Max Penny or Air Pennys, in the Orlando Magic locker room when Lil Penny asks Hardaway if he could say hi to his high school buddy Kevin Garnett.
Hardaway: The overall reaction and feedback was amazing. It was a success. They loved the little liners—"Can you do that for a brother?" They never saw me in the commercial. They only saw Lil Penny.
Nick Anderson, Orlando Magic guard 1989-1999: It was [Hardaway's] face, his body structure. But it was Chris Rock's voice. So we were just killing him about that. [Laughs.]
Wall: I remember hearing within the first two weeks that it ran [that] somebody had done a commercial with Kenny Lofton, and they said all he wanted to talk about was Lil Penny. That was my first indication that this might be good.
Kenny Smith, Inside the NBA analyst: The initial reaction was why aren't they letting him speak? Guys were making fun of him. Because it was all about Lil Penny. How are you letting the puppet dominate the commercial? But then, as it went on, guys were like, "Damn, I wonder if they would make a puppet out of me?"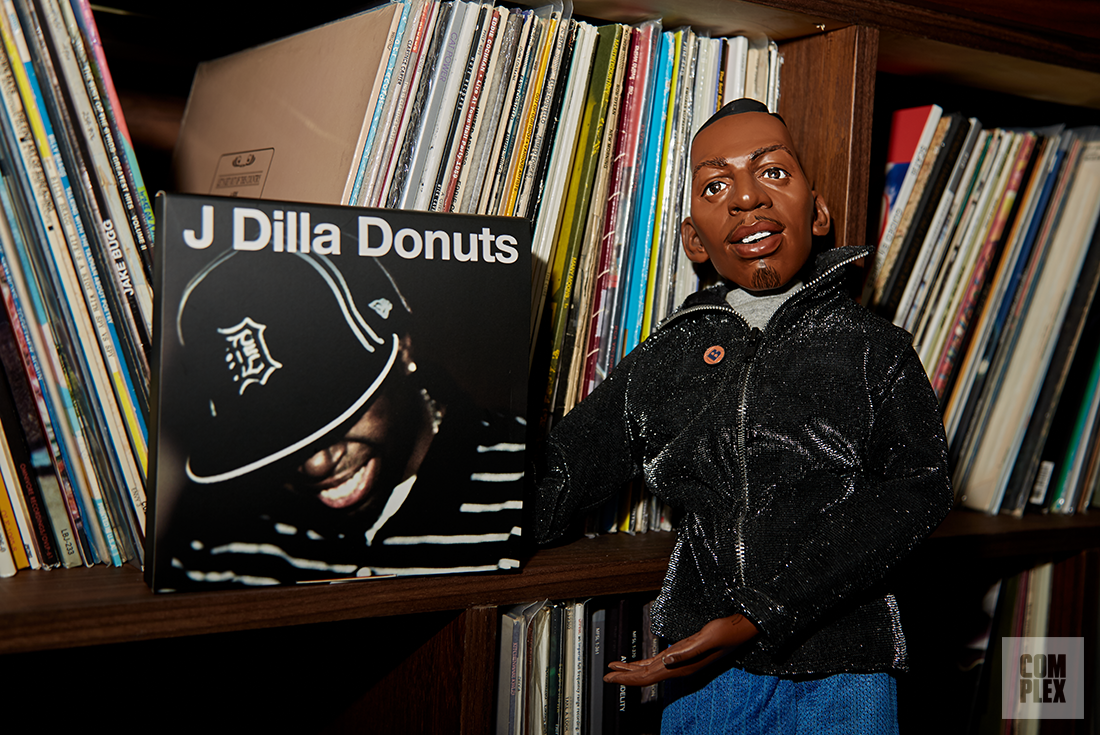 The Pinnacle
Soon the commercials incorporated one of the most beautiful and popular women of the 1990s: Tyra Banks. The Sports Illustrated swimsuit cover girl was arguably the hottest—literally and figuratively—model on the planet. She was the perfect woman for the brash Lil Penny to holler at while sitting at a red light, or to fantasize about while daydreaming in Hardaway's pool the day after a wild party.
Smith: I think the turning point was when they made Lil Penny into a star and Tyra Banks was in it. That was the one where all the guys were like, "I get it. It makes sense now. It's funny."
Wall: Who would his girlfriend be? It would be the dream girl, the SportsIllustrated swimsuit model. Let's try and see what she says. We didn't know if people would take her as really his girlfriend or in his dream. In the commercial where he's asleep in the pool and Penny's telling him he can't have anymore parties, he's dreaming and says, "Hey, Tyra, you forgot your toothbrush at my house." I can guarantee you that was a Chris Rock line.
Hardaway: Tyra was not hard to bring in. It was Tyra Banks! It just added to what was already pretty big and made it larger.
Tyra Banks, supermodel: The shoots were fun. It's just like a mixture of this cocktail that is really odd but in the end pretty genius. It was really nice to go to Orlando; perhaps my love of Orlando started with the Lil Penny commercials.
The apex of the Lil Penny campaign might have been the 1997 Super Bowl spot. Filmed in Orlando in a huge mansion and directed by Joe Pytka, it was a 60-second commercial featuring a who's who of '90s Nike athletes and celebrities, including Tiger Woods, Ken Griffey Jr., Barry Sanders, Michael Johnson, Stevie Wonder, Tyra Banks, Spike Lee, Jaleel White, and Jonathan Lipnicki, the little kid from Jerry Maguire.
Wall: That Super Bowl commercial was crazy because so many Nike athletes wanted to be in it that it ended up being a name-check of a commercial.
Hardaway: When you have heavy hitters in the sports game all in your commercial shoot, then you know you have arrived. Everyone they called didn't turn it down. They knew how big Lil Penny was.
Joe Pytka, Lil Penny Super Bowl commercial director: I think the original commercial we shot was better than the one Nike put on the air. It was funnier. A-Rod and [former Detroit Red Wings star] Sergei Fedorov were in one short scene together, but it didn't make the cut. I worked with Fedorov a couple of years later and he was upset with me because he was in the commercial so shortly.
White: Everybody knew the whole M.O. of the commercial was Lil Penny was throwing the biggest Super Bowl party there was. It was just a name fest.
Hardaway: At the time I was one of the hottest basketball players in the country—NBA, Dream Teamer, all that stuff. That was already overwhelming; it was a huge wave I was riding. The athletes in the Super Bowl commercial were my favorite athletes from their respective sports. I was just happy to be in the same room with those guys.
White: My favorite memory was [professional volleyball player] Gabrielle Reiss coming to Penny's trailer and asking if he could hurry up because she had a plane to catch. She was very polite, there was no confrontation. She was like, "I don't mean to rush you, but some of us have flights to catch." And Penny's like, "I'm going as fast as I can. My barber was late." And I'm sitting there thinking, "This chick is fine as hell."
Hardaway: Tell Jaleel to stop lying. I don't remember that. I never really had to do a lot to get ready for a shoot. I already had a haircut.
Banks: I loved the Super Bowl commercial because it was really long and it had all these cameos. I was the first person to open the door and let people into the party. At the very end of the commercial, I'm watching it live at the Super Bowl, and Lil Penny asked me to marry him! That was not said on set on the day [we shot], so I was like 'What the hell?!?' So then all these rumors started that Anfernee Hardaway asked me to marry him through Lil Penny on a Super Bowl commercial, and that was really funny.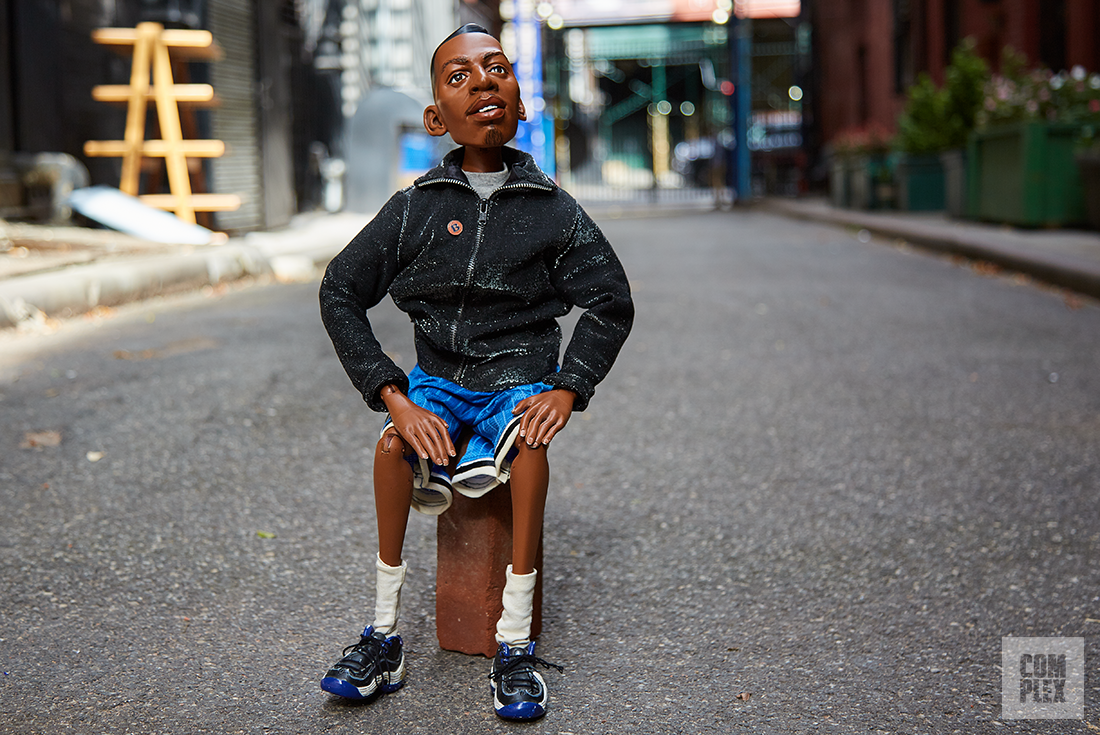 The Legacy
The final commercial of the Lil Penny campaign—and one of its most popular—was "Frozen Penny," which aired in 1997. Directed by Pytka, the 60-second ad was a parody of Michael Jordan's dramatic "Frozen Moment" commercial. It was shot almost entirely in slow motion and featured a cameo from Banks and several memorable lines from Lil Penny, including "You guys remind me of my shoe closet. I got one Penny and a bunch of loafers." The randomness of the commercial, which clearly pokes fun at the Jordan spot, is what stands out: A young girl drops a scoop of ice cream, Banks is off to the side blowing bubbles, and Lil Penny is drenched by a wet dog shaking itself dry before he launches a rocket. Meanwhile, Hardaway is balling in a pick-up game. It made no sense, but it was beautiful.  
Pytka: Stacy hated the commercial called "Frozen Moment," where the world stops to watch Michael Jordan dunk. Michael came up to me years later and said, "Why did you do that commercial?" I said, "Why not? You're Michael Jordan. It's a compliment to you." People hated me for that spot because they felt there was no logic behind it. I said that's why the spot's good—because it's totally stupid.
Wall: There was just a certain magic of watching Penny play and Tyra walking in slow motion toward the court while kids blew bubbles and shot silly string. That was sort of a left turn and more cinematic and a parody of something that was really sincere and beautiful. I remember the neighborhood kids gathered and wanted to get Penny's and Tyra's autographs. It was one of those moments where it seemed like this was a fun way to make a living.
Pytka: I had Tyra Banks walking from the car to the playground and Stacy came up to me asked why. I said what's a better thing to shoot right now: the basketball players sweating, the basketball on the ground with these kids, or Tyra walking?  
Rock's last work as the voice of Lil Penny was an appearance on Oprah to promote Knee High and Livin' Large: The World According to Me, a book ostensibly by Lil Penny. Until 2014 that was essentially Lil Penny's last major public appearance. Nike brought back Lil Penny briefly for a social media campaign around the 2014 NBA All-Star Game in New Orleans, but hasn't used the character in any major capacity since 1997. No other campaign in Nike history has featured the bravado, hip-hop attitude or humor of Lil Penny, as the company increasingly opted for more conservative ads that were focused on inspiring rather than purely entertaining. 
Hardaway: I felt like they could have burned [Lil Penny] out. And Nike is one of those companies that doesn't really burn anything out. Lil Penny was huge enough that it could have been a cartoon on Saturday.
Wall: A lot of people were calling Wieden+Kennedy saying we should make a Lil Penny movie. I remember distinctly having a conversation with Danny DeVito's company. I remember getting on the phone with them and saying there's probably a raft of buddy cop scripts in Hollywood that have never been made. Just pick the worst one and it will actually be genius because Lil Penny will be in it—you just play it straight. DeVito said we see it more as a story where Lil Penny runs away from home. It kind of never went anywhere.
White: The campaign did one of the best jobs of breaking the sensibilities of what it is to be campy and what it is to be hip-hop. Lil Penny was fresh. He was driving around in Range Rovers, he was hollering at the hot girls. The things coming out of his mouth were the things coming out of the best Def Jam comedian. They just nailed what the '90s was about.
Hardaway: The thing with Lil Penny that makes it still relevant today is that people love to laugh. The comedy part of it just takes you back.
Charles Barkley, Inside the NBA analyst: I thought it was probably one of the great marketing campaigns of all time. People can talk about it forever.
Pytka: Penny allowed himself to be represented by a puppet. Are you serious? Michael Jordan would never allow that! But I still haven't seen anything that comes up to the level that Stacy and the guys did in those days.
Wall: It's definitely the most popular thing I ever wrote. But it was one of those things where when we put it on the air I remember thinking, "I don't think anybody is going to like this."
Hardaway: I had to do an appearance at SneakerCon two years ago and Chris Rock actually brought his daughter. I was like, "Hey, man, would you do another commercial?" And he was like, "Yeah, let me know." He said he's in.
Banks: I would totally do another commercial again. I have people still to this day yelling out of the car, "Stop the car—that's Tyra Banks, fool!"