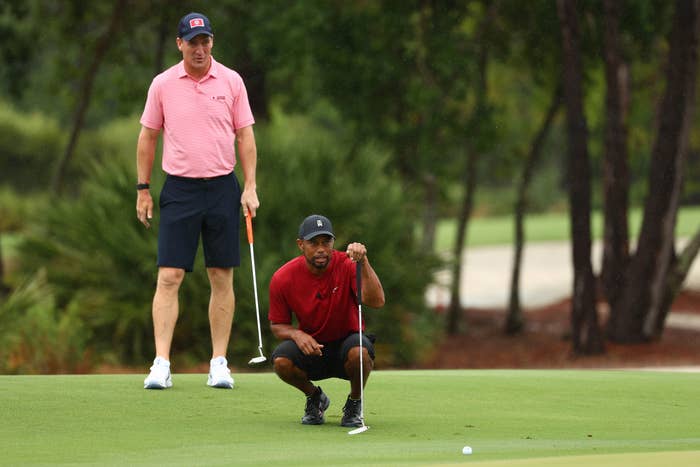 So it turns out in this no-sports, post-apocalyptic world we live in, golf can be fun, entertaining, and really, really popular.
Since last Sunday's "The Match: Champions for Charity" saw almost 6 million people tune in to the made-for-TV sporting event, and it became the most-watched golf event in cable TV history, maybe the networks should put together a few more of these before sports start gearing back up come summer? More likely, we'll see it return next spring. Regardless of when it happens, the TV power brokers who put this thing together need to bring it back. 
That's because the Tiger Woods & Peyton Manning vs. Phil Mickelson & Tom Brady competition was full of memorable moments, surprisingly good golf, and raised $20 million for COVID-19 relief funds. Four days after it went down, people are still talking about and speculating when Tiger, Phil, Peyton, and Tom can tee it up again or the TV execs can coax other notable names to the golf course. Making magic happen twice in a row ain't easy, but if the networks need a little help figuring out what pairings would offer up big TV ratings we're here with suggestions. 
Michael Jordan & Tiger Woods vs. Steph Curry & Phil Mickelson
The ultimate grudge match considering Jordan took a subtle (or maybe not so subtle) shot at Curry last year when he said the sharp-shooting Golden State point guard is "Not a Hall of Famer yet. He's not." Parse Jordan's words however you want, especially considering what we learned about him from The Last Dance, but it would be incredibly cool to see these two North Carolina products go at it on the golf course. Curry is an excellent golfer who has competed in a few pro events. MJ doesn't quite have the same skills or resume on the golf course as Curry. And at age 57, Jordan definitely won't be able to drive the ball as far as the 32-year-old Curry. But we all know any kind of competition is going to fire up MJ and he'd relish the opportunity to bury Curry while playing alongside his buddy Tiger.  
Larry Fitzgerald & Tony Romo vs. Aaron Rodgers & Dustin Johnson
All four played in the annual Pebble Beach Pro-Am this past winter in Monterey, California, you know, back when meaningful sports were still a thing. Fitzgerald won the tournament this past February with pro partner Kevin Streelman. Fitzgerald and Streelman finished the event 33-under while Rodgers, paired up with pro Max Homa, trailed by 9 shots. For our purposes, pair the two Adidas sponsored guys (Rodgers and the No. 5 golfer in the world, Dustin Johnson) with the steadiest receiver in NFL history and the most celebrated football analyst not named John Madden. As good as Tony Romo is at calling out the plays before they happen on CBS, he's just as good at sticking 160-yard approach shots. His playing partner might be as quiet as a mouse, but their opponent from the Green Bay Packers will do plenty of trash talking.  
Patrick Mahomes & Rickie Fowler vs. Aaron Hicks & Jon Rahm
The Super Bowl MVP can play. At least he can grip it and rip it at Top Golf. And for those who aren't familiar with Aaron Hicks, the Yankees center fielder grew up playing on the same course that Tiger Woods did and won a bunch of amateur tournaments during his youth before turning his attention to baseball. We paired up Mahomes with Fowler, arguably the most colorful guy on the PGA Tour, and put Hicks with Rahm, the No. 3 golfer in the world who told us back in 2018 about how he learned English listening to Good Kid, M.a.a.D. City.
JR Smith & LeBron James vs. Chris Paul & Carmelo Anthony
This was Smith's dream foursome when I went golfing with the NBA champion back in the summer of 2016 and while he may have changed his answer if you ask him these days, it's still a tantalizingly entertaining foursome that would feature some of the NBA's top personalities. LeBron doesn't really play golf, nor does Melo. But if the two of them ever got good enough to play competitively with Smith—a damn good golfer, believe me—who wouldn't tune into this with three-quarters of the banana boat going at it while Smith pipes 350-yard drives between puffs of a Black & Mild? Add in the trash talking from CP3, a competitor at everything a la Jordan, and maybe a few bottles of wine, and the roasting would be endless.   
Shaquille O'Neal vs. Charles Barkley
We're not even pairing them with pros because the professionals would probably have zero patience to watch these two hack the ball around for 18 holes. We all know Barkley owns that famously awful golf swing, but Shaq's isn't exactly something to behold, either. Plus, it would be hilarious to hear the frenemies from Inside the NBA go at it on the links. We do know Barkley would entertain the idea of appearing on "The Match" next. The Round Mound of Sound, who was a commentator on the telecast, told Dan Patrick earlier this week that he'd hit the course with Tiger and Phil, "As long as I can drink and smoke cigars while I play, I'm good." Who says no to that?