18 Holes With J.R. Smith
We hit the links with the NBA champion weeks before training camp opens to talk golf, Game 7, and ask him why he's still a free agent. (He wore a shirt.)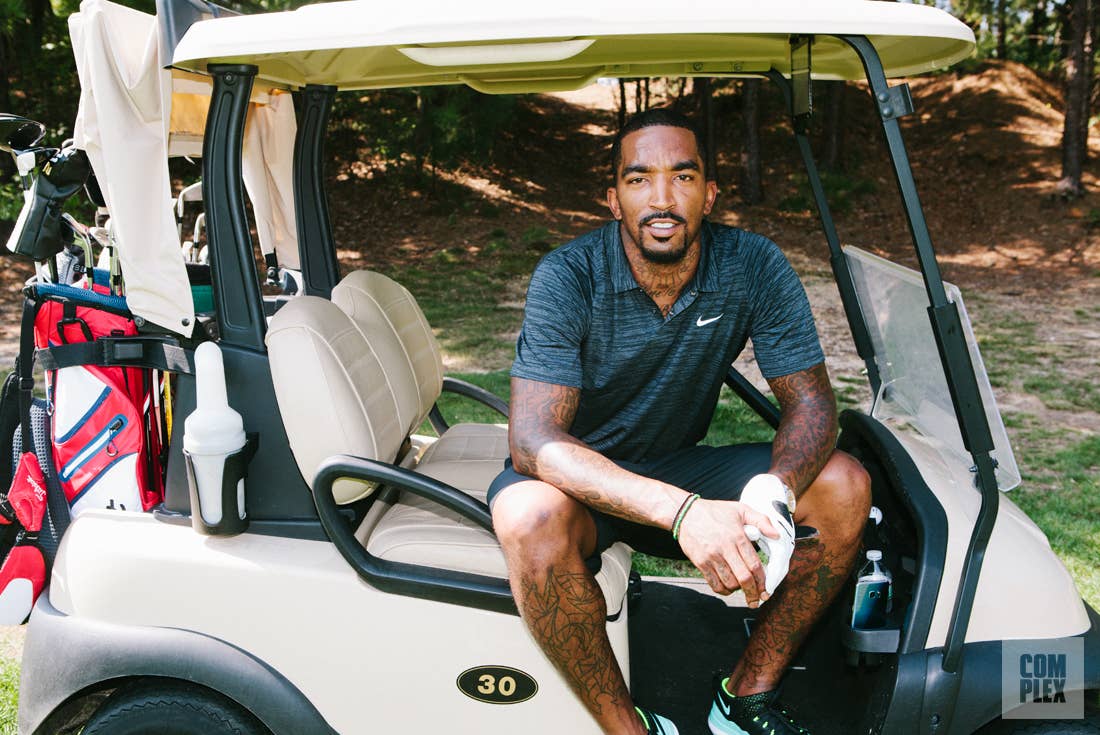 Complex Original
J.R. Smith sits in golf cart No. 30 at Eagle Ridge Golf Club in Lakewood, N.J. Sept. 8, 2016.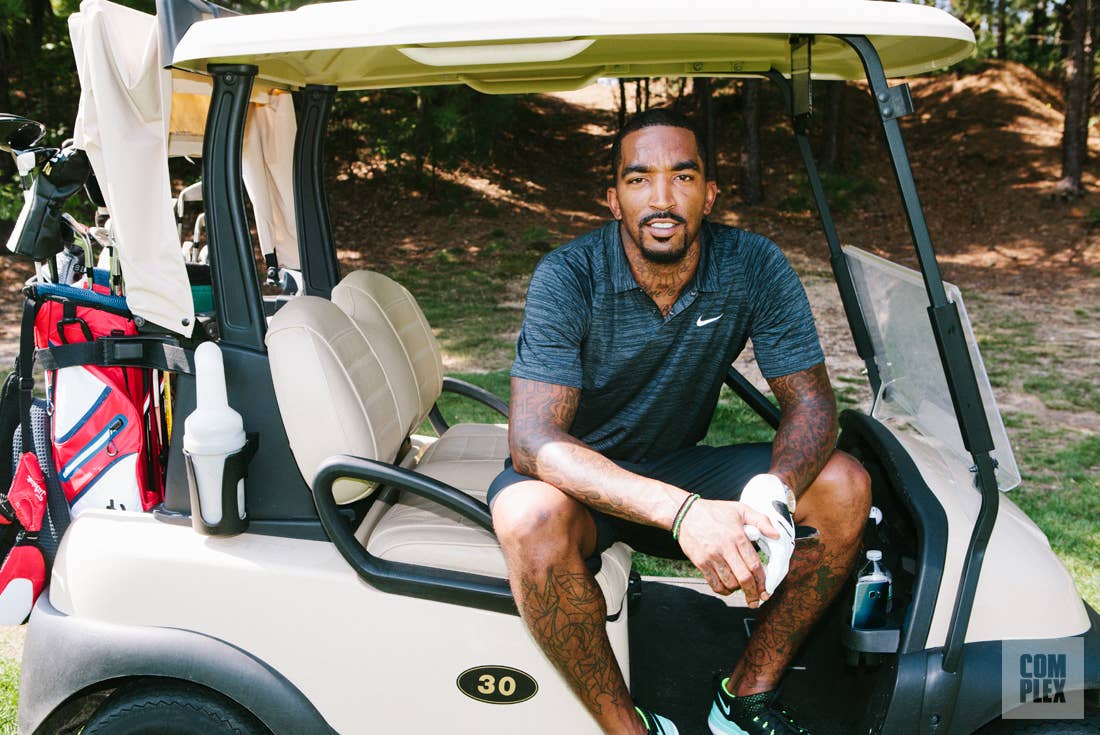 As he rolls up to the first hole, J.R. Smith is asked where he's playing from.
"The tips," he says, as if you didn't already know the answer.
Because where else would the enigmatic Cleveland Cavaliers guard, liable to pull up from anywhere at anytime on the hardwood, tee off from but the most distant and difficult box on every hole?  
On another hot and humid day in a summer filled with them, Smith, 31, is back at his home course—Eagle Ridge Golf Club in his native Lakewood, New Jersey. It's the day before his birthday and he's getting loose, waiting for the foursome ahead to get out of his range so he can begin what's been a rarity for him this offseason: a round of golf.
Every NBA fan knows Smith as one of the game's best sharpshooters—but how many know he's got almost as much game with the sticks? Smith's obsession with golf started in 2009. He was in Houston for the late Moses Malone's golf tournament when he was challenged to give the game a try. The first ball he ever hit went 300 yards. "Some Happy Gilmore shit," he says, referencing the 1996 Adam Sandler movie about a golf neophyte. "I got back up there and I couldn't hit the ball. It was crazy."
Nonetheless, he was hooked, and for the past seven years he's been devoted to the game and lowering his handicap—currently "in the teens" he says—during his downtime. But this summer's been different than all the others. First and foremost, he's now an NBA champion: Three months ago the Cavs defeated the Golden State Warriors in arguably the greatest basketball comeback of all time. He also got married, went on a honeymoon to Amsterdam, and just opened Team Swish, a sneaker store, in Millstone Township, New Jersey. He's been so busy that golf had to take a backseat.
Taking out his driver, the new Smith—one light years removed from his days of hoisting up shots by night and partying into the early morning—blasts his opening drive toward trouble off the fairway. It's only his seventh time out this summer, so don't expect him to put up a low number, he warns. And with that, our 18 holes with J.R. Smith are underway.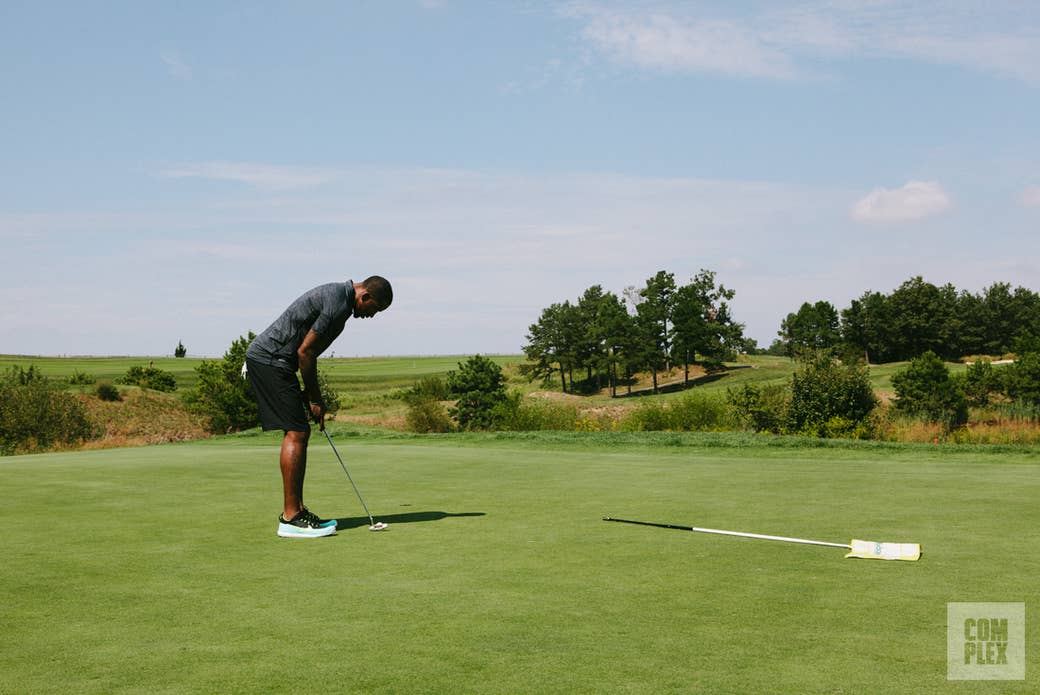 Golfers generally take lessons here and there, work with pros on their game, and pick up some pointers along the way. Smith learned the game a little differently. His teacher was the Golf Channel; he'd watch and try and emulate what he saw. It's worked out pretty well for him. He's got a silky, blissful swing without any hitches. He can boom it off the tee, stalk the pin with his irons, and hit a recovery shot with the best of them. "When you're always in trouble, you get good at 'em," he jokes.
Because he's barely played this year, he's prone to the occasional duff. But when he hits one fat—like off the tee on No. 2, a 160-yard par 3 with an elevated tee—he barely shows any emotion. He's offered a mulligan, but he's cool playing it as it lies. It's a game that frustrates the best and worst players alike, but the grind is one of the reasons Smith loves it so much. "It challenges you mentally because you can't get taken out if it," he says. "Otherwise it's over—you blow up."
"I don't want to feel like I'm taking advantage of the Cavs for everything they've done for me, and I don't want them to feel like I'm taking advantage of them."
Predictably, Smith's bag features some serious gear: Titleist blades, a Scotty Cameron putter, and TaylorMade woods that U.S. Open champion Dustin Johnson gave him. He says he's boys with a few guys on the tour, like Jason Dufner (who attends plenty of Cavs games), Keegan Bradley, Bubba Watson, and fellow Nike athlete Rory McIlroy. He shadowed some of the pros at the Bridgestone Invitational in late June when the PGA Tour came to Akron, Ohio. He's played a round with Watson. "He crushes the ball. It's ridiculous!" says Smith. But has he played with the NBA's golf-obsessed G.O.A.T., Michael Jordan?
"Nah. I don't think he wants this challenge. I don't think he's ready!" Smith says, laughing. "He's really good, though. He's probably a single-digit [handicap]."
Smith got his down to a four last year when he was playing 36 holes a day and then going out at night—basically living the life. "Ripping and running," Smith jokes. But all the traveling and obligations this summer have taken a toll on his game. On hole No. 4, Smith loses his drive to the right and, admirably, doesn't have the patience to look for the ball for more than 10 seconds. He drops in the woods and nearly holes out from about 40 yards away on a perfectly executed bump and run. It was a recovery shot—his specialty.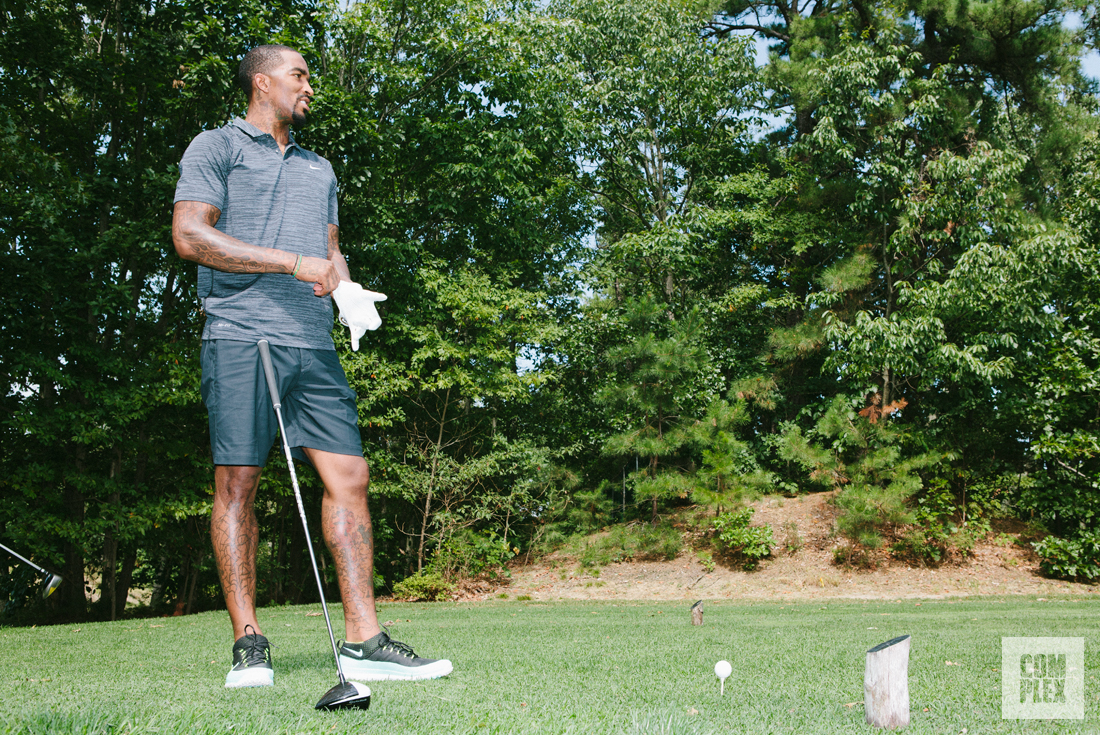 Smith is having trouble getting on track early, but sometimes in golf it's better to be lucky than good. The woes with the driver continue, and on hole No. 5 he shanks one to the left but it miraculously bounces back into the fairway. "Members' bounce, bitch!" Smith boasts, raising his arms triumphantly on the tee box.
Who would make up his dream foursome on the links? "Bron, CP3, Melo," he says. The only problem is two of those guys—LeBron James and Carmelo Anthony—don't play. But Smith vows he's going get them out on the course in the near future.
Off the tee on No. 6, he gets a hold of one on the 520-yard par 5 and drills it onto the fairway. Waiting for his second shot, he's asked about married life. The man who was once celebrated by fans for his playboy reputation tied the knot with Jewel Harris, the mother of his two children, this summer after popping the question last year. Now he wonders why he waited so long.  
"When I was younger I always dreaded it, like every man does," he says. "It's so much better than I thought. It's like, damn, I should have done this earlier."
The wedding ring is, of course, the second ring Smith earned this summer after the Cavs did the impossible, coming back from a 3-1 deficit over the heavily favored Warriors in the NBA Finals. Smith was on the floor for the final seconds of Game 7, guarding Klay Thompson, his gaze glued to the clock on the other end of the court with 2.1 seconds to go. After Marreese Speights let a meaningless corner three fly with .6 seconds left, Smith leapt in the air. His mind was running a million miles per hour as he looked for someone, anyone, to hug.
"It's weird because you don't know how to feel," says Smith. "When the buzzer is going off you're like, 'This is real. We just did this.' Everything was running through my head within seconds. There were so many mixed emotions. You want to be just so happy with your teammates, but there's so much you put into it and to finally achieve that, it's like, man..."
Smith famously cried at the post-game press conference. "I'm an emotional person," he admits. It was Father's Day and Earl Smith had finally made it to a finals game after missing his son in the previous six, as well last year's series with the Warriors.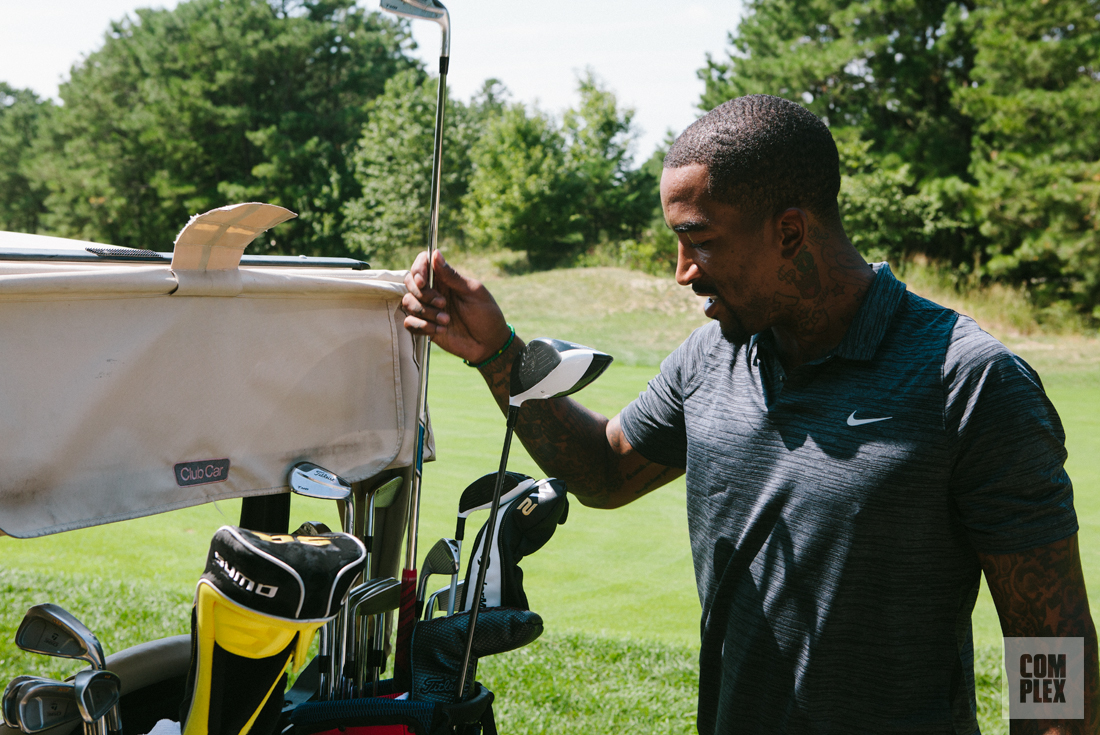 On hole No. 8, Smith has a long one for par, about a mile away on the lower tier of the green. He lines it up and rolls one of his best putts of the afternoon within inches of the cup. He's playing a Titleist Pro-V1 with "J.R. Smith – 2016 NBA Champion" inscribed on the side. "Somebody put them in my locker at the club I belong to in Cleveland," he says. "I have no idea who it was."
It's a small perk for ending the city's 52-year championship drought, but there's a better one on the way: the Cavs' championship ring, images of which leaked weeks ago thanks to his teammate Richard Jefferson's SnapChat. "He's the worst" guy to give inside info to, jokes Smith. The ring is every bit as gaudy, shiny, and extravagant as expected, featuring more tiny diamonds than you can count and the Cleveland skyline on one side. Once Smith gets his hands on it, he says, it's going into a safety deposit box. He'd rather it be out of sight and out of mind. "It's almost like you're scared to get too complacent," he explains.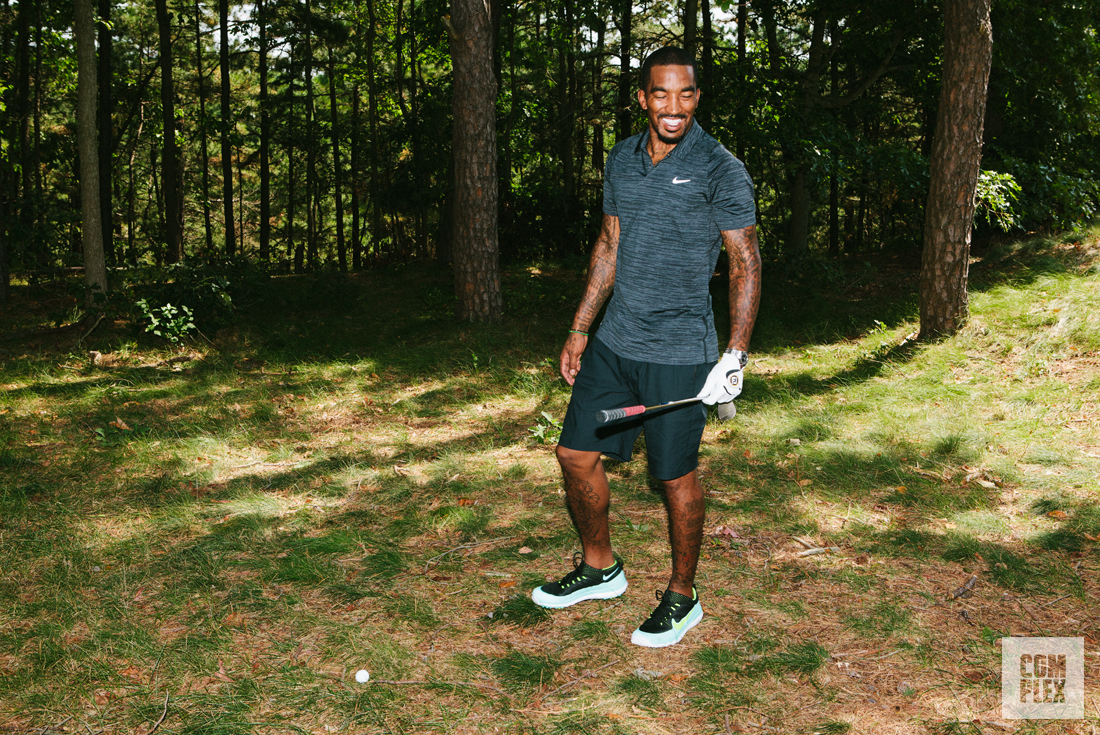 With his 3-wood, Smith has way more control off the tee than with his driver. He actually breaks it out more often on the back nine and starts piping drive after drive. But on the 535-yard par 5 14th, a dogleg left, he takes out the driver. He needs all the distance he can get, and he destroys the ball.
Listed at 6'6" and 225 pounds, Smith is a big guy, but not gigantic. Regardless, he generates a ton of power with his swing, so don't feel ashamed when he out-drives you with his 3-wood. On No. 15, he'll blast it 317 yards off the tee. But on No. 14, Smith is thinking birdie, or maybe even eagle, after piping that huge drive. It's a long ride from the tee to his second shot—plenty of time to talk about his basketball future.
Smith, believe it or not, is still a free agent with Cleveland's training camp just weeks away starting Sept. 27. He has no idea when he'll sign with the Cavaliers—"Soon, I hope," he says. Cleveland is realistically the only team Smith can sign with for the money he's looking for. So what's the hold up?
"Well, obviously we're not where we want to be at from a personal standpoint," says Smith. "But it's more than just numbers. I don't want to feel like I'm taking advantage of the Cavs for everything they've done for me, and I don't want them to feel like I'm taking advantage of them. It's more of a mutual respect thing."
Smith is reportedly seeking a significant increase in salary after making just $5 million despite starting all 21 playoff games. And with the way free agents were compensated this summer—former teammate Timofey Mozgov is getting $64 million over four years from the Lakers, for example—$15 million a year for his services doesn't seem ridiculous. But the Cavs are still holding out, so there's a chance he may not get it.
"Before, I could just sit there and be like, 'Ok, I don't care where I go.' But now I have the kids, and it's like, 'Ok, what's the best fit?'"
Enjoying his second Black & Mild cigar of the round, Smith is incredibly honest about the situation. He was unceremoniously shipped out of New York in January 2015, but after two NBA Finals appearances in Cleveland, he's seemingly found a home. His family is based out there now; his wife is going to school, as are his daughters. But is Cleveland really the best spot for him?
"Yes and no. It depends on how you look at it," says Smith. "Financially, you can always go somewhere else. Team morale-wise, there are a few teams that I could see working. There are guys I would like to play with, guys I have played with. Being able to live in that city or a particular place, school systems, kids, family life—[with] free agency, everything comes into play. Before, I could just sit there and be like, 'I don't care where I go.' But now I have the kids, and it's like, 'Ok, what's the best fit?'"
That would still seem to be Cleveland. And while you get the vibe that he knows he's going back there, he's still playing it coy. You don't tip your hand while you're negotiating. "My family is always my priority," he says. After that, "winning is obviously the biggest thing. Because if you don't win, nothing really matters. You can have all the money in the world and they can still call you a loser."
Nobody can call him a loser anymore.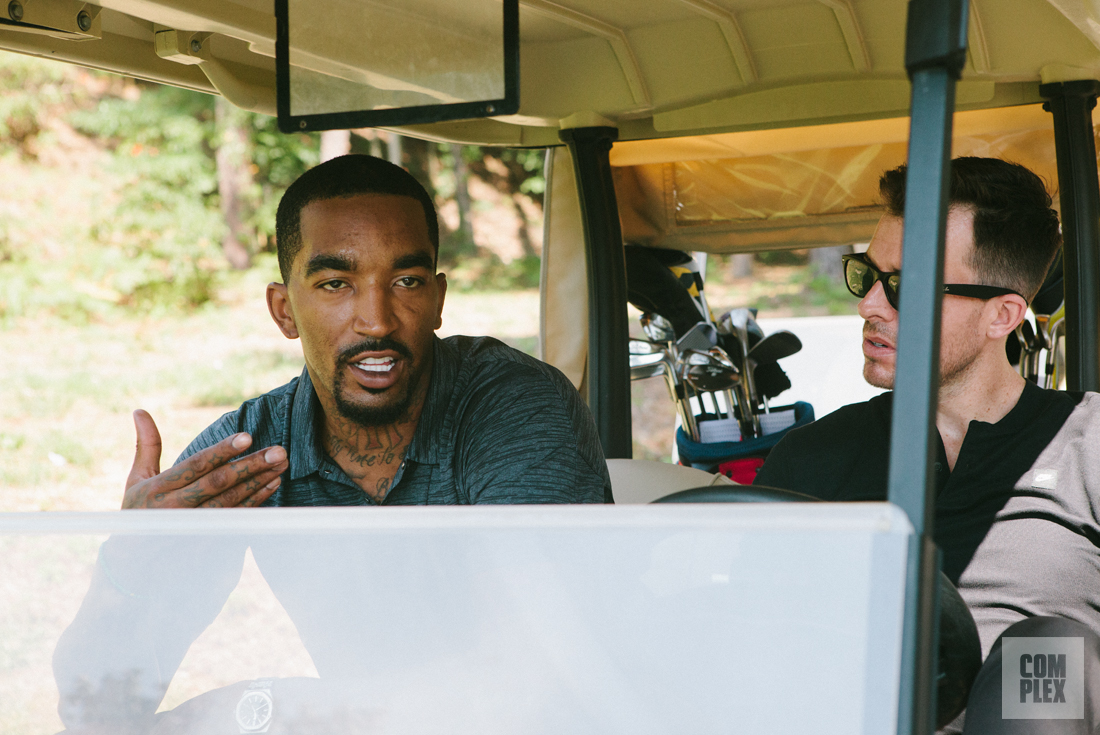 It's hole No. 18 and the round's quickly coming to an end. Despite the unrelenting heat, Smith has kept his shirt on the entire time. Images of a topless J.R. were so ubiquitous in the aftermath of the finals—from the Cavs' jet home to their victory parade—that President Obama famously told Cavs coach Tyronn Lue to tell Smith he needed to put a shirt on. The joke spawned an idea for Smith and his family: a T-shirt replicating his bare, heavily tatted torso.
"When Obama said 'Tell J.R. to put a shirt on,' it instantly clicked," says Smith. "My brother, he's like, 'Yo, we have to do a shirt!' They've been everywhere. The craziest place I've seen it is on my mom. My mom loves the shirt."
Smith finishes out with a double bogey and heads to the clubhouse with an 86. It's more than dozen shots above his personal best, but not terrible considering he's barely played this year—a small price to pay for the summer of a lifetime. "It's been nuts," he says. "No question."
 Want to experience Complex IRL? Check out ComplexCon, a festival and exhibition on Nov. 5-6, 2016 in Long Beach, Calif., featuring performances, panels, and more. For ticket info, click here.