The first time Jon Rahm heard Kendrick Lamar he had no idea what the rapper was saying, but he was hooked.
It was 2012. The golf prodigy from Spain could barely speak English—let alone fully comprehend it—during his first few weeks on campus at Arizona State when Good Kid, M.a.a.D. City dropped on October 22. Once his roommate started bumping "Backstreet Freestyle," Rahm didn't want to hear anything else.  
"I became obsessed," he says.
Fast forward almost five years later, and it's the day after Labor Day, and Rahm is enjoying a windy but picturesque afternoon at Shelter Harbor Golf Club in Charlestown, Rhode Island. He's there on a day off to test out the new M4 Driver from one of his sponsors, TaylorMade, that will hit shelves five months later. In between shots, the talk isn't as much about golf as it is about about hip-hop and how the 23-year old owes more to the medium than most considering it was his crash course in English.
"The first sentence that I learned from 'Backseat Freestyle' [was] 'I roll in dough with a good grind,'" says Rahm. "And I had no clue what I was saying. I just learned it. I was asking people. The last part where he's spelling C. O. M. P. T. O. N., I had no clue he was spelling out Compton."
The tale of Rahm learning English through hip-hop isn't breaking news—golf writers have mentioned it in their stories about Rahm during his first few years on tour. It was his idea to listen to Lamar's classic album and, in a sense, have it be his Rosetta Stone. Rahm's idea to learn it that way. "The fact I could pronounce all these words and process English at a fast pace helped me out without realizing," says Rahm. But rarely does the No. 2 ranked golfer in the world get to talk about his favorite genre of music on the links or even in the locker room with pals on tour. "I haven't had one guy come to me and say 'I love this too,'" says Rahm.
Maybe that'll change the more he talks about his love for Eminem, Lil Wayne, and most especially Kendrick Lamar and how he relied on a kid from Compton to be his crash course in another language.
"For whatever reason it just speaks to me. I'm not relating to what he does, but the passion in it," says Rahm. "When I first heard the album, it was just so freaking good. I think I blew out the speakers in my car the first week."
In a sport where music has no presence in play or during practice, Rahm sticks out because he's the one on the putting green 15 minutes before his tee time with his headphones on listening to Eminem's Recovery. "As an athlete, it's a lot of motivational songs about not giving up. It's as simple as that," says Rahm.
Whatever he's doing, it's working. Rahm has steadily climbed the world golf rankings since turning pro in 2016 and already has a win and second place finish in four events so far this season as he looks to capture his first major victory starting April at The Masters.
On this September day, Rahm is piping drives and hitting the precise iron shots weekend golfers can only dream of. But the conversation on the course is almost exclusively about music. Not surprisingly, Damn. was among his top albums of 2017. We know he loves Kendrick, but who's in his top five?
The first three are easy. "Lil Wayne, Kendrick, and Em…fourth and fifth…Jay-Z and Tupac," he says. 
He loves Tupac because the legendary lyricist was, in Rahm's opinion, Kendrick before Kendrick. "He's the closest thing you can find to Tupac," says Rahm. "It's actual poetry."
Before heading into the clubhouse, Rahm's showed a clip of Kendrick's "Humble" video where he hits a golf ball off the top of a beat up car. Rahm's asked to critique the rappers swing. Does Kendrick Lamar low-key have some golf skills?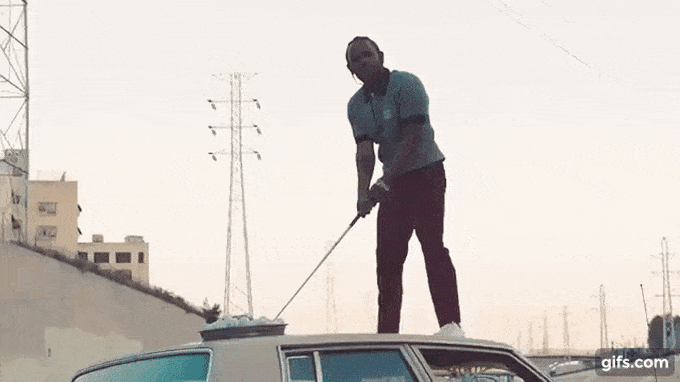 "He needs to get the grip right and maybe work on the left foot moving," says Rahm. "It looks like an athletic swing. It just looks like the only thing he's done with golf is either this or the few times he's gone to the driving range with his buddies and try and hit it as far as possible. I'll give him free lessons for nothing. I'll pay him for lessons."
At that point, after Lamar helped Rahm learn English quicker than he ever imagined, they'd be even. And in Rahm's line of work, even is damn good score.