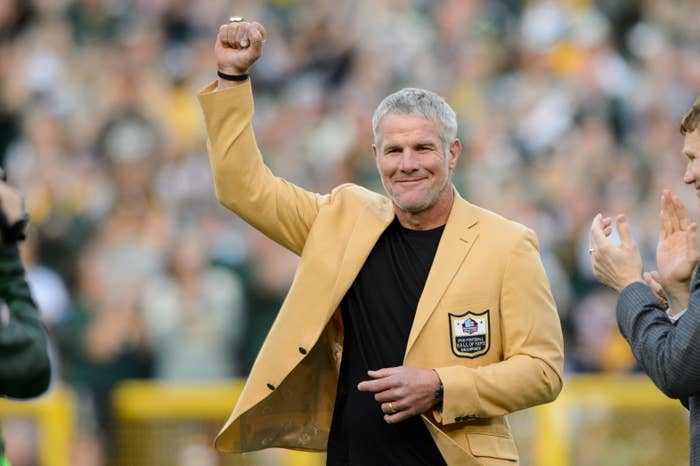 Brett Favre reserved his spot as one of the greatest this past summer when he was inducted into the Pro Football Hall of Fame. But the legendary Packers QB is ready to anoint Tom Brady the G.O.A.T. if the Patriots signal caller can win his fifth Super Bowl this Sunday. 
"I think if Tom wins this game, and I never thought I'd say this, he surpasses Joe Montana as the greatest ever," says Favre. 
The 39-year-old Brady is currently tied with Hall of Famer Joe Montana for most Super Bowl victories by a QB, but can obviously surpass the former 49ers star with one more win on the game's biggest stage. "Right now, in my opinion he and Joe Montana are a dead heat," says Favre. 
But Brady isn't the only QB Favre has a hot take on. We caught up with the Super Bowl XXXI champion over the phone to talk about Brady, the Super Bowl, the Cowboys quarterback situation, whether he has a future in an NFL front office, and his participation in the "What the Favre?!" campaign from Buffalo Wild Wings that you'll see this Sunday. 
(This interview has been edited and condensed for clarity.)
I read that Dak Prescott makes an appearance in this campaign. I know you chatted with him at the Packers-Cowboys game earlier this year. We asked Dak about that back in October. Did you give him any advice?
Basically what I told him was at the time, this was pregame—and I didn't think there was a chance in Hell they would in Green Bay that day—I just told him prior to the game that I was extremely impressed with the way he has played the game and with his leadership and how you've handled things. And little did I know it would get bigger and he would get better as the season progressed. I can't point to one time this year that he played like a rookie. Nothing but high praise for how he played.
What should the Cowboys do at quarterback? Bring Tony Romo back or let Dak take the reins?
I think there's no question that Dak is your starter. If you chose to bring Tony back, or he chose to come back, then he should come with the understanding that he's the backup. I perceive Tony as having the opportunity to play somewhere else and I think that's the right thing to do from the Cowboys' standpoint. Unless Tony chooses to come back as a backup.
Is Tom Brady the greatest quarterback ever if he wins a fifth Super Bowl?
Right now, in my opinion he and Joe Montana are a dead heat. Everyone else is below. I think if Tom wins this game, and I never thought I'd say this, he surpasses Joe Montana as the greatest ever.
So does that make him the best quarterback in the NFL right now
It's a toss up. Considering what Tom has done over and over again at his age and the consistency year in and year out, if I was starting a team I would want Tom Brady on my team.
Even at age 39?
Doesn't matter.
Heard you said last week that you're not pulling for either team Sunday. We know you have ties with the Falcons being that was your first team in the NFL. Curious why you're not pulling for them?
I don't know Matt Ryan personally. I think we've said hello before. I know Tom just from our years playing together. I have a good friend and also my quarterback coach in New York who is the tight end coach in New England, Brian Daboll. In fact, (Falcons head coach) Dan Quinn was our d-line coach in New York. I've got friends on both sides. I want to see Daboll win. I would like to see Tom Brady win. I'd like to see Dan Quinn win. I'm somewhat divided. 
There's been talk of Peyton Manning joining the Colts front office. John Elway is obviously running the Broncos. What are the chance we see you in an NFL front office?
At this time, I would say absolutely not. My youngest daughter will be a freshman at Southern Miss in the fall and she will be playing volleyball in the fall and I don't want to miss a game. That's too important to me. Would I love to be a coach or have some type of involvement with players? Sure I would. The competitive spirit in me is still burning. But not enough to sacrifice the time and miss out on my daughter's career in volleyball. Down the road, maybe so.
Curious because in today's game there have been so many rules amended over the year to benefit the offense, I wonder if you ever think about how different your career would have been if you played in today's NFL?
I've been asked that questions a bunch and I joke the way they protect quarterbacks I could play 20 years. But I did play 20 years. Maybe statistically I could put up more yards. I don't know. I had a wonderful career. I beat every expectation I had prior to playing. I just don't think about it because it couldn't have gone any better. 
You've done plenty of commercials and campaigns in the past. What made this one something you really wanted to do?
I'm somewhat familiar with Buffalo Wild Wings commercials prior to this one about altering games and sending them to overtime. So when the opportunity arose to do this, I thought it was funny and a little different than things that I've done in the past. I don't want to say it required more acting, because I don't want to sound like I'm an actor. It was easy. It was obviously poking fun at myself which I have no problem with myself.  I think most of my family and friends that have seen the initial spot were like, "What's the deal with this Buffalo Wild Wings spot? It's weird." And that is kind of a win.
Saw in one of the teaser ads you posted last week that you threw the ball left-handed. How far can you chuck it with your left?
I used to (throw it) about 45. Now as I look back at it that's impressive. I thought back at the time no big deal. Now, probably half that. I was never one to stick to a game plan, I would throw it whichever way I could to throw it and the commercial fit my style of play.