4 Ben Simmons Trades That Could Happen
It appears that the days of Ben Simmons playing point guard for the Sixers could be over. Where could Philly ship the three-time All-Star? Here are a few spots.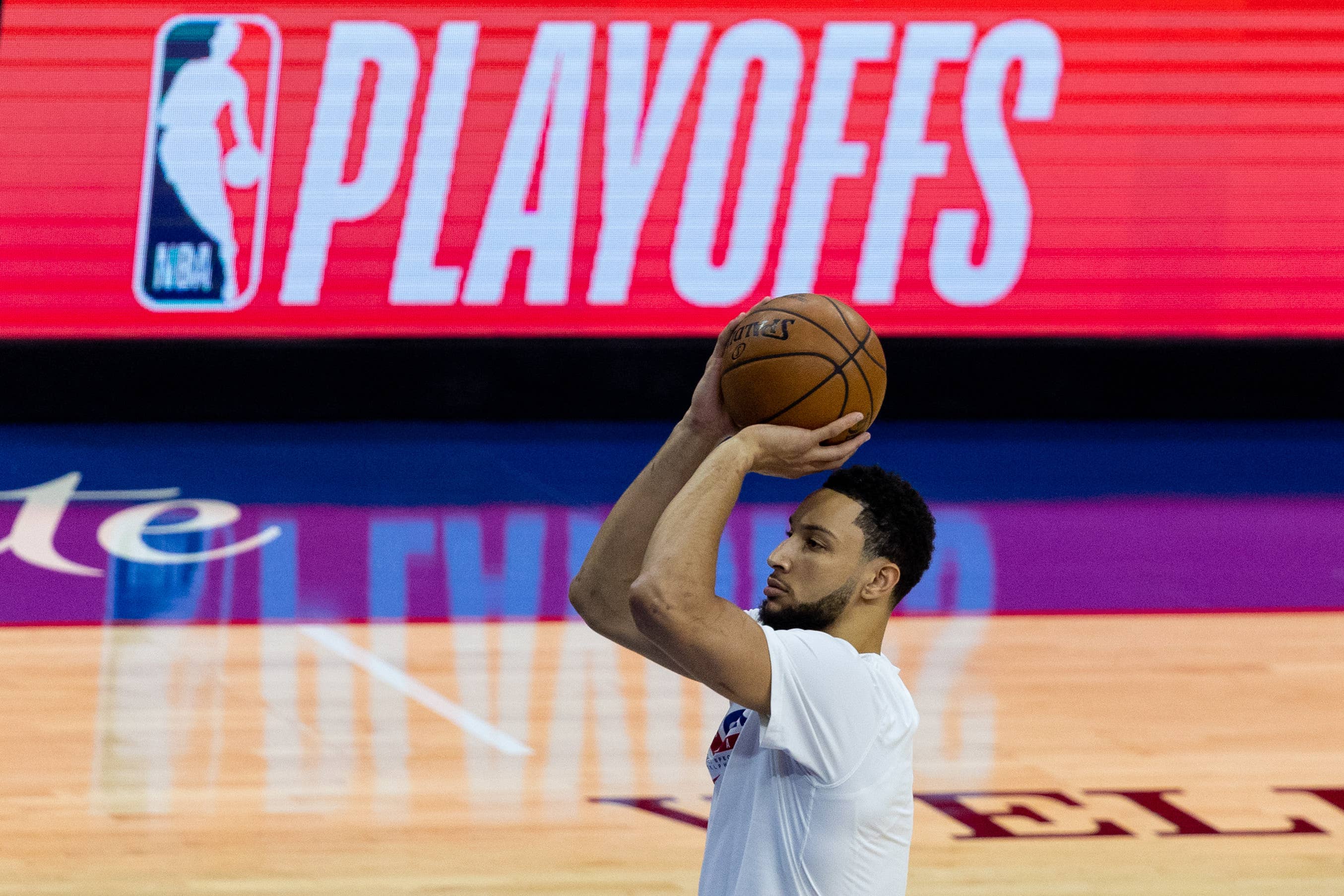 USA Today Sports
Jun 20, 2021; Philadelphia, Pennsylvania, USA; Philadelphia 76ers guard Ben Simmons warms up before game seven of the second round of the 2021 NBA Playoffs against the Atlanta Hawks at Wells Fargo Center. Mandatory Credit: Bill Streicher-USA TODAY Sports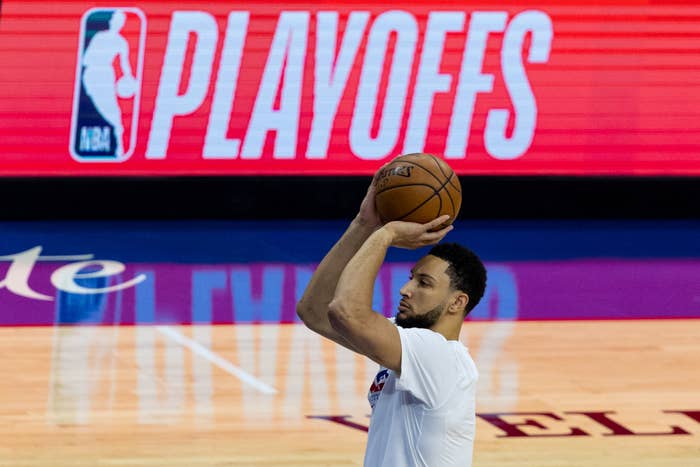 Philadelphia has a Ben Simmons problem. After a nightmare series out of the 76ers' point guard where he proved to be a liability during Philly's shocking Eastern Conference semifinals loss to the Hawks—followed by an offseason of posturing and the expectation that he reportedly expected to be traded to a team of his choosing by now—the Sixers are a circus. 
The offensively deficient point guard reportedly is content to sit out games and forfeit money if he isn't traded to a desireable team. His teammates reportedly tried to meet with him in Los Angeles recently and convince him to suit up to start the season. Simmons wasn't having it. He's digging in—for now—and hoping the situation gets so uncomfortable that Philly blinks and finds a suitor that makes sense. Simmons hasn't reported to training camp with the season's tip only three weeks away and it's clearly pissing people off. Joel Embiid's lamenting the loss of Jimmy Butler in free agency a few summers ago—because of Simmons's supposed objections—and the center offered up the most biting take yet about the Simmons drama. 
"The situation is weird, disappointing, borderline kind of disrespectful to all the guys that are out here fighting for their lives," Embiid told reporters Sept. 30. "Some guys rely on the team being successful to stay in the league and make money somehow. Because if you're on a winning team, you're always going to have a spot in the league, just because you're on a winning team and you contributed." 
How we got to this point is a long and circuitous, but it all came to a head this past spring after the former No. 1 pick and franchise cornerstone put up horrifying numbers against Atlanta and shied away from attacking the basket or contact that would send him to the free throw line where he struggled mightily. Simmons summed up his poor performance following Game 7 succinctly.
"Offensively, I wasn't there. I didn't do enough for my teammates," Simmons said. "There's a lot of things that I need to work on."
A lot would be an understatement. Whether you want to talk about his non-existent jump shot, his fear of getting fouled, or his shocking metamorphosis from regular-season juggernaut to a player that arguably shouldn't have been on the court during crunch time in the postseason, it kind of feels like the whole Embiid x Simmons experiment has finally run its course. Simmons reportedly is done with the idea of playing next to Jojo. The Process, the genius of former Sixers general manager Sam Hinkie, essentially died an embarrassing and exasperating public death. 
So that means the Sixers, at some point, have to flip Simmons for a package of something because they sure as hell can't run it back again after that incredible flameout—Philly blew leads of 18 and 26 points in separate games during the Atlanta series and losing Game 7 at home just can't happen—and all this offseason drama. Simmons, at only 25, still has plenty of upside should he ever commit himself to becoming a serviceable shooter. But his limitations stifled the Sixers in the postseason where your warts are magnified and only the craziest of Philly fanatics would advocate keeping Simmons on the roster after what we witnessed.
While Simmons deserves all the props for his defense and making things difficult for Trae Young at times, even coach Doc Rivers couldn't give his point guard a vote of confidence after the loss when he was asked if the 76ers could win a title with Simmons.   
"I don't know that question or the answer to that right now," Rivers said. "So I don't know the answer to that."
Knee jerk reactions following deflating losses often look ridiculous a few weeks and even a few months afterward. But it seems like a trade has to be on the horizon because this is easily the most uncomfortable situation the NBA has seen since Butler forced his way out of Minnesota three Novembers ago.
What Will He Bring Back?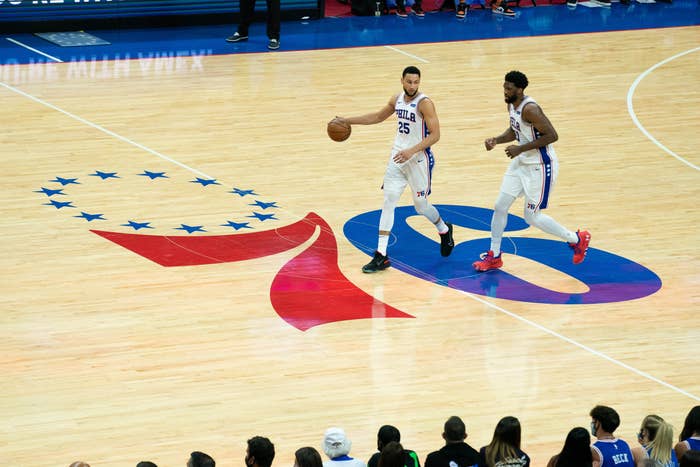 Where Could He Land?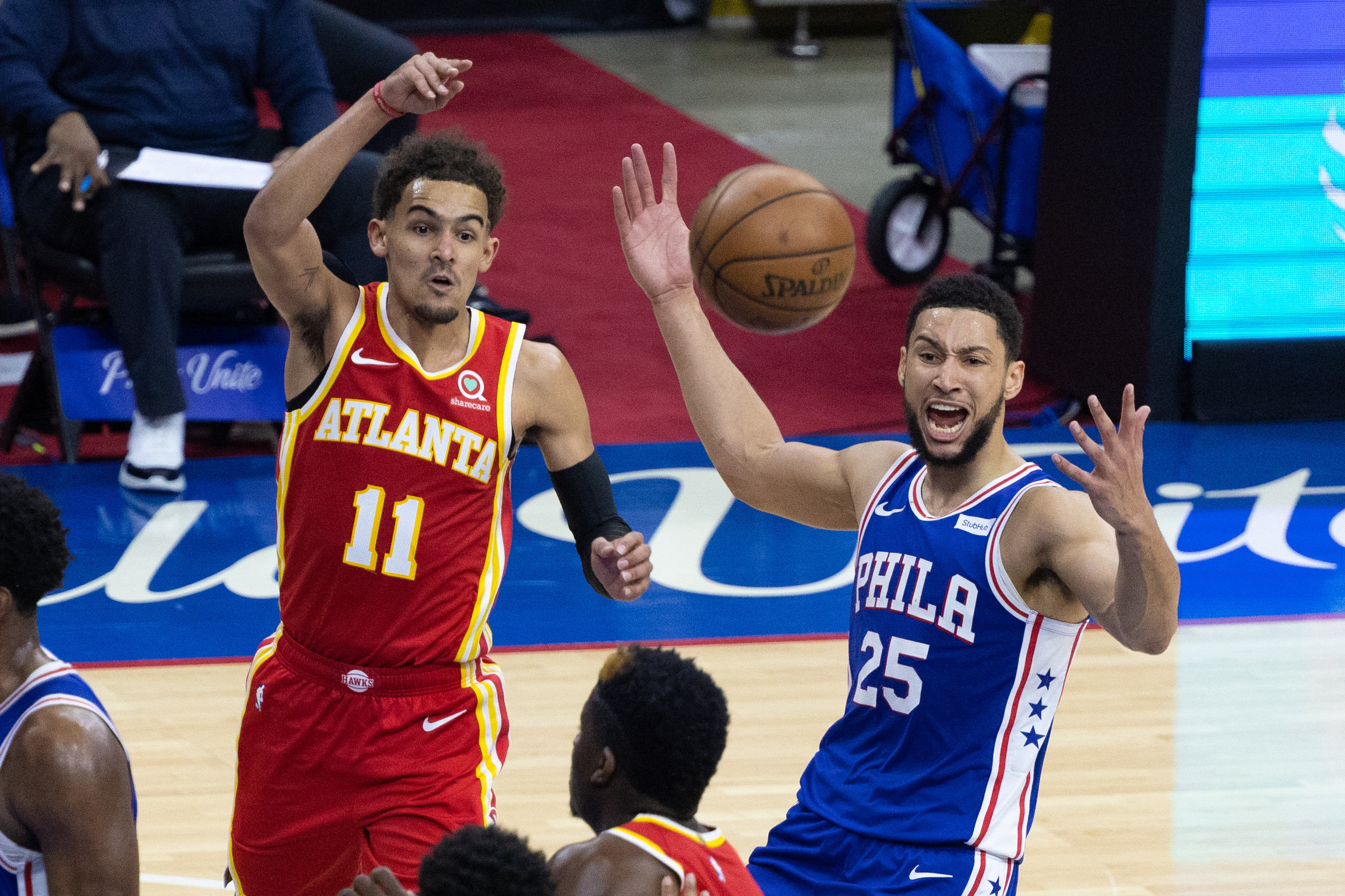 Simmons for McCollum

Simmons for Siakam

Simmons for Wiggins

Simmons for Russell