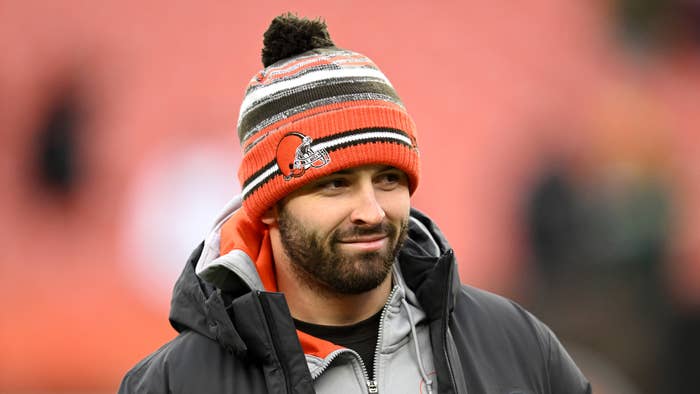 Cleveland Browns quarterback Baker Mayfield took to social media Tuesday to share a lengthy message in which he thanked fans and said that he has "no clue" about what is going to happen next in his NFL career. "With many uncertainties, here is where my head and heart is," Baker captioned his statement, which felt like a goodbye to the franchise and city.
Mayfield's message comes on the heels of reportssaying that Houston Texans QB Deshaun Watson met with the Browns to discuss a possible trade. It's also been reported that Mayfield could still be traded from Cleveland even if the Browns don't end up landing Watson.
"The past 4 years have been nothing short of truly life changing since I heard my name called in the draft to go to Cleveland. This is not a message with a hidden meaning. This is strictly to thank the city of Cleveland for embracing my family and me," Mayfield, who had surgery done on his shoulder back in January, wrote. "We have made many memories and shared growing in this process through all the ups and downs. I have no clue what happens next, which is the meaning behind the silence I have had during the duration of this process. I can only control what I can, which is trusting in God's plan throughout this process."
The 26-year-old former No. 1 overall pick continued, "Whatever happens.. I just want to say thank you to the fans who truly embraced who I am and the mentality that aligned so well with this city's hard working people."
You can read Mayfield's statement in full below.
Stay tuned for more info on Mayfield's future with the Browns.
In other news, it was announced late last week that Watson will not be criminally charged after being accused of sexual assault by multiple women.
"After a Harris County grand jury was presented all the evidence and had the opportunity to hear from all witnesses, grand jurors declined to indict Deshaun Watson. Grand jury proceedings are secret by law, so no information related to their inquiry may be disclosed," the Harris County District Attorney's Office said in a statement.
Although he won't be charged, Watson is still facing 22 civil lawsuits in connection to the accusations of sexual misconduct and sexual assault, according to Yahoo Sports.