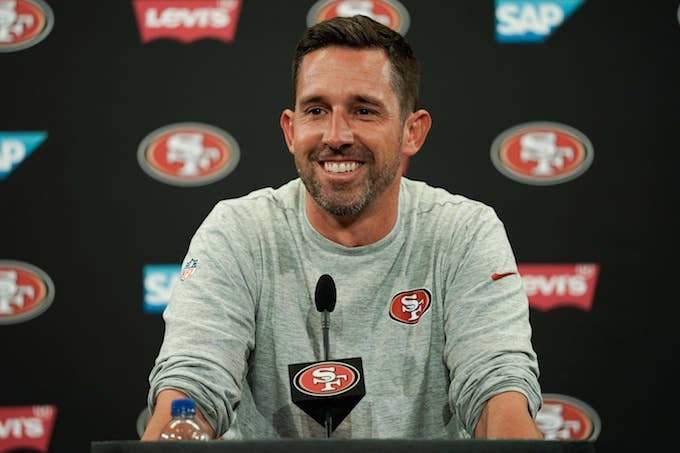 Did you know San Francisco 49ers head coach Kyle Shanahan is a huge Lil Wayne fan? It's true. The coach even named his son Carter as a tribute to Lil Wayne's iconic album series. Former NFL quarterback Chris Simms, who is close friends with Shanahan, revealed as much in May.
"He was obsessed with Lil Wayne my early years in the NFL," Simms added. "Kyle's one of those guys where if we're hanging, drinking some beers or whatever, he's got to control the music, and he has ADD, so we can never actually listen to a full song."
Weezy F. caught wind of this news, and in response he hooked both Kyle and Carter Shanahan up with gifts. He sent the family signed merchandise and a personal message of appreciation, according to TMZ.
Shanahan is a legit hip-hop fan. He recently snapped a photo with 50 Cent.
Shanahan, 38, is the son of former longtime NFL coach Mike Shanahan. He started coaching at the college level in 2003 and worked his way up through the ranks in the pros. He was the Atlanta Falcons' offensive coordinator in 2015-16 before landing the head gig in San Francisco. His team went 6-10 in his first season at the helm.