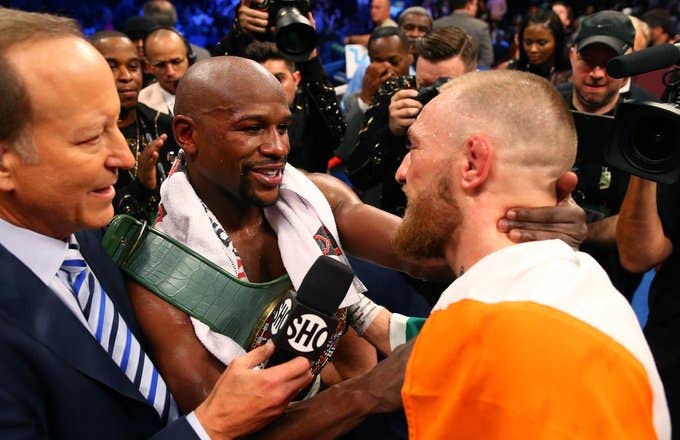 Floyd Mayweather fighting in the UFC sounds preposterous, doesn't it? The man has a perfect 50-0 boxing record and way too much money in the bank. Why risk his legacy for cash?
Then again, Money is his nickname. And then again, the prospect of Conor McGregor boxing against Mayweather sounded preposterous for a long time. Many doubted it would ever happen, and then it did—and the fight was actually somewhat competitive and quite entertaining. It drew 4.3 U.S. pay-per-view buys and many, many illegal streams.
Now, ESPN is reporting that UFC President and marketing mastermind Dana White is calling a Mayweather UFC fight a "realistic possibility."
"We're talking to Floyd about doing a UFC deal," White said, according to the Worldwide Leader.
"It's real," he continued. "He was talking about [boxing] Conor McGregor. Was that real? Have you heard Floyd talk about many things that aren't real? He usually tips his hand when he's in the media and then that sh*t ends up happening."
During the leadup to the highly heralded August boxing match, Mayweather said several times that he and McGregor may fight an MMA match.
"We're interested in doing something with Floyd," added White, who said he enjoyed working with Mayweather and his team on the boxing match. "Everything is a realistic possibility. Mayweather vs. McGregor f***ing happened. Anything is possible."
This prospect seemed outlandish over the summer, and it seems outlandish now—but outlandish is Mayweather's style.
Still, according to the ESPN report, even if he decides to fight an MMA match, it appears very unlikely that he would be able to fight McGregor, as the UFC would be hard-pressed to get the Nevada State Athletic Commission to sanction that fight, which could seriously endanger Mayweather.