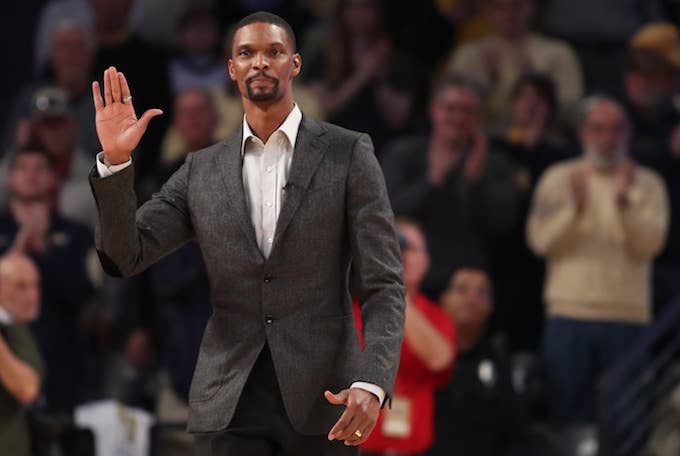 Chris Bosh hasn't played in the NBA since February 2016, but he hasn't given up on his dream of returning to the league. Bosh, an 11-time All-Star, still holds out hope he could return to the court this season.
"Yeah, it's still on my mind," Bosh told Yahoo Sports of a potential comeback. "Obviously, if it doesn't happen by February, I'm not stupid, but yeah, I'm still looking forward to that. I'm still trying to overcome that hump and trying to get something going. I'm looking forward to the challenge. I know I can still play some ball and be a 3-and-D guy for somebody out there."
In March, he told ESPN he was "going to give [playing] one more shot" in 2018-19, after in February saying he was "not done yet."
Bosh will turn 35 in March. He still has the same medical issue—blood clots—that drove him from the league. And, even though it looks like he's probably healthy enough to play, he would have to convince a team to take a chance on him. Given on-court tragedies in the past, like the recent death of G-League player Zeke Upshaw, it appears very unlikely that NBA fans will see Bosh return to playing at the highest level.
After spending the first seven years of his career in Toronto, Bosh formed one of the league's all-time greatest 1-2-3 punches with LeBron James and Dwyane Wade on the Miami Heat. The trio—known at the time as "The Heatles"—won back-to-back titles in 2012 and 2013 and also advanced to the Finals in 2011 and 2014 (falling to the Mavericks and Spurs, respectively).