Kevin Durant and Klay Thompson's Free Agency Has Warriors Preparing for 'Seismic Change'
Both players' contracts will be up by the summer.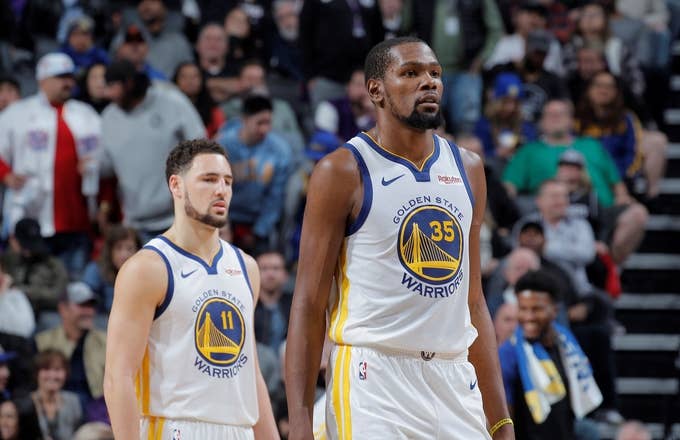 Getty
Image via Getty/Rocky Widner/NBAE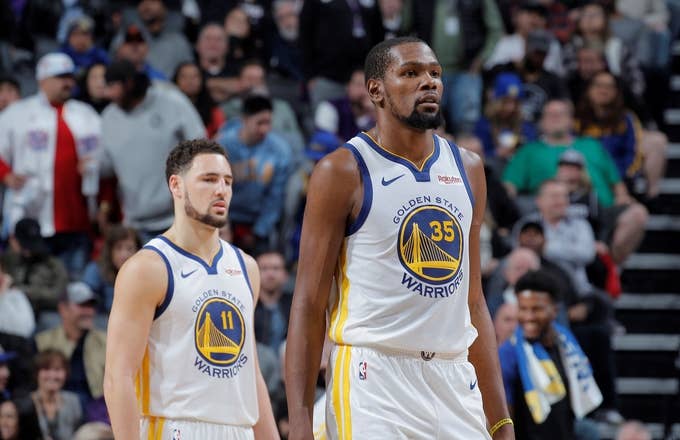 The end of this year's NBA playoffs will see the expiration of Kevin Durant and Klay Thompson's current contracts on the Golden State Warriors. As the possibility of losing these two stars grows, the team may be preparing for the change.
Adrian Wojnarowski discussed the future of the organization on ESPN's Get Up! While he says they will play out the postseason with the single goal of winning another title, he believes that "the Warriors are bracing for possibly seismic change within that organization."
Durant's future has been surrounded by speculation this season, with the Knicks being seen as his next destination. Though he criticized the media for the excessive coverage of his possible departure, the narrative hasn't changed. Woj goes on to say that Durant "knows what it is, what he wants, and there may be nothing the Warriors can do or say to change that."
Meanwhile, Thompson staying in Golden State may be contingent upon the contract he is offered. "If they come with a five-year, $190 million max deal for Klay Thompson, that's done on July 1—he's going into the new building with Steph Curry," Wojnarowski said.
Some adjustments will definitely have to be made if KD and Klay do leave. His postseason averages include 35.6 points, five rebounds, and five assists. Even in Saturday's overtime loss to the Houston Rockets, the two-time Finals MVP went off for 46 points and six assists.
The Warriors still have a 2-1 series lead as they face the Rockets in Houston for Game 4.