It was the insightful, educated answer Kevin Durant low-key loves to give when you ask him about the game of basketball and not something else.
Less than 48 hours after the debacle that was Game 2, Durant told reporters about the "gimmick defense" the Clippers used against the Warriors. Durant explained, in incredible detail, what held him back from being KD and how the Clippers had interrupted Golden State's flow by flooding the three-point line with defenders, forcing the Warriors to get their points inefficiently and ultimately messing with Golden State's beautiful ball movement.
What needed to be done, Durant said, in order for the Warriors to get back to being the Warriors and regain control of the series, was move the ball and not to give into the gimmick again. He punctuated his monologue by saying, "You know who I am. Y'all know who I am."
Kevin Durant, of course, is the NBA's best player and arguably the most gifted scorer the league has ever seen. And he was nothing short of brilliant Thursday at Staples Center, scoring a game-high 38 points in leading the Warriors to a 132-105 spanking of the Clippers in Game 3. Exorcising the demons from Game 2's historic meltdown, Durant lived up to his word and is the biggest reason why Golden State owns a 2-1 lead in the playoff series.
He had a different mindset than he had the other night and set a tone right away. Our guys loved it. — STEVE Kerr
"He said [Wednesday] that he's Kevin Durant," Warriors coach Steve Kerr said. "He showed everybody who Kevin Durant is."
Durant had plenty of help, of course, with Curry kicking in 21 points and three other Warriors finished in double digits. Draymond Green filled up the box score, dishing out 10 assists. But Durant was the shining star, hitting 14 of his 23 shots while adding seven assists in just 30 minutes. He thoroughly dominated the Clippers, who had no answer for him, most especially his personal nemesis Pat Beverly, who had almost as many fouls (four) as he had points (six) in 18 minutes.
""He's a top-three player in this league," Clippers guard Lou Williams said. "He made those statements with confidence, you know. He plays at a high level. We expected that.
"Only thing I'm disappointed about is he announced himself before he even got here," added Williams, who finished with 16 points. "We didn't come prepared. We just didn't do a good job."
It was a miserable performance from Los Angeles, hoping to ride the wave of their historic comeback in Game 2 that saw them overcome an absurd 31-point deficit with 7:13 left in the third quarter. Ironically, the Clippers found themselves down 31 points with 7:10 left in the third quarter Thursday. Only this time, the Warriors didn't let their foot off the gas, and their defense was stifling. Golden State played hard, moved the ball effortlessly, especially early on, and dominated the Clippers on the boards.
But the talk after the game was centered on Durant. He vowed to show the basketball world the kind of player he really is after two relatively forgettable performances in Games 1 and 2 that featured an ejection and him fouling out for the first time in this postseason career.
"He had a different mindset than he had the other night and set a tone right away," Kerr said. "Our guys loved it. His teammates were excited about the way he started the game, and I think that was infectious and it carried over to our defense. I thought our defense was fantastic tonight."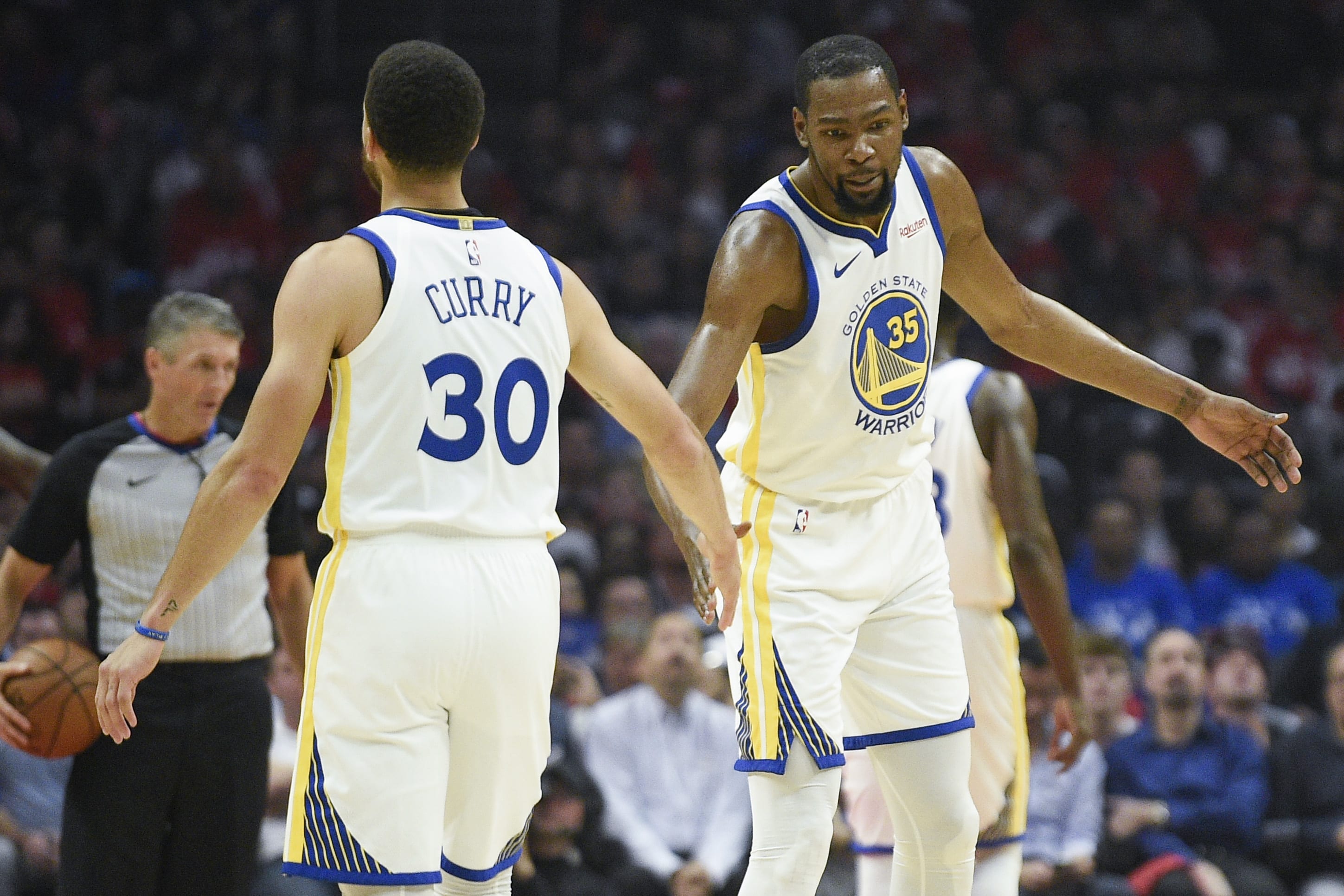 About the only negative to come out of Game 3 was Durant picking up another technical foul. It was his third in three games, and seven is the magic number in the postseason to earn an automatic suspension. But there's a good chance the league rescinds that after reviewing it.
More importantly, in order to retake control of the series, the Warriors wanted Durant to establish himself early on. They ran him off a bunch of screens and got him great looks. He had 12 in the first 12 minutes, and by the second quarter he was officially cooking, entering halftime with 27. If it weren't for the lopsided score, Durant probably would have easily surpassed his playoff career-high of 43 established last year. But with the Warriors up 33 entering the fourth quarter, there was no need to have Durant out there.
After everything went horribly in Game 2, Durant was asked what worked so well in Game 3. Instead of a long and nuanced answer, KD kept it efficient. Just like his performance.
"Coach called a couple of more plays for me to start the game," Durant said. "I think doing that kind of set the tone, putting pressure on the defense through post-ups, through dribble hand-offs. We were just more patient tonight, to sum it up."
The Warriors needed to expulse the bad vibes hovering around them following Game 2. All it took was giving KD the ball and letting him do his thing.