If you went to bed early Monday, we understand.
The Warriors were cruising in Game 2 against the Clippers. They were up 31 with 7:31 to go in the third quarter and basically had thrown it into cruise control. Golden State was home, in front of a raucous Oracle Arena crowd, blowing the doors off a team that was just supposed to be happy to make it to the postseason as the No. 8 seed in the West.
The only problem is the Clippers have never bought into the whole "just happy to be here" mentality and never took their foot off the pedal in Game 2. They did what they've basically always done under coach Doc Rivers: Play hard and give zero fucks about the situation or their opponent.
That's the only explanation we can give for watching the Clippers orchestrate the greatest comeback in NBA postseason history. Plenty of people got jokes off, including us, about the Warriors blowing yet another 3-1 lead in a stunning 135-131 defeat to Los Angeles. And every one of them is deserved because it was embarrassing. Clown on them all you want; call them lazy fools for letting one slip by. Let's just not overreact, yet again, and declare the Warriors' pursuit of a third-straight title doomed.
Sure, Monday night gave haters more fuel for their tiny fire. The Warriors have suffered some terrible losses this season in a campaign that's had just as many ups as it's had downs. There were times this year when Golden State looked every bit of the juggernauts we all thought they'd be. Then there were nights like that home game in March against the Celtics when Golden State suffered its worst home defeat in the Steve Kerr era. So we know this squad can be inconsistent. It's been on a roller coaster all year long. Monday just proved that legendary talent can't overcome a piss-poor effort.
"We really lost this game mid-third quarter when we stopped playing," Kerr told the media after the game.
And that's really what this game was about. Nobody should have the audacity to say this means the Warriors are even remotely in danger of being dethroned in the first round of the Western Conference playoffs. If you have the stones to claim that, we're going to let you die on your own hill that nobody is climbing with you. It is troublesome that a team that's supposed to be good enough to flip the switch couldn't keep it flipped on late in the second half. Golden State was blitzed by a Clippers squad whose players are all but unknown to casual NBA fans. The effort we saw from the Warriors in the second half was disconcerting, sure, but that's easily correctable.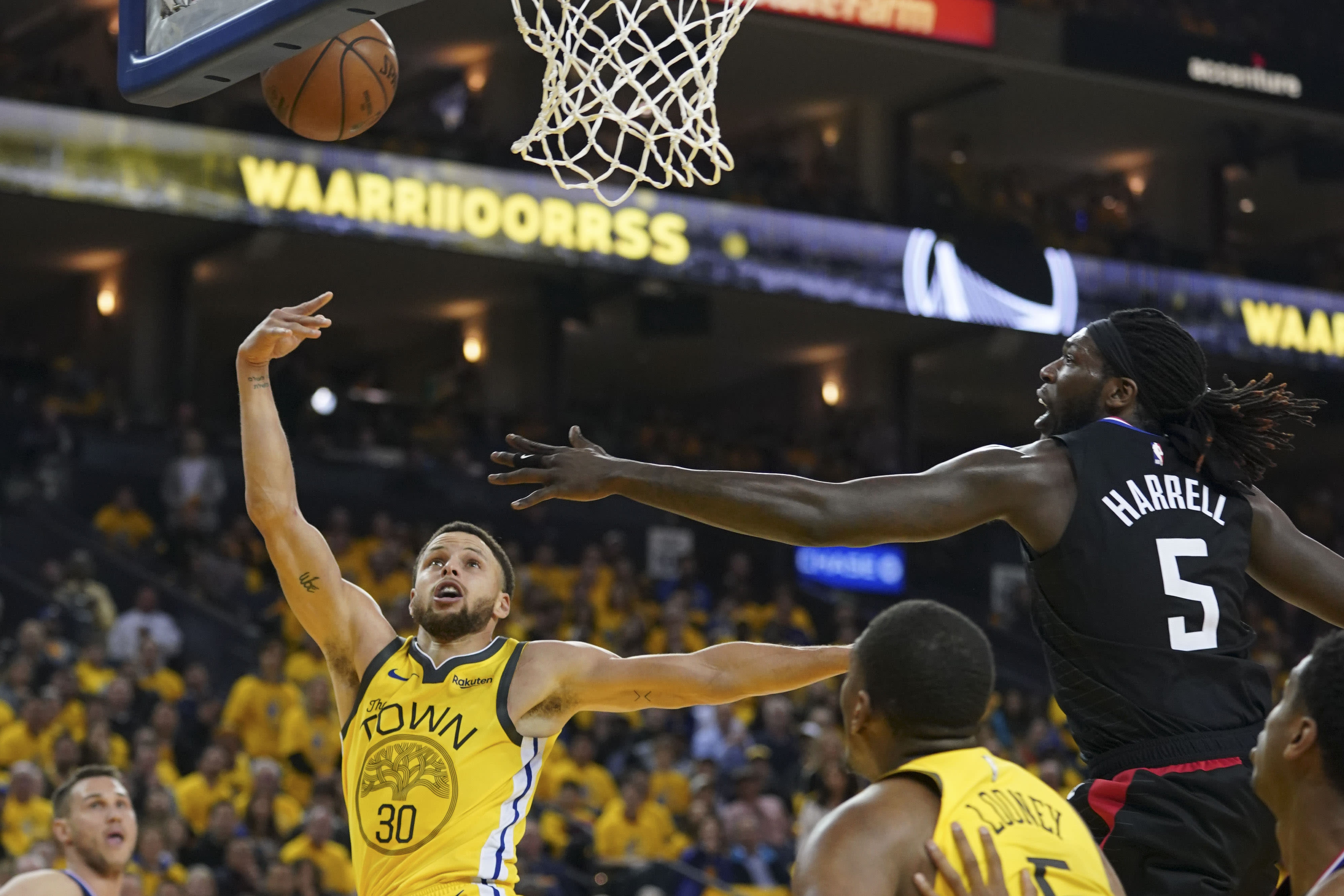 Now it's time to give the Clippers their much-deserved props, because L.A. borderline pulled off something divine in Game 2. They really had no business beating Steph Curry, Klay Thompson, Draymond Green, and Kevin Durant on the road. The Clippers did it with defense, scoring 29 points off turnovers in the second half and limiting the Warriors to just 37 points after halftime. They did it thanks to the ultra-underrated Lou Williams, who scored 36 points off the bench, many of them clutch buckets down the stretch. They also did it thanks to Montrezl Harrell, with his own 25 off the bench, and Landry Shamet, who was +15 for the game and hit the shot that sealed the win. And how could we talk Clippers without mentioning their ace instigator Patrick Beverly who annoyed KD all night long. Rivers showed a national audience why he probably should be the Coach of the Year.
Yeah, Golden State relinquished home court advantage throughout the series with this loss. Make a big deal out of that if you want. I wouldn't. Let's not forget that Durant fouled out of a playoff game for the first time in his career in Game 2. And DeMarcus Cousins went down early with what reportedly could be a very serious quad injury. It'll be interesting to see how the Warriors bounce back in Game 3 in Los Angeles Thursday night at Staples Center, but don't forget the Warriors were 3-1 against the Clippers in the regular season. Complacency's been Golden State's biggest issue all year. It reared its ugly head again in the third quarter. Monday was simply an embarrassing wake-up call.
"We didn't deserve to win that game," Thompson said after the game. "The basketball gods didn't reward us."
Nor should they have. So to wrap this all up, let's acknowledge history happened. Let's celebrate it. It was cool watching it unfold, and incredibly dramatic. That's the beauty of the NBA Playoffs. It's a helluva a drug a lot of nights. Just please don't get hooked on the idea that Game 2 was anything but a beautiful aberration.