Julian Edelman may have prevented a school shooting.
According to the New York Times, the Patriots wide receiver was sent a direct message via Instagram late last month alerting him of a threatening comment left on his account. Edelman, who was in Texas at the time, immediately alerted his assistant Shannen Moen in Boston, asking her to look through the hundreds of comments left on his most recent post. And sure enough, Moen found the threatening statement: "I'm going to shoot my school up watch the news."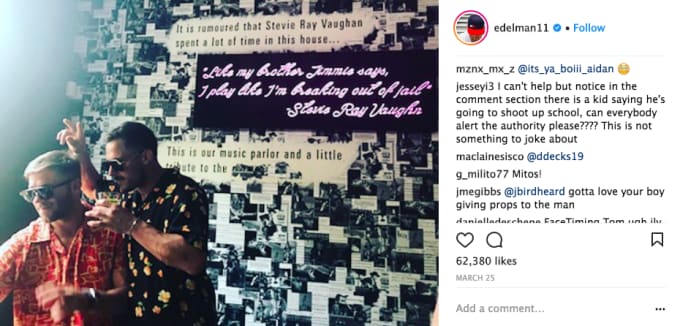 Once the comment was confirmed, Edelman told Moen to call 911. Authorities then traced the message to a Michigan IP address, which led them to a home in Port Huron. The Times reports that when police arrived at the residence, they found a 14-year-old boy who admitted to posting the comment. Officers also reportedly found two rifles that belonged to the boy's mother inside the home.
The suspect, who attends a middle school in a nearby township, was then taken to a juvenile-detention center on a felony charge of making a false report of a threat of terrorism—a charge that can result in up to four years in jail.
Edelman said that in light of the recent school shootings, he had to take quick action.  
"With the emotions of what happened, and I have a kid now, I said, holy Toledo, what is going on?" he told the Times, before crediting the Instagram user who alerted him of the threat. "Thankfully, this kid said something. We're going to send him something, a care package, just for his work. He's the real hero."