As of about 72 hours ago, LeBron James and Enes Kanter didn't seem to have an issue with one another. But during the Cavaliers' 104-101 win over the Knicks at Madison Square Garden on Monday night, LeBron and Kanter almost got into a fight during the first quarter of the game before being separated and hit with technical fouls. The two players also sent jabs at each other after the game during their respective interviews with reporters. So how did we get here in such a short period of time? Let's take a closer look at LeBron's latest beef.
It all started on Saturday night when the Cavaliers knocked off the Mavericks 111-104 in Dallas. Following the game, LeBron spoke with members of the media and said he thinks Mavs rookie Dennis Smith Jr.—who was selected No. 9 overall by Dallas in the 2017 NBA Draft—should have been drafted at No. 8 by the Knicks over French guard Frank Ntilikina. LeBron said Smith Jr. "should be a Knick."
"The Knicks passed on a really good one," LeBron said, "and Dallas got the diamond in the rough."
That didn't sit well with Ntilikina's Knicks teammate Kanter, who was traded to New York in September as part of the Carmelo Anthony deal. Kanter took to Twitter shortly after hearing what LeBron said in reference to Smith Jr. and stuck up for Ntilikina. "Nope!!" Kanter wrote. "We love what we got…Thanks!!!"
Kanter also elaborated on his tweet during the Knicks' practice on Sunday and told reporters that he couldn't sit by idly and allow someone like LeBron to "disrespect" his teammate.
"I don't care who [you are]," Kanter said. "I just cannot let anyone disrespect my family like that, because when I play for an organization, I see my teammates and that organization as like a family. And it doesn't matter if it's LeBron or whoever it is. I cannot just let him disrespect him like that. The coaches, the GMs, the president, this organization knows what they're doing…I mean, come on. That's a rookie. You cannot just say anything like that about him. I don't care. It doesn't matter [if it's] LeBron or whoever it is. I don't care who. I cannot let anyone disrespect my family like that."
LeBron responded to Kanter on Monday by clarifying his statements on Smith Jr. and Ntilikina and revealing that it was meant to be a shot at former Knicks team president Phil Jackson and not Ntilikina.
"I wasn't throwing shade at Frank at all, for people that got their pants in a bunch, things of that nature in New York, looking for any controversy here," LeBron said, before addressing Kanter directly and suggesting that he shouldn't have felt compelled to respond to his original remarks. "That's all that is, for clarification for people who just live in the box, and for Enes Kanter who always got something to say. He says—I don't know what's wrong with him."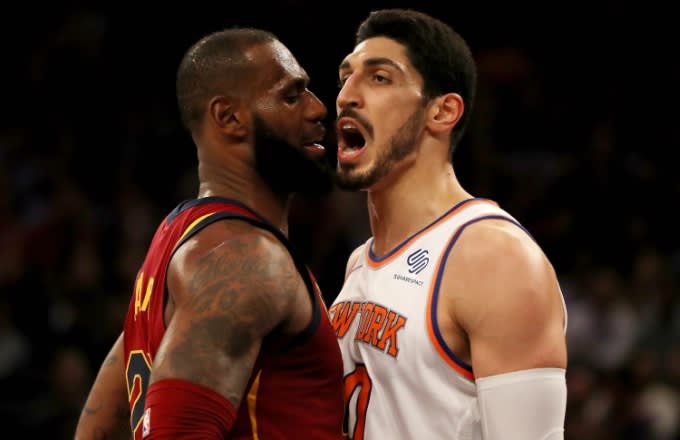 The back-and-forth between LeBron and Kanter very well could have ended there. But their war of words spilled onto the court in New York City on Monday night after LeBron and Ntilikina found themselves face-to-face following an alley-oop by LeBron. LeBron bumped into Ntilikina after throwing down a dunk and refused to budge, which caused Ntilikina to shove LeBron. Kanter stepped in between the two to defend his teammate, and from there, things got very heated between LeBron and Kanter. They yelled at each other and looked like they might get physical before a referee stepped in between them and handed them both technical fouls.
Fortunately, it was the last serious encounter the two had on the court. But after the game, Kanter continued to defend Ntilikina.
"He's a rookie," Kanter said. "You call yourself 'King' or whatever. But you can't just mess with a rookie like that. If you're going to mess with [someone], go mess with the grown men. I'll die for my teammates. Whatever happens, I got my teammates' back because I see this team, this organization, like my family. Nobody is going to mess with it."
Kanter also let off a series of shots at LeBron after referencing the time LeBron and his Cavaliers teammates took the Water Bottle Challenge at the end of a blowout against the Knicks.
"You ain't coming to my house and playing that water bottle flip game again," Kanter said. "I don't care who you are. What do you call yourself—'King,' 'Queen,' 'Princess,' whatever you are. We're going to fight. Nobody out there is going to punk us. We went out there and played our game. We're going to go out there and get better everyday."
In addition to all that, Kanter also posted a photo of the Knicks huddling on the court on Twitter along with the caption, "I FREAKING LOVE MY FAMILY."
A short time after Kanter made his comments about LeBron, LeBron fired back. Outfitted in a hat that said "ALL GOOD" on the front of it, LeBron started by telling reporters that he was "not going to say that guy's name again" in reference to Kanter. But he did take the time to address the "corny" comments Kanter made about his nickname.
"Well, I'm the King, my wife is the Queen, and my daughter's the Princess," LeBron said, "so we've got all there covered."
LeBron also took the time to let off one final shot at Jackson, too, even though he's no longer affiliated with the Knicks. He referred to him as "the old fella" while crediting Knicks head coach Jeff Hornacek.
"They're playing some good basketball," LeBron said. "I think Jeff, the coach, Jeff Hornacek is finally—with the release of the old fella—he's finally allowed to implement what he wants to do on the team and he's showing it's very effective."
For now, it looks like this will end the brief, unexpected beef between LeBron and Kanter. The Cavaliers will move on to play the Hornets in Charlotte on Wednesday night, while the Knicks will stay in NYC for a game against the Jazz on the same night. And the two teams won't collide again until April when they'll play back-to-back games against one another to end the season.
But it's pretty clear that there's no love lost between LeBron and Kanter after what transpired over the course of the last 72 hours. And we wouldn't be surprised at all if these two are still sniping at each other when April rolls around.