This article is brought to you by: NIKE CANADA
Summer in Toronto is in full effect and so is Nike's CROWN LEAGUE. With the league taking over the city for a third season, ball fans are getting an up-close look at some of the city's star athletes as they play for the title in Toronto's very own basketball league.
The league is filled with standouts, but Myck Kabongo has a habit of stealing the spotlight…on and off the court. And, the charming team ACE guard is expecting a ton of attention when he gets back on the court at Ryerson University's Kerr Hall with his team. "It's all about your confidence and how you go about carrying yourself and what you feed your mind," he assures us as we start the conversation.
Originally born in Zaire (modern day Democratic Republic of the Congo), Kabongo and his family relocated to Toronto's lower-east end when he was six-years-old. He says his African roots initially exposed him to soccer, but when he arrived in Canada everything changed. Meaning? Once his competitive nature met the basketball courts that dominated his neighbourhood, his love for hoops was born.
After playing local courts, Kabongo went on to ball for the University of Texas, Fort Wayne Mad Ants, and the Erie Bayhawks. He currently plays in the Romanian Liga Națională with BCM U Piteşti.
Before Nike's CROWN LEAGUE in Toronto kicked off, Complex Canada sat down with Kabongo to chat with him about his favourite players, his personal style and his love of Canada.
Complex: The Toronto basketball scene is really leaving a mark. Why do you think there is such a scene right now?
Kabongo: The population grew, the Raptors started getting good, and a little bit of Vince Carter. He was a tremendous all-star for the city. I think he gave a lot of kids hope, I mean; he gave me hope when he was here. I think he's a huge part of Canadian basketball, even though he's not Canadian. He's a huge staple in Toronto, as far as the game goes.
Complex: Favourite players? Past or present...
Kabongo: I'd say my favourite player is Rajon Rondo (who last played for the Chicago Bulls) because he's a team player. I feel like he makes the game easier for his teammates, and that's what I try to do as a point guard. The point guard position entails you to make the game as easy as possible for your teammates; to put them in the right positions, and I feel like he's one of those players. I feel like he's under appreciated and I appreciate him.
Complex: Toronto has really been having a moment through the past few years. Sports, music, style. What do you love most about the city?
Kabongo: The people. The people here are so multicultural. That's the beauty of being a Torontonian, you get to see different cultures. I remember we had pot lucks when I was in grade 2 and 3 with different cultures bringing different food. It helped me to be able to go to Romania and play there for a year – it helps you adjust. Because we're already multicultural, it helps us go away and we don't really get homesick, we know how to talk to people and are free and open minded in terms of trying new foods, cultures, and ways of living.
Complex: Compare your game to a kind of music?
Kabongo: I would use an artist instead of a genre. My game is like Kanye. Toward the start of both our careers, a lot of people were gravitating toward us. His early shit – Graduation, College Dropout, even 808s & Heartbreak. You need to sit with an album, people don't do that now. They want to see if it's a classic right away when it comes out. That's my game – it's going to grow well, it's going to age with time.
Complex: When you're not on the court, what are you wearing?
Kabongo: I'm usually wearing whatever feels comfortable, that's the main thing for me. I love feeling comfortable. My style varies, depending on the weather, of course, and how I'm feeling that day. For the most part, I wear joggers and sneakers. But if I'm going out, I like the euro look, but I kind of mix it with my, I call it punk rock slash urban hip-hop style, and that kind of forms my fashion.
Complex: Would you say you have any style inspirations?
Kabongo: Well, my older brother is the freshest guy on the planet. So Emmanuel Kabongo gets props for that. But as for celebrities, I like people who aren't afraid to get out there. I like what ASAP Rocky is doing. I like what Westbrook is doing, even though… sometimes he's a little bit out of hand. But I feel like he's pushing boundaries, and that's what fashion is it's a form of expression. And you can do it in so many ways, there's so much clothing out there that you can just do whatever.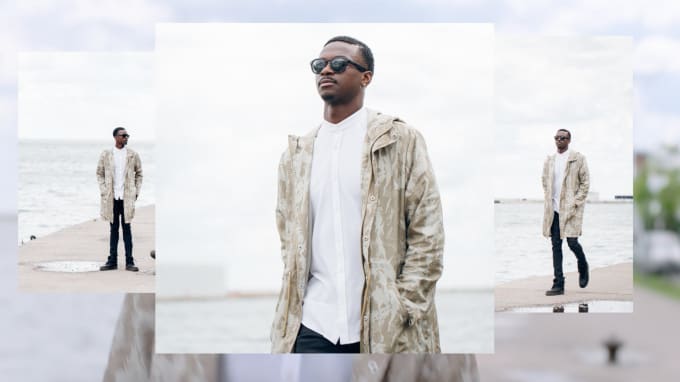 Complex: Are you a sneaker guy?
Kabongo: 100% I'm a sneaker guy. I'm a little bit of everything. My favourite Jordan has to be the 11 Bred's, because, you know, the history behind that shoe. But also the 3's, you can wear them with anything. I also like the Air Force because you can wear them any time, and also the SB dunk era… especially the low dunk series, I thought those were cold.
Complex: Canada is celebrating 150 this year and everyone's talking about why they love Canada. Your turn… What's so great?
Kabongo: Canada is peaceful. The message we're spreading across the world, as far as being united and one… I mean you can be in another country and talk about Canada and they're like "oh, it's so nice," and that's pretty dope that your country is recognized as a country that's peaceful and nice. The world definitely needs a lot of that, especially with what's going on in the world.