Washington Nationals outfielder Bryce Harper and San Francisco Giants pitcher Hunter Strickland re-ignited their feud on Monday evening after Strickland threw a pitch that hit Harper square on the hip.
Back in Game 4 of the 2014 NLDS series, Bryce launched a home run, staring at the ball as it soared into McCovey Cove. As Harper rounded the bases, the two exchanged glances and even jawed a little at one another. Apparently, time hasn't healed their wounds because in a relatively close game, Strickland decided to plunk the 2015 National League MVP. 
After the HBP, Harper didn't waste any time approaching Strickland on the mound. Then, there was the helmet toss.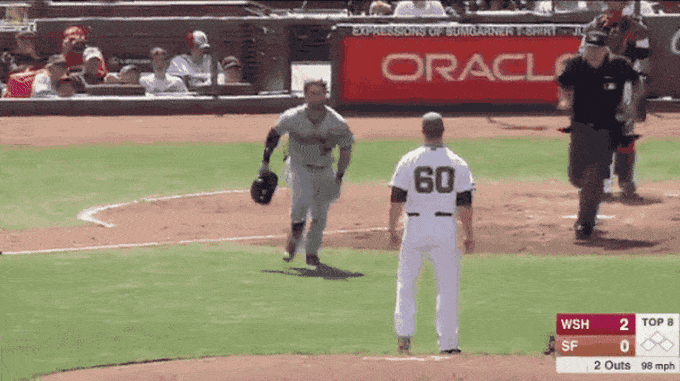 Even 50 Cent of all people would have to say that throw was atrocious. 
Even though most people will talk about the blows exchanged by Harper and Strickland, we have to give it up some other participants in this brawl. At the 17-second mark of the video below, watch as some Giants players live out their WWE fantasy by diving into the action. The only thing they were missing was a steel chair. 
While it took just one teammate, Ryan Zimmerman, to hold back Harper, Strickland got escorted to the locker room by THREE TEAMMATES. Take a look at the end of the video below. 
Let's also give a shout-out to Giants star pitcher Madison Bumgarner, who is recovering from a Grade 2 shoulder sprain, and can't risk further injury by throwing himself into some trivial brawl.  
Send all complaints, compliments, and tips to sportstips@complex.com.