Monday is the 4th of July, so it's time for your annual reminder to not blow your fingers off on the 4th playing with fireworks. In order to help you remember that, Jason Pierre-Paul—who lost a part of his hand last July to a fireworks accident—recorded a PSA for the U.S. Consumer Product Safety Commission.
And while you could  argue that the past 12 months of Pierre-Paul's life have been like one long PSA—from losing a finger to missing half the Giants' season to recording a career-low in sacks to the drama involving his medical records being posted on Adam Schefter's Twitter feed to missing out on millions of dollars, JPP has been through a lot—this is an official PSA that comes equipped with a #FireworksHurt hashtag. It also features this photo that should be more than enough to keep you away from fireworks on the 4th: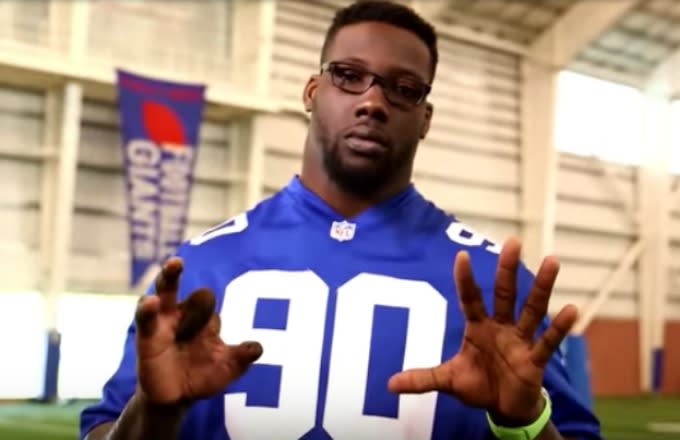 As you can see in the video, Pierre-Paul talks to the U.S. CPSC chairman about the ordeal he went through around this time in 2015. "So on the 4th of July, I lit up a firework, thought I could throw it away real quick, in a split second it blew off my whole hand right there," he says as photos of his mangled hand are shown on the screen. "On the way to the hospital, all I could do was think about my son and why I want to make it. Now I'm just truly, truly blessed to be alive."
Afterwards, the duo lists a few rules you should follow if you want to avoid falling into the same predicament as JPP:
Keep fireworks away from kids.
Leave professional fireworks to the professionals.
Seems simple enough, right? Disregard them at your own risk.