At the end of every NBA regular season, LeBron James logs off of his various social media accounts and devotes all of his attention to the postseason. So in just a few days, LeBron will (hopefully!) stop making headlines for things he's done on Twitter and Instagram (unless, of course, he gets caught "liking" another @perfectbootie photo during the playoffs, but we think he's probably learned his lesson there, right?). But at the moment, he's back in the news again for something that he allegedly did on social media this week.
According to model Rachel Bush—who has more than 219,000 followers on Instagram—LeBron sent her a direct message on IG recently. She included a screengrab of the DM in a since-deleted tweet that she posted on Twitter last night: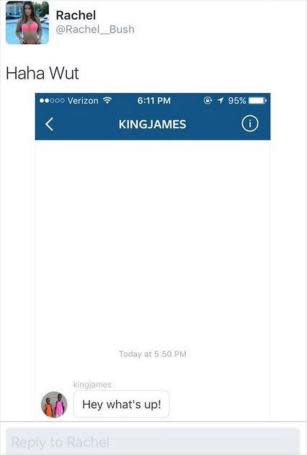 Bush also confirmed the legitimacy of the DM for Barstool Sports. And here's where it gets weird. Bush isn't just some random IG model. She's actually the girlfriend of Browns safety Jordan Poyer. In fact, if you look at some of her recent IG photos, you'll see that she posted a picture of her wearing a Browns shirt less than a week ago and included Poyer's jersey number 33 as the caption:
Additionally, Bush is apparently living in Cleveland now, and as fate would have it, she was actually sitting courtside at the Cavaliers game against the Hawks last night—with Poyer—just hours after revealing that LeBron had messaged her:
Poyer also posted a photo from the game:
So that makes this entire situation even stranger than it is already is.
Of course, there's a chance all of this is being overblown. Maybe LeBron really just wanted to see what was up with Bush yesterday (errr…OK, unlikely). Or maybe someone other than LeBron has access to his IG account and sent the DM (more likely). Or maybe Bush, as some people have already suggested, isn't telling the whole truth here and Photoshopped the DM from LeBron (hmmm...). But regardless, LeBron has yet another social media scandal on his hands. Good thing he's got some experience dealing with them.
Send all complaints, compliments, and tips to sportstips@complex.com.
[via New York Daily News]