If you looked up "LeBron James Unfollows Cavaliers Twitter" on Google yesterday, it delivered 47,100 results. Today? 152,000. (Although that was this morning—maybe it's even more now.) Stories, even non-stories, don't go away anymore. They just get bigger. This even with a LeBron non-denial denial. LeBron, of course, knows this.
James has been in the spotlight since roughly the first time he stepped on a basketball court, and has seen non-story stories about him blow up since he was in high school. There was the tricked-out Hummer H2 his mom bought him for his 18th birthday and—right after he was cleared for that—the throwback jerseys he allegedly received for free. No wonder he didn't want to go to college. No one could stop him on the court, so it seemed like the solution was to get him off of it. That, of course, didn't work either. He wound up missing two games, then scored 52 points in his first game back.
Basically distractions have been part of LeBron's basketball career as long as he's had one. So every year around playoff time—at least since 2011, his first playoffs on social media—he turns things down the best he can. He still does the regular interview sessions with the regular media, but cuts out the social stuff. Last season he went Twitter-dark on April 18th —"Zero dark thirty-23 activated"—and didn't reappear until July 13th. This with no Unfollowgate.
There's really no way of getting around it: LeBron had to know exactly what he was doing and exactly what the reaction would be.
The great thing is no one really seems to know whether he actually unfollowed the Cavaliers or was just never following them to begin with. They're not amongst the 154 accounts he currently follows, although that list still includes fellow banana-boaters Gabrielle Union, Dwyane Wade,  and Chris Paul (as well as fourth musketeer Carmelo Anthony), teammates Kyrie Irving, J.R. Smith, and Kevin Love, and media types Rachel Nichols, Michael Wilbon, and Kristen Ledlow. Which begs the question, what exactly qualifies as a distraction? And if he was following them before, did no one tell him about the mute button? (LeBron also unfollowed, then re-followed, the Cavs on Instagram.) Maybe the best solution for him would be to get a Z-Bo phone.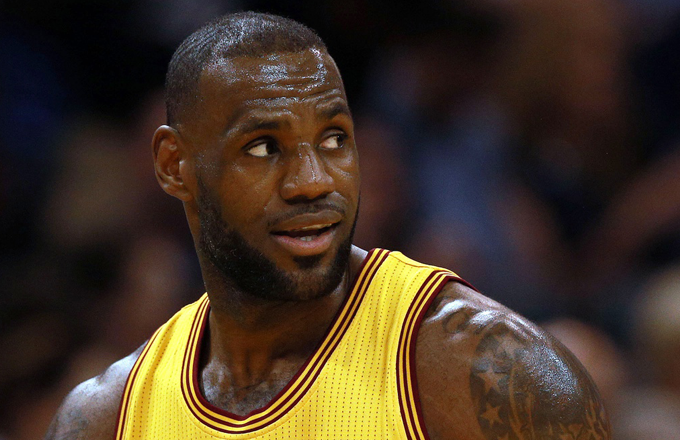 There's really no way of getting around it: LeBron had to know exactly what he was doing and exactly what the reaction would be. He still follows alma mater SVSM as well as business partners Klutch Sports and Mav Carter, but not Cavs owner Dan Gilbert (@cavsdan) or GM David Griffin (@dg_riff) who, admittedly, hasn't tweeted in over a year. Not to say LeBron's going to leave Cleveland again—it would be awfully hard to after his Lee Jenkins joint—but it serves as a nice reminder to the guys with the checkbooks that he most certainly could. Plus, who wants Dan Gilbert in their DMs? "Wait, when did Twitter start allowing Comic Sans?"
What this whole non-incident incident also goes to show is how different things are for current superstars. Michael Jordan never unfollowed the Bulls, although he did say some unkind things about Jerry Krause. Magic Johnson never had to face down TMZ cameras. Wilt Chamberlain never got called out for subtweets. Whether he's on a beach or a plane, in Cleveland or China, LeBron James has to be LEBRON JAMES all the time. It must get exhausting.
It's also possible that we're looking at this all wrong. As of this writing the Cavaliers (@cavs) have 1.07 million followers. LeBron has 29 million. The Cavs follow nearly 1,700 people, including (gasp) Lance Armstrong, (gulp) Hulk Hogan and (eesh) Darren Rovell. Maybe LeBron shouldn't be the only one being asked tough questions about his Twitter habits.