Last fall, Doc Rivers' son—and Austin Rivers' brother—Spencer made headlines after his dad told reporters about the role that he played in DeAndre Jordan deciding to return to the Clippers after initially agreeing to a deal with the Mavericks during free agency. Today, he's making headlines again…but it's for a much different reason.
Last night, Austin Rivers played one of his worst games of the 2015-16 NBA season. He scored just four points in 18 minutes of action for the Clippers and was on the court in relief of Chris Paul when the team went from being tied with the Spurs late in the third quarter to down 10 points towards the beginning of the fourth. He also got rejected by the rim on a dunk attempt:
While that was going on, his brother Spencer was engaged in a war of words with ESPN analyst Amin Elhassan. We don't know exactly what led to it (it's worth noting that it's not the first time they've done this), but at one point during the game, Spencer told Amin that he wishes he could fight him. The two then exchanged a series of tweets before Spencer challenged him to "square up." You can see their interaction here: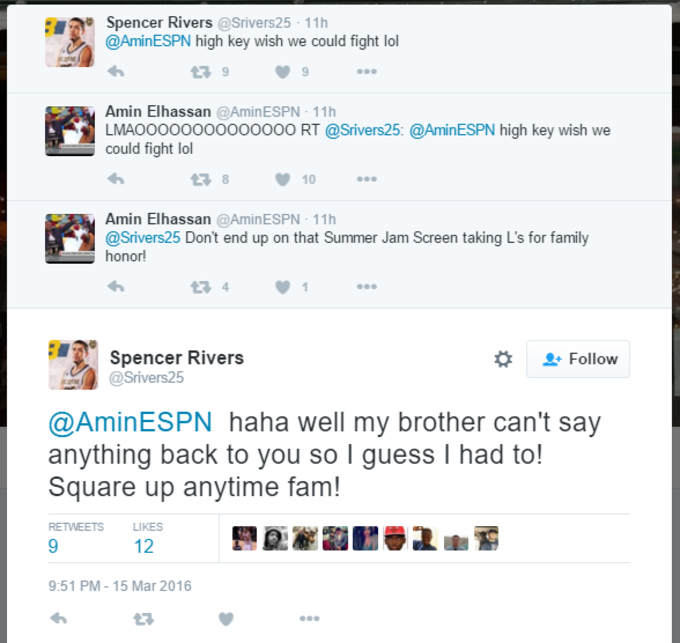 Amin also added this later:
And it prompted Austin and Spencer's sister Callie Rivers to chime in:
But Amin declared himself the winner of the brief Twitter beef this morning by posting this:
What a strange night for the entire Rivers family.
Send all complaints, compliments, and tips to sportstips@complex.com.
[via The Big Lead]