Early last night, K. Michelle revealed that she is preparing to drop a remix (or a "K-Mix"?) of Yo Gotti's hit single, "Down in the DM," by posting a snippet of her verse to her Instagram account:
A short time later, Lance Stephenson—or at least, someone we thought was Lance Stephenson—chimed in by leaving a comment on K. Michelle's post about how it sounds like she's trying to be like Nicki Minaj (Nicki added two verses to Gotti's single last week). Born Ready appeared to add a bunch of other negative commentary, too, as you can see here: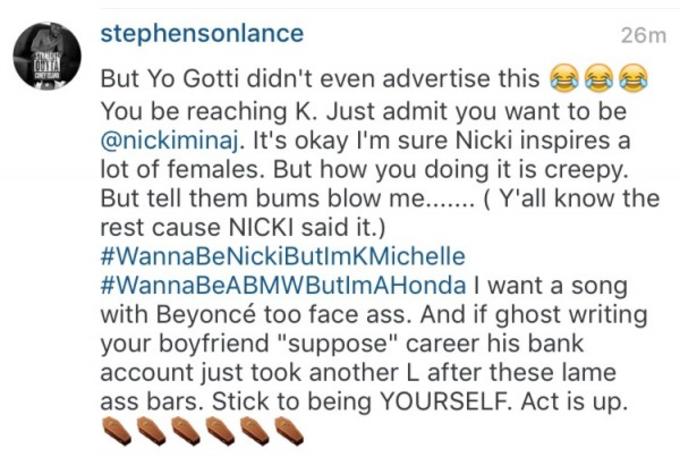 Thing is, the Clippers guard was actually taking part in a game against the Celtics last night, so it seems unlikely that he was leaving comments on IG at the time. Sure, some other athletes (including one of K. Michelle's other exes J.R. Smith) have gotten caught using social media during games in the past, but none have left long comments like the one Stephenson left. So was it really him leaving the comment?
K. Michelle says no. She didn't respond to Stephenson at first, but early this morning, she took to her IG account to put up a post addressing the situation. According to her, she spoke with Stephenson's mother, and she told K. Michelle that Stephenson's account was hacked last night. K. Michelle said she suspected that was the case because Stephenson "would never use that many emojis" in a comment. Here's her post:
If it feels like this is all just one big publicity stunt, that's because it very well could be. Since putting her IG post up about speaking with Stephenson's mother, K. Michelle has posted another snippet from her "Down in the DM" remix. Meanwhile, Stephenson hasn't posted anything on his IG or Twitter accounts, so for all we know, he's helping K. Michelle promote her latest project by essentially just allowing this story to play out. But if Stephenson really was hacked, this should serve as yet another reminder for all pro athletes—and celebrities as a whole—to keep your social media passwords under lock and key. Or else…
Send all complaints, compliments, and tips to sportstips@complex.com.
[via Black Sports Online]