Jérôme Boateng only knows one speed when he's on the pitch with Bayern Munich and the German national football team, but he's taking things a bit slower now. He suffered a groin injury towards the end of last month, and Boateng, considered one of the best center backs in soccer, is taking steps to getting back into form.
The journey to a full recovery has found him in the States, away from his club, who's currently atop of Germany's Bundesliga table and playing in the Champions League. But he's not just here to forget about soccer and give his 6'4" frame much-needed rest; he also signed to Jay Z's Roc Nation last year.
On the surface, Boateng looks like someone important—with his gold-rimmed glasses, stoic face, and high-end sneakers—but there's a certain anonymity that even the world's best footballers receive when visiting here. Hell, he's won a World Cup and a treble, which consists of winning the Bundesliga, Champions League, and Germany's DFB Cup. But with the sport gaining popularity on this side of the Atlantic we sat down with Boateng at the Roc Nation office to discuss his future, the infamous Lionel Messi cross up, meeting Jay, his love of the NBA, and the possibility of getting his own Nike boot.
You're injured right now. What's the process like trying to recover from that?
They say it's going to take two and a half to three months. I'm still in the first process of it. I can't run or ride a bike or anything for my legs. It's hard for me because I can't let my power out. I can only get a light treatment, like a massage. When I'm back to Germany in a few days, I have to get an MRI again. Hopefully the doctor will give the go that I can run and bicycle again.
How does it feel to have to leave your club behind?
It's the first time for me and it's weird. I'm far away and I can only watch them on TV or on the Internet. It's difficult for me to watch a match because I can't be on the pitch and do what I love.
Do you still want to be around them, though?
No I don't want to be around because I can't do anything. I don't even feel like I'm close to being back, so I had to fly away to get my head free and distance myself from football and the guys. I don't want the people to say everyday, "How are you? When are you back?"
It didn't look good, of course. It's funny, I could laugh after, too. That happens in football, so I'm fine with it. I don't look back at this and get mad at it. It's something that I've learned from."
How supportive have the fans been with your injury?
Really supportive. I read a lot of positive comments. I was in the stadium a week after my injury when we had another game, and it was was good to see how they reacted to me. I spoke to a couple of fans and I'm glad that we have such great supporters at Bayern.
How important do you think the supporters are to your club?
I think it's very important that you have a good relationship with the fans. You can't lump everyone together as a fan—there are different types of fans—but I think it's important to speak to them and get to know them. Once or twice a year, we go to a fan club and they can speak to you for free two or three hours and get autographs and photos.
Playing in the Bundesliga and the Champions League, it's a grinding schedule. Do you ever feel like it's too much?
With the Bundesliga, German Cup, national team, and Champions League, it's a lot. That's why sometimes there are friendly matches with the national team. You play every two or three days. Then players get injured and the clubs get mad because there are important games coming up.
At Bayern Munich, you're a shoo-in to win the Bundesliga every year. How do you stay motivated?
There's always pressure on us, it's just the club mentality: You have to win, whether it's Champions League or Bundesliga. My motivation is that I try to get myself to a certain point, and I want to win as much as I can in my career. You can't play forever. I never want to say, "This year I was a little bit lazy." Now there's even bigger pressure on us, because no one has won the Bundesliga four times in a row, but we have the chance. So that's the motivation for us.
What was bigger for you, winning the treble or winning the World Cup?
Both are really big, but when you win the World Cup and have your country behind you, it was the biggest moment in my life. But the treble comes right after that. When you win everything with the club, it's amazing. I didn't dream of this as a kid.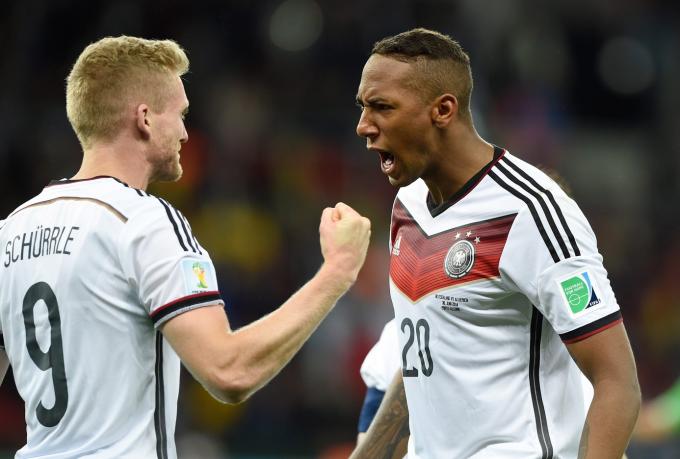 You played against your brother, Ghana's Kevin-Prince Boateng, in the World Cup. What was that like?
I played against him twice in 2010 and 2014, and it was a weird feeling, because I played against him when I was younger. I was super nervous but he was cool with it. Until this day, I still get nervous, but when I start to play I'm fine.
The big news at Bayern is that your coach, Pep Guardiola, is going to leave the club for Manchester City, your old club. What's the feeling like there?
That's his decision. He wants to go to England, and I can't say anything against it. It's just like when a player wants to leave after a couple of years to go to another country for a new experience. I think there's nothing wrong with that.
Are you going to miss him?
Yes, of course. He's a great coach. He's going to leave in the summer and I learned a lot from him. You always see each other twice in life in football. So you never know.
What do you think Germany's chances are to win Euro 2016?
I think we have a good chance, because Germany's always ready to be a good tournament team. In France, I hope we'll have a good tournament and make it to the final again. We have a really good team, but there are also other sides that have strong teams like France, Spain, Italy, and Belgium.
I know it must have been an embarrassing moment when you got crossed up by Lionel Messi in a Champions League match last year.
I was mad because he scored a goal. I didn't care so much that I fell down and looked bad, because that happens in football a million times. I was more mad that we let up a goal. It's hard to defend a guy like him. He's the best player in the world. Against a team like Barcelona, they can do so much with the ball. At some point, you're running all around, and you get tired when you're defending. He did a good job, and I fell. It didn't look good, of course. It's funny, I could laugh after, too. That happens in football, so I'm fine with it. I don't look back at this and get mad at it. It's something that I've learned from.
Your brother experienced publicized racism in Italy, has that happened to you, too, while playing?
I did when I was younger. When I started in the Bundesliga, I had a couple of experiences with players from different teams. I was surprised, because I just had it when I was young and we'd go into East Germany. I also had it a couple of times with the national team. I heard people say a few things from different countries. It's sad.
How did you react to that?
I couldn't figure out exactly where it came from. But if I'm near and see who it is, I try to talk to them and ask them why they're doing that. It's sad that something like this still happens. But if I can't figure out who said it, then it's difficult. It's not permanently going on, I just hear it a little bit.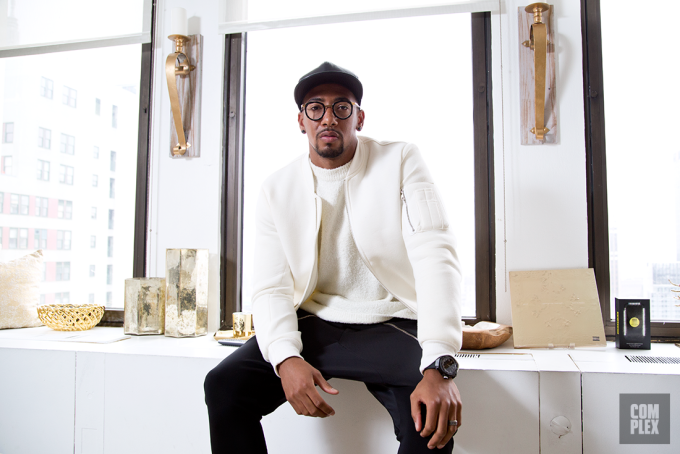 You're a huge international star, but in the States, soccer isn't the same. Do people still approach you when you come out here?
Sometimes I get approached at the airport or on the streets, but not often like in Europe. It's more relaxing for me to walk around or go for dinner. But someone will eventually recognize me. It's not every day, but it still happens often. I'm OK with it.
Did that affect your decision to sign with Roc Nation and be with an American company?
Yeah, I think it's a great opportunity for me. I liked the States before I signed with Roc Nation. So it was a really big deal for me to sign with them. And in the States, the marketing is bigger than in Europe. That's why I decided to sign with them.
Do you remember the first time you met Jay Z?
It was crazy, I felt like I was a little kid. I had the chance to take my best friend and my little sister with me. They were also super excited and nervous. He was so nice, so humble, down to earth, and we could ask him so many questions. It was really nice to meet him and a big experience for me.
You also had the chance to meet Dwyane Wade and the two of you exchanged jerseys.
Yeah, we met through a friend. It was also a great experience, because I think he's a great player in the NBA. I also got the chance to meet Klay Thompson and Steph Curry. I think their team's amazing. I saw them play against the Clippers. I like to watch the NBA.
Right now I'm in Europe, but in a couple more years when I get older, I think [MLS is] possible.
Do you play basketball yourself?
Sometimes, now I can't with my leg. But sometimes at Bayern we play on our recovery day.
Steph Curry and Neymar seem to be good friends now. Hypothetically, if you and Wade were to play Curry and Neymar, two on two, who do you think would win?
It would be a tough game. I don't know how good Neymar is at basketball, but Wade and Curry are great. Curry is the best player right now, and Wade used to be one of the best players, too. I would be the one who gets the rebounds.
What's it like being a Nike athlete at Bayern, given that's probably adidas' most important club to the company?
Well, I'm really happy that I'm with Nike. It's like a little family for me and I've known them for years. I was in Portland last summer, and I saw the Nike campus. At Bayern, sure, it's all about adidas, and that's not a problem for me. I can't change it. That's Bayern.
Do you think Nike will ever give you your own shoe?
I think it's possible and we're already on the way. It would be great to have my own shoe when I come back.
That would be a boot?
I think a football boot first, then hopefully I can make my own shoe with Nike. That would be dope.
How many sneakers do you have?
Over 600.
All from Nike?
They're from different companies, but a lot of it is from Nike. My favorite sneakers growing up were always the Air Force 1 and the Air Max line. I started collecting when I was 13 or 14 years old.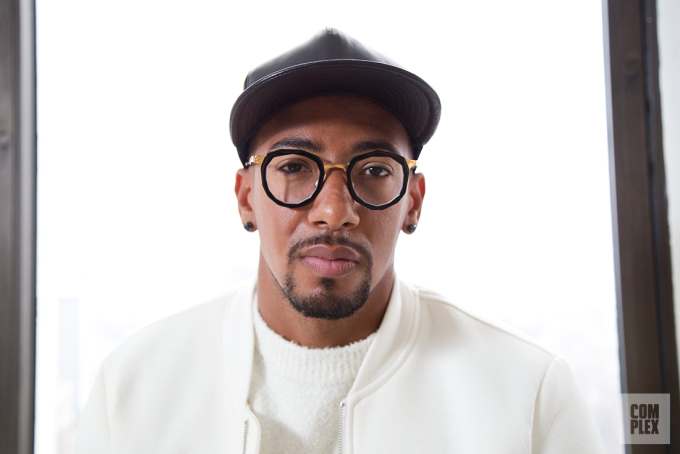 How did you get into the high-fashion shoes? You're wearing Margielas right now.
When I got older, I wanted to have shoes that no one else had. So I started to choose different shoes, then It followed to my clothes.
I saw you had the Kanye West x Louis Vuittons. What did it take to get them?
I have two friends. One is in Los Angeles. If i see shoes that aren't Nike and they're hard to get, I ask him. My other friend is in Paris, so I got the Louis Vuittons from him. I asked him a year before, and he finally got them to me after a year. He still remembered.
So getting those was a big moment for you?
Yeah! Like I said, I love sneakers. My mom says I'm sick with sneakers and that I can open my own shop.
Would you ever play in the MLS?
Yes, why not? Right now I'm in Europe, but in a couple more years when I get older, I think it's possible.
I'm sure you see a lot of European stars coming to the States.
Yeah, they tell me they like it. I've spoken to Didier Drogba, Ashley Cole, and Nigel de Jong, and they're happy.