One run with Cleveland wasn't enough for Kevin Love. 
Despite an inaugural season that featured persistent questions about how he fit offensively in and whether he was truly committed to the Cavs for the long haul, Love did the opposite of what so many expected in July and re-signed with Cleveland.
As one of the NBA's most skilled big men—the forward was the only player last season to average at least nine boards a game and make at least 50 3-pointers—Love inked a 5-year, $113 million deal to team up with Kyrie Irving and, presumably, LeBron James for seasons to come. And after losing to the Warriors in the Finals this past June, as Love and Irving watched from the bench thanks to a season-ending injuries, the celebrated trio have some unfinished business. 
We spoke with Love a week before the Cavs season opener and asked him about his Finals experience, how the team will fair without Irving for the beginning of the season, how many more peak years we can expect from LeBron, and why he's still a proud member of Team Chocolate Milk.
Is your shoulder 100% healthy? 
I feel great. Mostly, I've been tested in practice and a lot of 5-on-5 leading up to getting in the game action, the preseason, so that was really just to get my legs underneath me, get a good blow, get a good wind, and then just try and get as much rhythm as I possibly could. Getting out there and not playing against the same guys every single day was nice and a little bit of a changeup. I feel good.
You're debuting a web series called "Singular Focus" that highlights your rehab. What's been the toughest part of the process?
The toughest part for me was from a mental aspect. I'd say just knowing every day coming in that I had to do the real tedious work on my shoulder and not til four, four and a half months [did I] really touch a ball. So for me, I'm thinking leading up to that point thinking about everything I need to do to get my body ready. I don't know if that was the most challenging, but I said I can't touch ball, what else can I do to  get myself ready? But from a physical standpoint, it was getting the strength back and that was very frustrating. And the range of motion. You can get to 90 percent, but the last 10 percent is always the hardest.
You and Kelly Olynyk are cool now, right? No hard feelings? 
Initially I was pretty emotional and upset but I think probably a week or 10 days after my surgery we texted and said, you know what, all good, these things happen, and moved forward and I think we both had good summers.
I've seen some things from [Lebron] even in just the past year no matter what it is, on or off the court, you just shake your head at it. "
You got to witness the NBA Finals but didn't get to play. What did you learn watching from the sidelines that you maybe wouldn't have had the chance to playing?
There's always something to be said for sitting there and watching. I remember, I was fortunate enough to have a friend in high school who had courtside seats to Blazers games so I'd always beg him to go and try and pick things up there. So being at the NBA Finals, seeing the intensity, especially Game 1, afterwards I said I never wanted to be in a game so bad. Not only did it look so fun but the competitive spirit, whatever you want to call it, was at an all-time high and we were in a place where it was us against the world in Oakland. That was a lot of fun being able to watch but extremely bittersweet and obviously I wish I could have been out there helping the team. So that was another thing where I thought I could be out there stretching the floor, getting these defensive, offensive rebounds—there's different ways I can impact the game. For me that was the toughest part.
If you and Kyrie are healthy for that series, are the Cavaliers NBA champions?
Going off what Kyrie said, I think we have a pretty good chance. We went six games and we had guys who stepped up and fought. It's tough to say because it changed things. But I think it definitely gives us that strength to get us over the top.
How difficult will it be for you guys early on without having the services of Kyrie and Iman Shumpert?
It's tough. You always want to start the season out on a very high note. We play three games in four nights. We kind of have murders' row the first couple of games where he play two very physical teams in Chicago and Memphis then we play Miami. We feel like we have different guys who can step up in their place. With guys like Shump, and what he brings to the table, everybody knows what Kyrie brings to the table; it's not easy to replicate what they do or try to make up for their productivity on the floor. There's things that both of those guys do that don't show up in the stat sheet. So you just try and bring their spirit and energy knowing that we're going to have the luxury of having them healthy—I shouldn't say the later half of the season but later into the season, a month or two. We have to keep that in the back of our minds. We definitely want to get off to a strong showing.
Who needs to step up in their absence?
We're lucky to have added good veterans like R.J. Richard Jefferson, guys like Mo Williams. Having a veteran point guard out there is going to be awesome for us. Delly [Matthew Dellavedova], he played awesome last year throughout the playoffs, he's going to be ready to go from the bat. Hard worker. Having Andy [Anderson Varejao] back is going to be great. I think if our bigs are healthy and in shape that's really going to help us. And everything kind of trickles down from the big man, No. 23. I think we're in very good shape.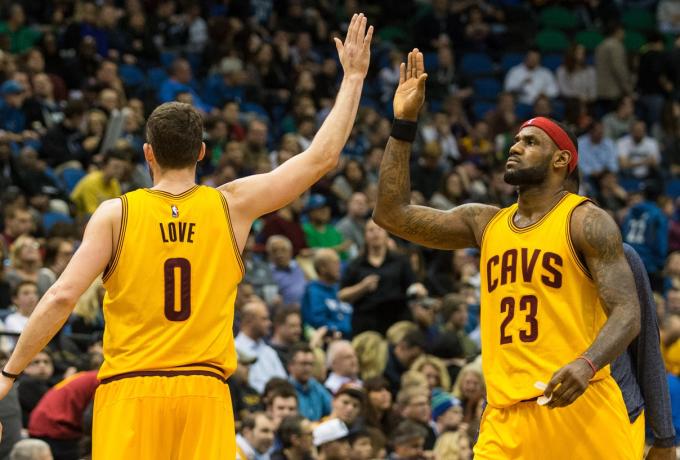 This will be your second year playing with LeBron, what do you appreciate about him now that you get to play alongside him that you didn't playing against him?
Just his leadership,. I would say leadership No. 1. His attention to detail from a mental aspect, every day bringing it, and having the weight of the world on his shoulders, doing what he does day in and day out, just sets a precedent for the team. That trickles down to all of us whether that's me or Kyrie or guys 1 through 15. It's great to have that leadership and that's kind of the stuff you can see but behind the scenes he's always working to get each and every one of us better. One of those guys that just makes his teammates better.
How many more peak years of LeBron do we have left?
He's another type of guy if you tell him he can't do something he's going to do it. I've seen some things from him even in just the past year no matter what it is, on or off the court, you just shake your head at it. It's tough to say. I don't know [about] guys like Jordan and Kobe, the miles they've logged. The beautiful thing about LeBron is he's so big and powerful, he affects the game in so many ways; he can play inside, outside, he can ply off the dribble, he can play off pin downs, he can play in the post. There are so many ways he can play it's kind of tough to say how long he can do it. But I think many great years left.
How do you see the season playing out for the Cavs?
It's tough because we don't even want to talk championship. We don't even want to say that word right now. We just want to get off to a strong start. We have a big week here in front of us. Everybody says take it game by game. There are points in the season where you have things that kind of put you over the hump, [you] figure out ways to play, ways to grow as a team. But we're fortunate to have good veterans we've added [and] mostly everybody back. Once we get everyone healthy we should be even that much better. But I keep going back to we want to get off to a strong start.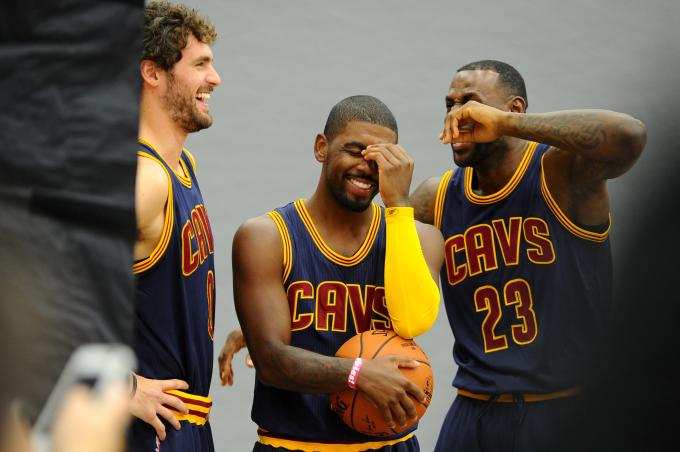 You are one of only three players in league history to average 10 rebounds a game and make over 500 3-pointers, joining Larry Bird and Charles Barkley on the list. How does it feel to be mentioned among those kind of players?
That's rare air or rare company. My mindset is always I haven't proved anything yet, I haven't done anything yet. Even with an injury like this, more so, I just try and press the reset button and look at every season as something new and something I can learn from and get better with. That's rare air. Those are two guys I grew up who were one of my five or six favorite players. I tried to emulate what they did. But I also want to make my own impact and continue to get better.
Who were your favorite players growing up. Who did you model your game after?
My favorite players were Shaq, Barkley, Bird. I grew up in the Northwest so I liked the Rain Man, I liked [Gary] Payton, Detlef Schrempf, and all the iconic Blazers. I had all the shoes, I had the Glove's shoes, the Shawn Kemps. Those were guys I grew up loving. Naturally, you watched the Bulls. Those were the teams that I enjoyed watching and whatever team Shaq was on, Orlando, and my brother was a big Penny fan, so we went to their games and we got to meet them because my dad would get us into the locker room.
As far as emulate, be like, I would always watch the superstar tapes or videos and I would see somebody do something in those videos like Barkley, Karl Malone, Shaq, Jordan, Pippen. You know, the superstar guys. Kareem [Abdul-Jabbar] did the skyhook or Dr. J and you go out on the little hoop and as I got older the big hoop and try and do it. 
Why are you partnering with Team Chocolate Milk again this season?
Just to stress the importance of recovering. For me, I've had to do a lot of working out and as I mentioned tedious work and recovery and a lot of that was making sure I had the right supplements and eating the right stuff and drinking the right stuff. And for me, my go-to recovery drink is always chocolate milk, always has been chocolate milk. It's backed by science and has a lot of protein. I had to put a lot of muscle back onto that shoulder and probably took me all of six months to get back to full range and putting that strength back on and that had a lot to do with it.