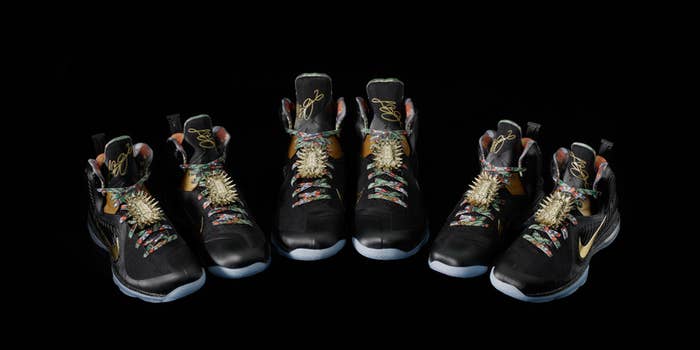 words & interview // Nick DePaula
As published in the January 2012 iPad Issue of Sole Collector Magazine.
As we've seen through the years, LeBron James likes to take care of his closest friends and those around him. Of course, along with his hometown Akron crew, he's also close to both JAY-Z and Kanye West. To celebrate their nationwide "Watch The Throne" Tour this fall and the album's success, James met up with both West and Hov just before the Miami stop and gifted each superstar with a laser etched NSW duffle bag containing this custom version of his newest signature shoe.   

Nike Basketball Graphic Designer Erick Goto, who worked on the project in conjunction with Nike Basketball Color Designer Eugene Rogers and New York artist Gabriel Urist, walks us through the many details found in this exclusive version of the LeBron 9, made for Kanye, JAY-Z and LeBron James.
"It was a project that was a really quick turn. We had been asked by Sports Marketing to create something that was a gift from LeBron for Kanye and Jay. The original request was definitely to play off of gold. Everyone knows the album cover was gold and had a lot of style to it. We did some more digging and looked around, and we saw that the gold version was actually originally a print created by Riccardo Tisci from Givenchy.
"We really looked to that aesthetic of geometric patterns and flowers and wanted to integrate nature into a cool print. You'll see a lot of detailing in the lining and laces, and all of the flowers that we chose are actually the state flowers of each of the guys. We wanted to tie it in to all of them somehow. JAY-Z, being from New York, has the rose. Kanye, from Chicago, had the violet for Illinois. LeBron has the carnation for Ohio."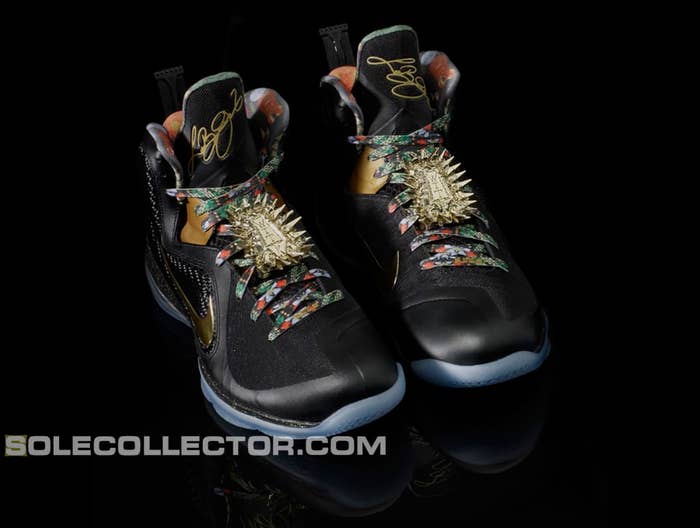 "I think the thing that stands out about this shoe is that it's a pretty wearable colorway and pretty simple. There's a lot of details, like the gold piece. We worked with Gabriel Urist out of New York, and he's got a studio in Brooklyn. He's always been a big hoop fan, and he had previously come to the office to meet people. He wanted to see what we were doing, and it was really cool to meet him. We had just come off of the Freegums collab, and we were talking about definitely doing a few more artist collaborations.
"It takes us out of our element, and lets us sit back and have someone else take us to a new place and give us a point of view that we might not necessarily have by being in Portland. About a month after meeting him this summer, we flew out to New York for an inspiration trip to work on some other things, and Eugene and I got to work with Gabe in his studio. We did some sketching on what this piece could become, and he showed us how to carve wax and what his process is like. That led us to this spikey jewel aesthetic, obviously playing off of the gold album cover. The molding represents all of the flowers, and the spikes really pull from that geometric inspiration."

— Erick Goto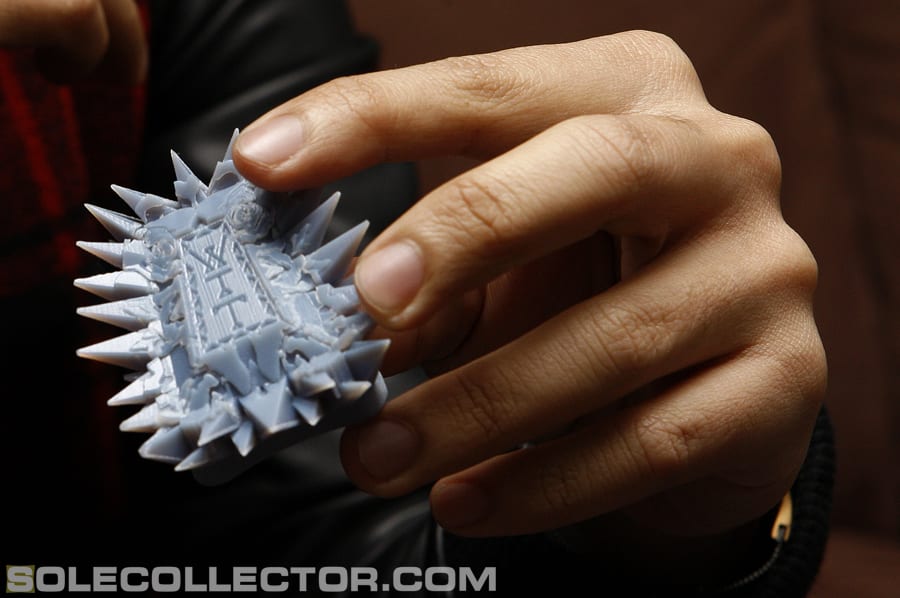 "The idea of this piece was more about what might be visible on stage, and having a 'WTF?' moment when they walk out to spark a reaction. We wanted something that could shine once the lights were on them. Jason Petrie posted a photo on Facebook of them at the concert, and when I saw it, you notice that it's all dark in the crowd, and all you see is that gold piece shining.
"The actual pieces are heavy, and you can feel the quality and detail in them. The fact that someone actually molded and carved the pieces was super cool. We're going to constantly look to do a few more things like this where we bring some outside partners in to give us a new perspective. I don't think I've ever seen something so aggressive like this on a shoe."
— Erick Goto