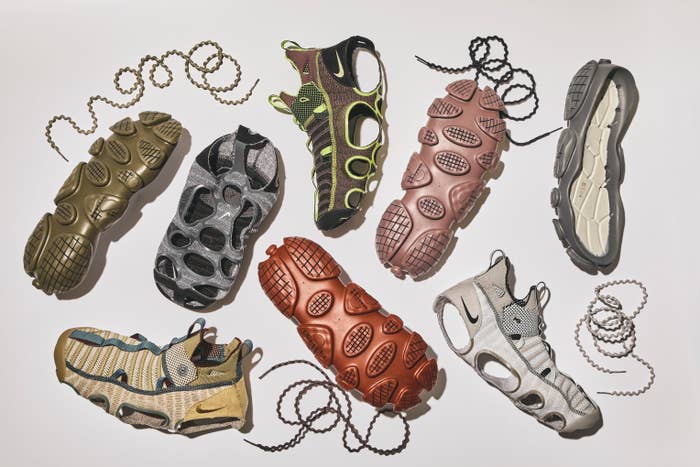 Nike's ISPA (Improvise, Scavenge, Protect, Adapt) team has been responsible for some of the brand's more experimental output in recent years, and the trend will continue with a new model that looks to improve upon the end-of-use stage of footwear.
The Nike ISPA Link is designed to be completely disassembled once it's done being used. This is achieved through interlocking pieces that connect to one another without the glues or cements used in traditional shoes. The idea is that once the sneaker is disposed of, it can be easily broken down for recycling or reuse.
A press release explains the difficulties of disassembly in footwear design. Because shoes often rely on glue and other bonding materials to provide both flexibility and durability, they often must be shredded which means the materials can't be fully reused. By creating a design that can be fully disassembled, more of the shoe will be able to be repurposed down the line. Nike used similar concepts on 2003's Presto Clip and 2005's Zvezdochka, both of which were used as references for the ISPA Link. 
Along with the ISPA Link pictured here, Nike has announced an ISPA Link Axis model set to release next year that further pushes the sustainability envelope. Details are limited on this model, but it's said to be made up of a 100 percent recycled Flyknit upper, 100 percent recycled TPU tooling, 20 percent recycled TPU cage, and a 10 percent recycled EVA sockliner. 
The ISPA Link debuts in June, while the ISPA Link Axis will arrive in 2023.
UPDATE (06/09): Nike has officially confirmed on SNKRS that the ISPA Link will release in the "Medium Olive" and "Desert Moss" colorways via the app on June 22 for $225 each.